Lodi and West Sacramento Wine Visits, May 2022 – Part 2
Eric and I had a fine start to our three-day wine tour on, with visits to tasting rooms at Fields Family and St. Amant wineries plus a tasting of Sandlands and Turley wines with Tegan Passalacqua and a quick tour of old Lodi vineyards.
Eric offered to drive on Day 2 of our tour on Friday, and to start off the day he suggested stopping in at Starbucks before we headed to our first winery appointment. That worked out fine – you basically know what you'll get at a Starbucks, so no surprises there – and we were soon off to pick up lunch supplies at a promising-looking place Eric had found on the web. Called Cut The Mustard, it's a café and deli in an industrial area on the east side of Lodi. One thing to its advantage was that it opens early so we were able to stop in prior to our first winery appointment to pick up a sandwich – big enough that we decided to split it – and chips. Though it's closed on weekends, Cut The Mustard is a good option during the week, with a large selection of hot and cold sandwiches, salads, chips, and drinks, all reasonably priced.
The day was starting out to be noticeably cooler than it had been on Thursday, which was nice, though it was also quite a bit windier that morning. Eric and I could see dust being blown in the air from a number of fields that we passed as we drove to our first winery visit for the day. It was a bit of a drive, as the winery and tasting room were toward the eastern portion of the Lodi wine region, though the scenery was pleasant. It was interesting to see the landscape change from the flat central portion of Lodi to an increasingly hilly area the farther east we drove.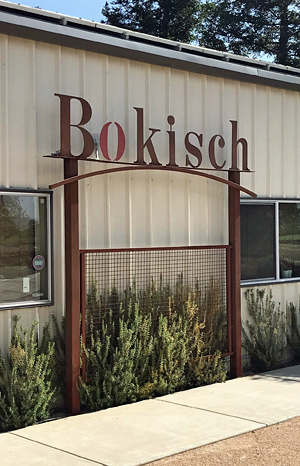 Our first winery visit on Friday morning was at Bokisch Vineyards, located in the Clements Hills AVA of the Lodi wine region. Unlike most of the Lodi area, Clements Hills features – you guessed it! – hills. It's really the lowest part of the Sierra Nevada mountains' western slope, with gently-rolling low hills rising above California's vast Central Valley. I'd visited Bokisch on a couple of previous occasions but this was the first time for Eric. I'd arranged a morning visit there with winemaker Elyse Perry, whom I've known for a number of years. She started at Bokisch in late 2013 as assistant winemaker and was promoted to winemaker in early 2016. I'd hoped that we could also see Markus and Liz Bokisch, but Markus had told me earlier that they would be in Spain, taking wine club members on a tour of three wine regions there. Markus' mother was originally from Spain, and he spent his summers during childhood with family in the Catalunya region, where he was introduced to Spanish wine. He and Liz met while attending UC Davis, and after Markus began working in the wine business, they lived in Spain for a time before returning to California.
Eric and I walked out to admire the view over the adjacent Bokisch Terra Alta Vineyard from the shaded tables just outside the tasting room, perhaps the best view for tasting wine in all of Lodi. After a couple of moments, Elyse came out to greet us and then led us back toward the production portion of the winery building, which was remodeled from a vineyard equipment shop in 2014. We walked out to the edge of the crushpad to get an overview of Terra Alta Vineyard, just one of the Bokisch estate vineyard properties. The site was first planted in 2008, originally with Syrah and Chardonnay. There is still some of each of those varieties there (some of the Syrah goes to Terre Rouge), but 90-acre Terra Alta now also includes Viognier, Picpoul Blanc, Albariño, Garnacha, Graciano, Merlot, and a small amount of Prieto Picudo.
The first of the Bokisch estate vineyards was Las Cerezas Vineyard, adjacent to Markus and Liz's house in the Mokelumne River AVA of Lodi. Some years ago, Markus mentioned to me that the region reminded him of the area in Catalunya where he would visit every summer. The three-acre vineyard was planted in 1999 to Albariño, Tempranillo, and Graciano, and the first Bokisch wines were released from the 2001 vintage. The cuttings for the Bokisch plantings of Spanish grape varieties came from Spain, so many of their clonal selections are different than most in California. Other vineyards include Vista Luna and Clay Station in the Borden Ranch AVA and Liberty Oaks in the Jahant AVA – both of these Lodi wine regions feature significantly different soil from either Mokelumne River or Clements Hills.
Bokisch has recently planted a new estate site called Miravet Vineyard, in the northern part of Clements Hills, right on the edge of Borden Ranch. Elyse said that Markus started planting the vineyard three years ago, and that they were able to harvest some Tempranillo from there last year – she's very excited about it. More recent plantings there include Garnacha Blanca, Verdejo, and a couple of grape varieties that are typically used in Spanish Cava sparkling wines – Xarel·lo and Parellada. Elyse mentioned that they may start producing Cava-style sparkling wine in 2023.
All of the vineyards that provide fruit for the Bokisch wines are Certified Green by the Lodi Rules for sustainable winegrowing, and Las Cerezas, Terra Alta, and Vista Luna vineyards are also Certified Organic by the California Certified Organic Farmers organization. Markus recently closed a vineyard management company that he had headed up, and this is now allowing him to spend more time managing the farming at the three current Bokisch estate vineyards of Las Cerezas, Terra Alta, and Miravet, totaling about 140 acres. Markus was one of the key people behind the creation of the seven distinct AVAs that were approved in 2006 within the larger Lodi AVA.
We took at quick look into the winery space, and Elyse told us that Bokisch currently brings in about 125 tons of fruit per year, with another 150-175 tons currently processed there for four custom crush clients. White wines are mostly fermented and aged in temperature-controlled stainless steel tanks, though some are made in neutral oak. I asked Elyse whether she lets any of the whites undergo skin contact before pressing, and she said that their Verdejo is the only one – it's destemmed and left on the skins for about 24 hours prior to pressing. Red wines typically spend 18-26 months in barrel before bottling.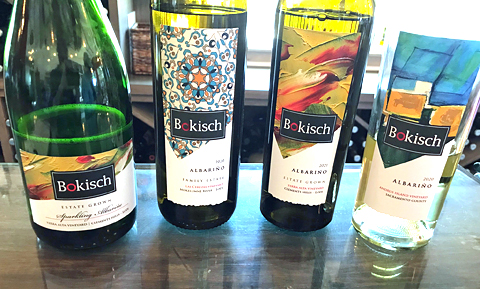 We followed Elyse back to the tasting room, which opened in 2016, and she opened a number of the current Bokisch releases for Eric and me to taste. She started us with the 2021 Terra Alta Vineyard Estate Sparkling Albariño. Made using Méthode Champenoise, it had bright citrus and stone fruit, floral, and mildly yeasty aromas, fine bubbles and a crisp finish. We continued with three different single-vineyard Albariño bottlings, and all were quite distinct from one another. The 2021 Terra Alta Vineyard Estate Albariño, made entirely in stainless steel, is largest production Bokisch wine at about 1,000 cases. Elyse told us that the fruit for this wine is generally picked at around 20.5-21 brix to give it acidity and freshness. This featured apple and orangepeel notes with floral and herbal undertones, with a vibrant mouthfeel and finish. All of the Bokisch white wines are bottled under screwcap except the next one we tasted, the 2020 Las Cerezas Vineyard Family Estate Albariño. This is the only one of the three Albariños that's not fermented and aged entirely in stainless steel, and it typically sees about 40% neutral oak. With citrus, apple, and pear on the nose with spice and flowers in support, plus a saline note that's characteristic of the variety, it had a bit more weight and depth on the palate than the previous wine. The 2020 Andrus Island Vineyard Albariño was sourced from a low-elevation site near the Sacramento River delta. This had more upfront stone fruit and herb aromas with a broad yet lively texture and finish.
Elyse opened two more white wines for us, the first of which was the Tizona 2020 Terra Alta Vineyard Estate Picpoul Blanc. The Tizona label is used for Bokisch bottlings of non-Iberian variety wines, including Picpoul Blanc, Malbec, Carignane, Petit Verdot, Syrah, and a red Bordeaux-style blend. Another white made entirely in stainless steel, the fruit for this wine is typically one of the last picks each year, and it's usually picked at around 19 brix. It showed bright lemon and green apple fruit, floral, and herb aromas, great acidity, and a fresh finish. The 2021 Vista Luna Vineyard Estate Garnacha Blanca was fermented and aged entirely in neutral French oak. Displaying stone fruit and tropical fruit, spice, and a leesy note on the nose, this had medium weight on the palate and a long finish. As we finished the last of the white wines that Elyse poured for us, she noted that more white grape varieties are now being grown in Lodi as they've shown that they can be quite successful there.
Next up were two Tempranillo bottlings, starting with the 2018 Liberty Oaks Vineyard Estate Tempranillo. This was aged in 30% new French and American oak, and Elyse told us that more recent vintages of this wine have used Hungarian oak rather than American. This featured plum and darker berry fruit and earth plus touches of spice and vanilla, with good structure and fine tannins. We compared that wine with the 2018 Las Cerezas Vineyard Family Estate Tempranillo, aged for 19 months in about 35% new French and Hungarian oak – black cherry and plum, dried herbs, smoky oak, and earth aromas, full bodied with a bigger structure, and grippier tannins on the finish. One Bokisch Tempranillo we didn't try during this visit is their "Gran Reserva" bottling, which is barrel-aged for longer than their other ones.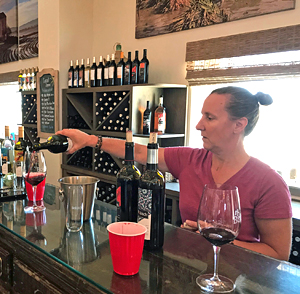 We followed this with a couple of Gracianos, both of which are 100% varietal. The 2018 Terra Alta Vineyard Estate Graciano was aged in about 15-20% new French and Hungarian oak – showing bright red and black fruits with a touch of citrus, spice, earth, and hints of smoked meat, with medium-full body and firm tannins. The 2018 Las Cerezas Vineyard Family Estate Graciano was aged entirely in French oak, with about 35% new barrels, and displayed more intense and focused aromas of darker berry fruit, earth, spice, flowers, and orangepeel, mouthfilling yet lively, with a firm tannic finish. Elyse poured us one more wine, the 2015 Estate "Reserva" Spanish Blend. This is 70% Tempranillo and 30% Graciano, and was barrel-aged for longer than other Bokisch wines, in 100% new French oak. Smoky plum fruit, with earth, clove, and dried herbs on the nose, full body with great structure and fine tannins on the long finish.
Bokisch produces quite a number of different bottlings, both under their own label as well as the Tizona label. I've mentioned their Tizona wines above, and some of the Bokisch wines we didn't taste on this visit include a Garnacha and both still and sparkling Rosados. The total annual production for the two labels is about 5,000 cases.
Bokisch has been at the forefront of changing the view of Lodi wines, showing that the area can produce outstanding wines from grape varieties other than Zinfandel. Elyse was a great host for Eric and me – even though I've been familiar with Bokisch for a number of years and have visited there before, she still expanded my knowledge of their vineyards and wines. It was hard to pick out favorites from the wines Elyse poured for us since they were all so good, but I thought that highlights included the 2021 Terra Alta Vineyard Estate Albariño, 2020 Las Cerezas Vineyard Family Estate Albariño, Tizona 2020 Terra Alta Vineyard Estate Picpoul Blanc, 2018 Las Cerezas Vineyard Family Estate Tempranillo, and 2018 Las Cerezas Vineyard Family Estate Graciano. Bokisch has consistently produced some of the best wines from the Lodi region, and it's well worth a visit to their tasting room for both the beautiful scenery and the terrific wines.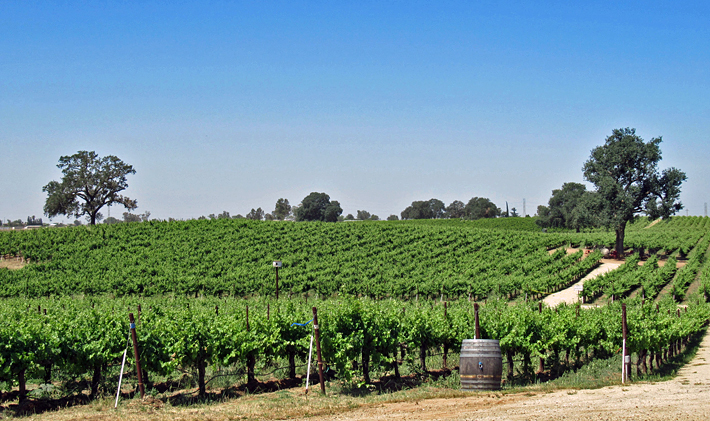 Terra Alta Vineyard
The next winery stop for Eric and me was at Harney Lane Winery, located in the southeastern part of Lodi. I'd arranged a visit there with director of marketing Kelly Mantel, and when we arrived at the handsome wood tasting room building we were invited to join a winery tour that had just started, led by wine club manager Carson Wick. This was my first visit to Harney Lane – a winery that, like a number of others in Lodi, has generations of family history behind it. Eric and I joined a couple from Missouri who were wine club members for the tour and tasting, and we listened to Carson as she told us about the background of the winery and the Mettler family's long history in Lodi.
Harney Lane is a family-run business – it was founded by the daughter of George and Kathy Mettler, Jorja, and her husband Kyle Lerner. If you know much about Lodi wine, you've no doubt heard about the Mettler family, who are now in their fifth generation of farming their land there. George's great-grandfather purchased the property where Harney Lane is now located back in 1900, and his grandfather planted the first vineyard there in 1907. The family had grown other crops prior to planting winegrapes, and they still grow cherries. They now farm about 120 acres of vineyards, about 60 acres of which is at their Home Ranch adjacent to the winery – all of their vineyards are Certified Green under the Lodi Rules sustainable winegrowing program.
Although they've been growing winegrapes for generations, opening their own winery came much more recently, not unlike a number of other longtime Lodi grapegrowing families. Their first vintage came in 2006, and they opened their tasting room in 2008. Since family patriarch George Mettler passed away in 2013 Jorja and Kyle have led the winery business. Longtime Lodi winemaker Chad Joseph makes the Harney Lane wines. Last year's production was about 10,000 cases and they expect that to increase to about 14,000 cases this year. Almost all wine is sold direct-to-consumer, along with some to a few local restaurants.
Carson poured us a wine to taste as she led us out into the Home Ranch vineyard, adjacent to the winery. Fortunately it was not a particularly hot day by Lodi standards and being outside was quite comfortable in the late morning. The 2019 Home Ranch Zinfandel is typically blended with a small percentage of Petite Sirah and aged in American oak, and Carson described it as the winery's "Lodi style" Zin. It featured ripe berry fruit, spice, vanilla aromas, with medium weight on the palate and moderate tannins. As we strolled through part of the large vineyard, Carson showed us several of the different grape varieties growing there, and also pointed out Kathy Mettler's nearby house – built in 1911, it was where George Mettler grew up. The Home Ranch includes Chardonnay, Albariño, Tempranillo, Primitivo, and Petite Sirah, plus around 2.5 acres of older Zinfandel vines.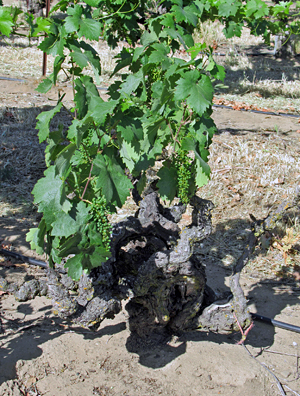 Lizzy James Old Vine Zinfandel
In addition to fruit from their Home Ranch, Harney Lane gets fruit from two other key vineyard sites. Scottsdale Vineyard is about three miles west of the winery, while Lizzy James Vineyard is about two miles north of the winery. The Lizzy James Vineyard, named for Jorja and Kyle's two children, was planted entirely with own-rooted head-trained Zinfandel vines in 1904 – the family purchased the vineyard about 25 years ago. Carson told us that the family sells some fruit from their vineyards to other wineries but has been using more for themselves in recent years. She mentioned that all fruit for the Harney Lane label is harvested entirely by hand, and that many vineyard crew members have been on board there for 20 years.
While we walked through the vineyard with Carson, she poured us a few other current Harney Lane releases. After the Home Ranch Zinfandel that we'd started with, we continued with two more Zin bottlings – both are 100% Zinfandel, and the wine for the Lizzy James bottling was aged in French oak. The 2019 Scottsdale Vineyard Zinfandel had a similar character to the Home Ranch bottling but with a more plummy fruit profile and a bigger structure and firmer tannic finish. The 2019 Lizzy James Vineyard Old Vine Zinfandel featured more complex aromas, with spice, earth, and a touch of mocha plus ripe boysenberry fruit, with plenty of structure and fine tannins.
We headed back from the vineyard with Carson, and she briefly showed us the crushpad and winery, which were both recently expanded. She poured us tastes of two more wines as well. The 2019 Home Ranch Tempranillo was aged in French and Hungarian oak for about 17 months – plum and darker berry fruit, smoked meat, lots of spice, and earth aromas, with medium-full body and firm tannins. The 2019 Home Ranch Petite Sirah, aged in American oak, displayed ripe blueberry and blackberry fruit, spice, and chocolate on the nose, with a mouthfilling texture and tannic finish.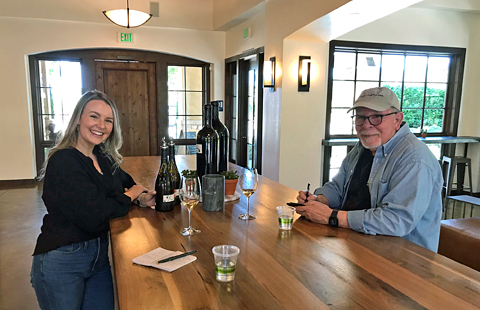 We proceeded back into the large, airy tasting room, and the couple from Missouri needed to take off but Eric and I sat down with Carson to taste a few of Harney Lane's white wines. The 2021 Home Ranch Albariño was whole-cluster pressed, aged mostly in stainless steel along with a little neutral oak, and did not go through malolactic fermentation, allowing it to retain more acidity. It had bright green apple, herb, and floral aromas, with medium-light weight and a lively mouthfeel and finish. The 2020 Scottsdale Vineyard Chardonnay was made in a similar way, with both wines being fermented at cool temperatures in jacketed stainless steel tanks. This displayed citrus and apple notes plus spice and a hint of flowers, with a pleasant texture and crisp finish. The 2020 Home Ranch Chardonnay was aged in barrel on the lees in about 30% new oak, with partial malolactic fermentation, a more "California style" of Chardonnay than the Scottsdale Vineyard bottling – this had a deeper color, with ripe stone fruit and tropical fruit aromas, more spice, and hints of butter and toast, with a richer mouthfeel and finish.
Harney Lane produces several other wines that we didn't taste on this visit including a Primitivo rosé and a Zinfandel/Primitivo rosé, both made by whole-cluster press, a wine club-only Primitivo, Cabernet Sauvignon, Port-style wines, and a special blend called "Patriarch's Promise". This last wine is named in honor of George Mettler, and they keep the blend a secret – a percentage of the proceeds from this wine are donated to a cancer research charity.
Eric and I had a fun visit to Harney Lane, and their tour and tasting experience is recommended to anyone who really wants to learn about their winery and vineyard as well as the family's multi-generation background of farming in Lodi. Carson was a terrific host and tour guide, very knowledgeable and friendly. The red wines we tasted were bold but not overdone, and the whites reflected a nice range of styles. Favorite wines that we tried there included the 2019 Lizzy James Vineyard Old Vine Zinfandel, 2019 Home Ranch Tempranillo, and 2021 Home Ranch Albariño. For anyone looking for well-made wines in a more "traditional" Lodi style, Harney Lane should be on your short list of wineries to visit.
Eric and I decided that Harney Lane's beautifully-landscaped garden right next to the tasting room would be a fine place to enjoy our lunch, so we brought the big sandwich, chips, and drinks we'd picked up at Cut The Mustard earlier in the day to a table there. There was plenty of shade under the large oaks, cedars, liquidambars, and other trees, and a pleasant fountain nearby. It was a very relaxing environment, and if you stop in to taste at Harney Lane, this would be a perfect spot for a picnic lunch on a hot Lodi day. The tasty sandwich really hit the spot, and Eric and I would have been happy to hang out at the garden table for awhile longer, but eventually we had to head out to our next winery appointment, not too far away.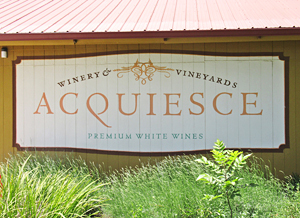 Our first visit on Friday afternoon was with winemaker Sue Tipton of Acquiesce Winery & Vineyards, located in the northeastern part of the Mokelumne River AVA of Lodi. Acquiesce is unique in Lodi in that they make only white wines and rosés, no reds. The focus here is on white grape varieties from the Rhône Valley. I'd first tried the Acquiesce wines at a couple of large Bay Area tasting events and was impressed by them, and I visited there in 2016, but this was Eric's first experience with their wines.
Sue and her husband Rodney own Acquiesce. The winery name is a reference to a k.d. lang song that the couple had listened to about 25 years ago as they were sitting out on the patio of their home in Portland. Rodney predicted that they would one day have a place with lots of land and beautiful views where they could "acquiesce." They'd thought about finding a spot to grow winegrapes, and after Rodney's business took him to the San Joaquin Valley not far from Lodi, they purchased their 18-acre property in 2003. There was already a small vineyard with Zinfandel on the property, as well as a century-old hay barn that needed lots of work. Sue worked with the vines, planted in sandy soil, although she had not originally planned to make wine commercially. Between Sue making wine at home and the couple's shared love of the white wines of Châteauneuf-du-Pape, they decided to launch their own label. They began replacing the Zinfandel vines with white Rhône varieties, and worked with a consultant to convert the old barn into a winery. Early customers loved the wine that Sue made from the new white grape varieties, and helped convince the Tiptons to plant more of them.
Lodi, with its warm climate, has never been particularly known for its white wines, so a plan to focus on white Rhône grape varieties might have seemed a daring choice there, but they've made it work remarkably well. More white varieties have gone into vineyards in the region in recent years, very likely due in large part to the success of the Acquiesce wines. Sue oversaw the first plantings in 2008-2009 of four acres of Picpoul Blanc, Grenache Blanc, Viognier, and Roussanne, plus some head-trained Grenache Noir for a rosé. Later, more Zin vines were taken out and that area was replanted with Clairette, Bourboulenc, plus more Picpoul Blanc, Grenache Blanc, and Grenache Noir. Clairette and Bourboulenc are fairly new and rare varieties in California – Acquiesce was the first vineyard in the country with Bourboulenc.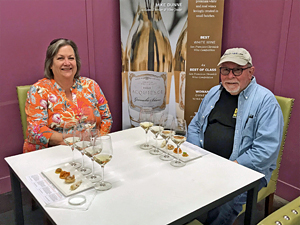 Ten acres are currently planted at the estate Lady Acquiesce Vineyard, and Sue told us that another 5.5 acres will be planted soon, to include more Picpoul Blanc plus some Grenache Gris and Cinsaut for rosé. All of their plant material was sourced from Tablas Creek clones that were brought to California from Château de Beaucastel, except that the Grenache Noir planting is Alban clone. The vineyard is Certified Green under the Lodi Rules sustainable winegrowing program.
All of the fruit for the Acquiesce wines comes from the estate vineyard, and Sue's aim with her winemaking is to produce fresh, crisp wines. Sue told us that harvest is in August and September, and that the fruit is hand-picked in the early morning and then whole-cluster pressed and fermented cool in jacketed stainless steel tanks with individual temperature control. The wines are aged in stainless steel as well, and the lees is stirred about once a week to give the wines more texture. None of the Acquiesce wines go through malolactic fermentation, to help retain their acidity. The wines are generally bottled in March of the year following the harvest, and all of the current wines are under 14% alcohol. Current annual production is about 4,000 cases, with plans to increase to around 6,000 cases after new plantings go in.
Specializing in making white wines in Lodi is not the only thing that helps set Acquiesce apart from other wineries in the region – they've taken an active role in working to increase inclusion of under-represented groups in the wine industry. Rodney co-founded the Lodi Appellation Inclusion Collective (LAIC) in 2020, with a goal of increasing diversity in Lodi and beyond. And Acquiesce is also a partner in The Roots Fund, which looks to help provide resources and financial support to under-represented groups in the wine business through educational scholarships, wine education, mentorship, and job placement.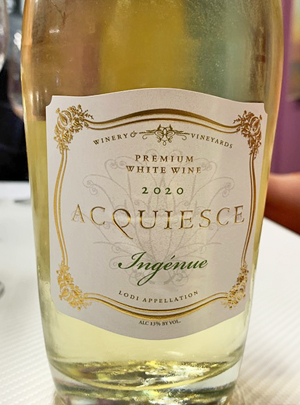 Eric and I sat down with Sue at a table in the tasting room to try some of the winery's current releases. The Acquiesce sit-down "Elevated Tasting Experience" includes small bites specially created to pair with each of the four wines selected for the tasting. Rebecca Forrest of Lodi's Bordeaux Inn bed & breakfast created the small bites for the pairings. We started off our tasting with the 2020 Estate Bourboulenc, which was paired with mofongo – plantain, chicharrón, garlic, chicken broth, and cilantro. The wine featured bright citrus fruit with a touch of fresh herbs, vibrant acidity and a fresh finish. Next was the 2021 Estate Grenache Blanc, probably the wine that Acquiesce is best-known for. Paired with a soyrizo empanada – onion, bell pepper, and potatoes on a Ritz cracker – the wine displayed green apple and stone fruit aromas, a hint of strawberry and pretty floral overtones, juicy acidity, medium-light weight on the palate, and a long crisp finish.
We moved on to two somewhat weightier white wines. The 2021 Estate Viognier was paired with a chicken mole tostada – Dona María mole, chicken, and cheese. This wine showed the upfront stone fruit and floral aromas characteristic of the variety while retaining great acidity along with medium body and a long finish. The last wine of the four wines paired with the small bites was the 2020 Estate Roussanne, paired with Mexican street corn – chili, garlic, lime, cotija, and crema – the wine had a deeper yellow color, with spice and pear aromas along with hints of flowers and nuts, more weight on the palate but with a lively texture and finish.
Sue poured Eric and me a few additional wines as well. The 2020 Estate "Ingénue" is one of two Acquiesce white blends – all of the other white wines are single-varietal. This one is 35% Grenache Blanc, 35% Clairette Blanche, 20% Bourboulenc, and 10% Picpoul Blanc, and featured pear and ripe apple fruit, flowers, and a touch of spice on the nose, with medium-light weight and lively acidity on the palate and the finish. We continued with the 2021 Estate Grenache Rosé, which includes 3% Cinsaut – this had fresh strawberry and floral aromas with nice weight in the mouth and a juicy texture and crisp finish.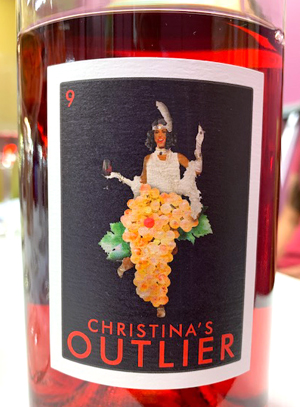 Sue wanted us to taste a new wine made by the Acquiesce assistant winemaker Christina Lopez. Christina came over to the table and poured her 2021 "Christina's Outlier," made from 90% Grenache and 10% Cinsaut, and not yet released. It is indeed an outlier at Acquiesce, the only red wine made at the facility! A very light red, this displayed bright red fruit with touches of fresh herbs and flowers, medium-light body, and a lively mouthfeel and finish. This wine will probably be released in August, and Sue noted that it's already won a Gold Medal at 2022 Sunset International Wine Competition.
We went on to taste the 2021 Estate Cinsaut Rosé, just released in June – red fruit and tropical fruit on the nose with floral undertones, fine acidity and a long, clean finish. Sue finished up our tasting with the 2018 Estate Sparkling Grenache Blanc. This was fruit-forward and had similar aromatic character to the still Grenache Blanc with its apple and floral notes, plus fine bubbles and a crisp, pleasant finish. Sue told us that they're currently working on a sparkling Picpoul Blanc and sparkling Grenache Rosé as well.
After we'd finished tasting, Sue led Eric and me out to take a look at the vineyard, and then over to the winery building. Lots of stainless steel tanks were lined up there, waiting to be filled with fruit for the wine from the 2022 vintage.
Sue poured Eric and me most of the current Acquiesce releases – the only ones we didn't taste on this occasion were the Picpoul Blanc, Clairette Blanche and the "Belle Blanc" – a blend of Roussanne, Grenache Blanc, and Bourboulenc. The Acquiesce wines have consistently won top awards at highly-regarded wine competitions. The 2020 Grenache Blanc, 2020 Picpoul Blanc, and 2020 Roussanne were named Best of Class at the 2022 San Francisco Chronicle Wine Competition, while the 2020 Viognier was name Best White Wine at the same competition – a very impressive achievement for the winery. I should note the elegant and distinctively-shaped bottles – just one more thing that helps differentiate Acquiesce from any other Lodi winery.
Eric and I had a great time visiting with Sue at Acquiesce. The vibe at the tasting room is relaxed and low-key, and I think that reflects Sue's personality well. The small bite pairings with the wines was new for me there, and made for a delightful tasting experience, and it was a fun bonus for us to try Christina's wine as well. The Acquiesce wines have shown without doubt that Lodi can be well-suited to white grape varieties and not only big reds. As with a few of our other Lodi winery visits, it wasn't easy to pick out favorite wines since they were all so good, but standouts for me included the 2021 Estate Grenache Blanc, 2021 Estate Viognier, 2020 Estate "Ingénue," and 2021 Estate Grenache Rosé, as well as Christina's 2021 "Christina's Outlier." If you're looking for a real change of pace in tasting Lodi wines, you can't do better than Acquiesce.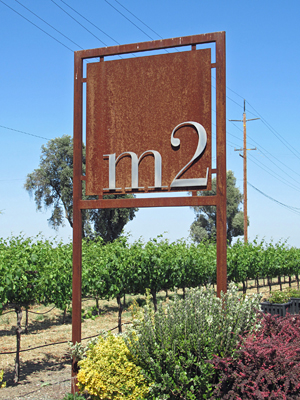 I'd tasted and enjoyed a few m2 wines over the years, and have been intrigued by their sleek, modern, eye-catching winery and tasting room building along Peltier Road in the northern part of Lodi, so I figured this would be a good opportunity to visit there. I'd gotten in touch beforehand with hospitality manager Denise Gage, and she said that she'd see if owner/winemaker Layne Montgomery would be available to talk with Eric and me while we were there. We pulled into the large parking area and walked toward the tasting room, and we spotted the interesting grape cluster images stamped into the borders of the concrete walkway. Denise was behind the tasting bar when we walked into the large, airy tasting room space, and she welcomed us in. There were a number of choices of where to sit, and we chose stools at an upright wine barrel with a circular glass top for our tasting.
Denise brought Eric and me lists of the currently-available m2 wines, and we each selected one to start with. It wasn't long afterwards when Layne came in to join us for awhile. He told us that he grew up in Missouri and Arkansas, and worked in broadcast television in different markets – it was during this time that he developed an interest in wine. While working in Grand Junction in western Colorado a friend taught him how to make beer, and it wasn't long before he moved on to making home wine as a hobby. As is the case with a number of vintners, Layne told us that he has no formal winemaking training and learned by doing it. And is also sometimes the case, the hobby grew into a business over time. Layne met his original wine business partner (the other "m" in m2) in 2000, and established the winery in 2004. After making their wine at other local wineries for the first couple of years, they moved into their own space in 2006. Layne's partner left the business in 2007, but that didn't slow him down.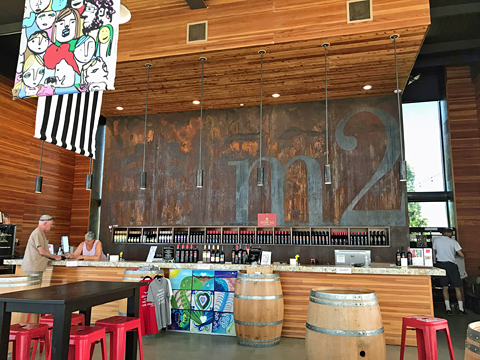 In the succeeding years, Layne's m2 wines, particularly the Zinfandels, gained attention and acclaim, and in 2014 the current winery and tasting room building was completed. It's solar-powered, and features insulated steel wall panels to help keep it cool during the hot Lodi summers. The building is located on a 17-acre property that also includes a 3.5-acre estate vineyard that's planted to Vermentino, Zinfandel, Petite Sirah, and Tannat – the first harvest from their estate vines was in 2016. In addition to their estate fruit, m2 purchases fruit from other growers in Lodi as well as some from Amador and El Dorado Counties in the Sierra Foothills. They also get Cabernet Sauvignon fruit from Napa Valley. Of particular note for the Lodi fruit they buy is the old-vine Zinfandel from Soucie Vineyard, originally planted in 1916.
Eric and I each selected wines to try from the m2 wine list – in some cases we tasted the same wines but mostly we each tried different ones. Denise started me off with the 2019 Mokelumne River Vermentino – the fruit for this particular wine came from Vino Farms a few miles east of the winery, and it's fermented cool in a temperature-controlled stainless steel tank with no malolactic fermentation. This displayed upfront apple and stone fruit aromas with notes of citrus and flowers, medium-light weight on the palate, with a crisp finish. Next for me was the 2019 Mokelumne River Rosé, made from estate Zinfandel and old-vine Carignane from Mule Plane Vineyard and also with no malolactic fermentation. Showing watermelon and strawberry on the nose along with a touch of fresh herbs, this had a lively mouthfeel and finish. I compared that wine with the 2021 Estate Rosé, which is 100% Zinfandel – this had intense fresh strawberry fruit with floral undertones, vibrant acidity and a long clean finish.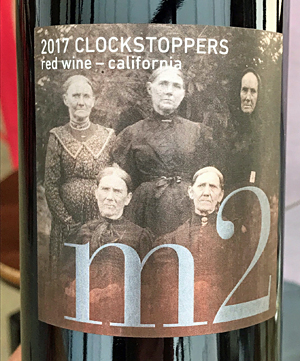 I moved on to red wines, and Denise poured me a taste of their 2019 Soucie Vineyard Old Vine Zinfandel – this came from the original six-acre block of own-rooted, head-trained vines in the far western part of the Mokelumne River AVA. This showed bold and bright boysenberry and wild berry fruit, plus spice, earth, and vanilla aromas, medium weight on the palate with moderate tannins. My next wine was the 2018 Mokelumne River Barbera, which has 5% Zinfandel blended in, and was aged in about 25% new French and American oak. With bright and spicy ripe cherry fruit on the nose, this had a lively mouthfeel and finish. I tasted one more red, the 2017 California "Clockstoppers Blend" Red Wine. This blend is Syrah, Carignane, Tempranillo, Barbera, and Zinfandel from Lodi and Amador – spicy and smoky red and black fruit aromas, medium-full bodied, with good acidity and finishing with fine, chalky tannins. The distinctive label for this one has a late-1800s photo of Layne's great-aunts at the family farm in Missouri.
I finished up my tasting with the NV "Celestial" White Wine, a blend of Viognier, Riesling, Gewürztraminer, plus other German varieties. This was very floral, almost perfumey, along with ripe stone fruit and a touch of spice, medium weight with a pleasant and slightly sweet finish. There are quite a few other m2 wines that I didn't taste on this visit, including Viognier, Chardonnay, Syrah, Petite Sirah, Tannat, other Zinfandel bottlings and red blends (including a new top-of-the-line blend called "Patina" made from estate vineyard fruit), Cabernet Sauvignon, and a dessert wine. The total production for m2 is around 3,500 cases per year.
[Eric here. As Ken mentioned, we had a couple of opportunities on this trip to select different flights of wine, or even select à la carte from a larger wine list, and m2 was one of those opportunities.
I tried the 2020 Mokelumne River Chardonnay. Really nice rendition, with just the right amount of jucy mouthfeel to accompany the slightly creamy fruit. The light touch of oak on the finish was perfect. Next up, was the 2017 Mokelumne River Cemetery Vineyard Zinfandel. This was a little riper than I prefer, but also had a distinctly bright/sour mouthfeel on the finish. On to the 2019 Clements Hills Rocha Vineyard Petite Sirah. Fabulous nose of blackberry and herbs, with just a hint of pie crust. Excellent mouthfeel, perfect blend of sweet and savory flavors, and long chewy finish. The 2018 Mokelumne River m2 Estate Vineyard Petite Sirah was from younger vines and thus a little leaner in mouthfeel than the previous Petite. Nice edgy blackberry and herb flavors and long finish.
I have to admit, sometimes you just select a wine to try because of its name. The Cemetery Vineyard Zin was one of those. The 2019 Lodi Purple Squirrel Cabernet Sauvignon was another. The allusion here is apparently a squirrel may have fallen into the vat - or, maybe not. Either way, this was a blend of 87% Lodi Fruit, and 13% Cab from El Dorado County (Fair Play AVA). Sort of Cab-like in nose - but something unfamilar, too - maybe...acorns...or, some squirrel? Lean and less-Cab-like in flavor and mouthfeel, but nice finish.
By the way, Ken mentioned the Clockstoppers Blend above, and I had to ask Layne...why the name? Layne pointed to the label, "those faces would stop a clock," he said, matter-of-factly. Now, back to Ken]
We had an enjoyable tasting at m2, and Denise was a fine host for Eric and me. It was fun to talk with Layne for awhile too – it would have been great if he could have stayed a bit longer but he was busy that afternoon and it was gracious of him to spend time with us. The winery and tasting room are very distinctive – there's nothing else in Lodi like their building. The wines displayed a range of styles, and my favorites of the ones I tasted included the 2019 Mokelumne River Vermentino, 2021 Estate Rosé, and 2018 Mokelumne River Barbera. The combination of a relaxed tasting experience in their striking modern tasting room and the broad range of fine wines available there makes m2 a worthwhile tasting stop in Lodi.
After Eric and I went back to the motel from our visit to m2, we had a little extra time before dinner, so we shared a Russian River Brewing Pliny the Elder in his room before heading out. Where to go for dinner? Well, we enjoyed the previous night's dinner at Guantonio's so much that we decided to go back. We split a couple of starters and then ordered a different pizza than the ones we'd had the night before, and it was terrific – the "Fino", with roasted fennel, house fennel sausage, fresh mozzarella, and Fiscalini Farms San Joaquin Gold. We got back to the motel in time for me to watch the Golden State Warriors come back to beat the Dallas Mavericks in Game 2 of the NBA Western Conference finals on TV, on the way to their fourth NBA championship in eight years!
That was a pretty good way to finish up our second day of Lodi wine touring, which included visits to four very different wineries that were each representative of some of the many approaches that Lodi vintners are now taking to help distinguish the region's wines.