Vol. 18, No.1
Central Coast - December 2010
Prologue -
It seemed like it had been far too long since I'd organized a full-on tour of Central Coast wineries and vineyards. Oh sure, there had a few visits here and there, but nothing approaching a real road trip. So, when Ken Zinns suggested a late Fall trip, I jumped at the opportunity. Where to go? Well, given that the past few years has seen a substantial increase in the number of wineries and vineyards in both Paso Robles and Santa Barbara County, it seemed like the logical place to start.
So, after contacting the Northern California grape-nutz contingent to see who'd be interested hitting the wine trail, I began the process of selecting some stops for the trip. I mostly chose places that we had never visited, and in some cases had been completely unaware of the wineries. Plus, I added a few of the usual suspects we hadn't been to in a while. Settling on early December, the time was finally at hand to head out for yet another wine tour.
The first leg, from Wednesday through Friday, we would cover Paso Robles, stopping at ten wineries. Then, Friday afternoon, we'd head south to Santa Ynez Valley, and after check-in at our motel, we were to join John Tomasso for dinner at the Ballard Inn. Five or so visits in Santa Barbara County, and we'd have made a trip out of it.
Along for the ride on leg one was Al Osterheld, Ken Zinns, and Bob Summers. On Friday morning, we were going to be joined by Eric Lundblad, Paul Homchick, and Bryan Harrington, for the rest of the Paso trip, as well as for leg two, in Santa Barbara County.

Wednesday - December 1, 2010
Giornata
We all decided to meet at a small restaurant in Templeton named Joe's Place for a 9:30 breakfast (or 2nd breakfast for some). From Joe's, it was a quick trip east through the Templeton hills for a few miles along El Pomar Road, until we arrived at the home of Brian & Stephanie Terrizzi of Giornata Wine. Ken needed to pick up an order and I hadn't been there, so we checked out the future location of their estate vineyards in the Templeton gap region of Paso's Eastside. The Terrizzis are committed to making Italian varietals, which do seem to be gaining a bigger toe-hold in Paso. Indeed, many other viticultural regions of California are beginning to consider the efficacy of planting Italian varieties as well.
After working for Rosenblum Cellars, Brian went to Tuscany to work at Isole e Olena. His experience there gave him a great deal of insight into Italian winemaking, and he was also able to visit other cellars from Tuscany down to Sicily. He decided he wanted to bring that kind of winemaking to California. Of course, there were some naysayers - one of California's well-known winemakers told him: "If you want to make nebbiolo move to Italy. You'll never do it here." But, a few months later he met Steve Clifton of Palmina winery. Steve shared stories of his own success making Italian varietals in the Santa Ynez Valley, and convinced Brian to keep working toward his dream to do so as well. So, Brian studied enology at Fresno State and married Stephanie, and they spent their honeymoon visiting the top producers at estates in Italy. Ever the multi-tasker, Brian also works with Chris King at Redcar and Mike Sinor of Sinor-Lavallee, plus he is a partner with Chris Brockway in Broadside Winery.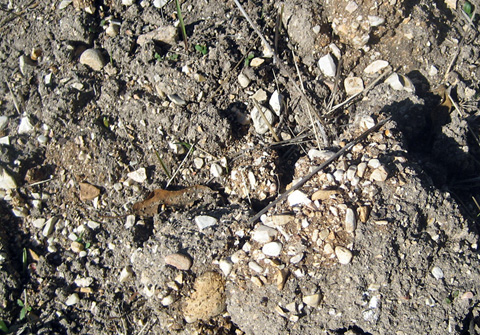 Stephanie's interest in wine was came about while working at a wine bar in Illinois. Her desire to get closer to the action led her to Sonoma County, where she was managing and building the wine programs for Ca'Bianca and Sassafras restaurants. Her interest in science and her pre-med background led to more training and a Certificate in Viticulture from the Santa Rosa Junior College while juggling vineyard duties in Napa and Sonoma. She then went on to Fresno State to pursue a degree in Enology, Chemistry and Plant Science. She is currently managing the small west-side Paso Robles vineyard Luna Matta, as well as doing some vineyard consulting. Last year she completed her advanced sommelier certificate from WSET Court of Master Sommeliers. Stephanie is currently planning Giornata's estate vineyard and will start planting soon.
The Terrizzi's plan is to plant about 4-6 acres of Nebbiolo and Aglianico vines on the south and southwest-facing slopes near the house. Given the size of their label, they will probably keep most of the fruit for themselves. We noticed there was a considerable amount of varying types of rock on the surface of the soil. It seemed odd at the time, but Brian also mentioned that the soil here is very high in pH – one of the necessary advantages with Italian varieties. I'm not a geologist, but maybe high pH soils normally come from a multitude of broken-down rock types. As the vineyard manager for Luna Matta Vineyard, Stephanie's background should bode well for their estate vineyard.


Alta Colina
Tasting Notes: Current Releases

Alta Colina 2008 Claudia Cuvee – Estate. This white blend of 58% Marsanne, 21% Roussanne, 21% Grenache Blanc is fully fermented in stainless steel. Big rich nose, yet surprisingly tactile on the palate. Nice flavors and balance, and delicious.

Alta Colina 2009 12 O'Clock High – Estate. Another white blend of 69% Viognier, 18% Roussanne, 7% Marsanne, 6% Grenache Blanc. Seems a bit more fragrant in the nose, with a more plush mouthfeel than the Claudia. Balance is great on both, but I prefer the Claudia for its crispness on the finish.

Alta Colina 2008 GSM – Estate. This red blend of 34% Syrah, 33% Grenache, 20% Mourvèdre, really shows the Grenache component in its red raspberry fruit. Nicely balanced flavors and acids, and nice long finish.

Alta Colina 2007 Syrah – Estate. 100% Syrah, this has nice dark fruit aromas, with an emphasis of toasted herbs and licorice. Good flavors – very tasty with nicely balanced mouthfeel. The 15.7% alcohol gives the palate some additional weight, yet doesn't interfere with the total balance.

Alta Colina 2008 "Toasted Slope" Syrah – Estate. The fruit in this blend of 92% Syrah, 3% Viognier, 2% Grenache, 3% Mourvèdre, has a big roasted element in the nose. Full and rich on the palate, some of that roasted quality comes through in flavor as well. The 15.5% alcohol may the palate some additional weight, but to tell you the truth, I was more fixated on smelling this wine.
Alta Colina 2008 Petite Sirah – Estate. This 100% PS was surprisingly accessible and open for business. Early on, lots of Petites are behemoths – Baby Hueys that just can't get out of their own shadow. In contrast, this had lovely nuances of briary dark fruit, toasted herbs and a touch of fennel. Full and rich on the palate, but light on its feet and very well balanced. Although 15.7% alcohol, it just doesn't show it - which, to be truthful, came as a mild disappointment to me.


Arrived at 1:30 for our appointment with Bob and Maggie Tillman, a father and daughter duo, who, along with wife Lynn make up the Alta Colina team. The Alta Colina tasting room is in rented space at Villacana winery, located a short way up Adelaida Road.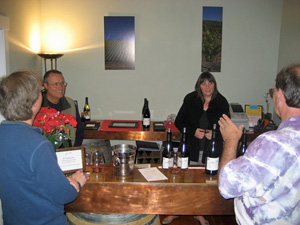 Ken & Bob talk to Bob & Maggie Tillman at Alta Colina
Bob Tillman is an ex-Hewlett Packard electrical engineer who retired in 2002. So, what made you want to do this, I asked him. "Well, I've always liked wine, so…." Ask a silly question. So, ultimately, he decided he wanted a vineyard and all the work that went with it. Bob also decided he wanted to fully participate in the viticulture and winemaking, and took classes at Hancock College in Santa Maria to gain some necessary background, then astutely brought in some harvest and winemaking consultation to get started.
Jumping into Bob's truck, we ascended the road up to the vineyards at between 1600'-1700' (Alta Colina is Italian for High Hill), located at just behind the tasting room. The view from here was amazing – 360 degrees in all directions. The Tillmans found this beautiful hilltop property on Adelaida Road in 2003. Of course, that was only half the battle. Next, they had to prepare the property for planting. Bob hired John Crossland, Dean Harrell, and Steve Vierra from Vineyard Professional Services to plan, plant, and farm the vineyard. The narrow road up the mountain had to be expanded to carry farm vehicles. In addition, a high volume water well was drilled at the bottom of the mountain and piping was installed to carry water the 500 feet up the hill to a reservoir that would hold the irrigation supply. Next, the soils were ripped, the drip irrigation system installed, and finally a trellis system was put in place.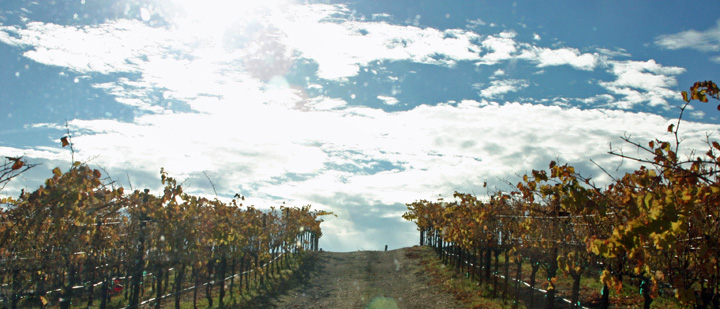 Finally, after more than a year of site preparation, the first vine was planted in April 2005 by Ann Walsh, Lynn's mother. That vine was Petite Sirah, and the block was named Ann's Block to commemorate the event. By the end of May, there had been 40,773 vines planted, covering 31.1 acres separated into 14 blocks. Four red Rhône and four white varieties are planted. Most are ENTAV selections, with 3 blocks coming from John Alban's vineyard in Edna Valley. As usual, the first few growing seasons were dedicated developing the vines and root systems. The 3rd leaf harvest of 2007 was their first vintage. Their goal is roughly 1 cluster per shoot, or 4 tons to the acre. Bob says he's dabbling a bit with organic growing, but it's just experimental at this point. Total production for Alta Colina is 920 cases currently, with the expectation of producing 1300 cases next year. They sell a portion of their grapes to other Paso wineries, but keep the rest for their own label.


Clos Solène
Tasting Notes: Barrel samples

Clos Solène 2010 La Rose – Paso Robles. A GSM blend, using the saignee method for the juice, with stainless steel fermenting thereafter. Nice mouthfeel, and very good fruit, with plenty of acids to balance it all out through the long finish.

Clos Solène 2010 Roussanne – Booker Vnyd, Paso Robles. Four days cold soak and stainless fermentation. Lovely aromatics of pear and apricot. Slightly viscous, yet elegant in mouthfeel. Some oak and minerality in both nose and mouth.

Clos Solène 2010 Viognier – Russell Vnyd, Paso Robles. Lovely honeysuckle aroma, with floral notes and a hint of buttered toast. Elegant, seamless melding of peach and nectarine. Low tonnage, 9 days cold soak, stainless steel fermented.

Clos Solène 2009 Syrah – Russell Vnyd, Paso Robles. Estrella clone. Gorgeous nose of black fruit and some herbs. Lots of jammy fruit, and just delicious with juicy acids to ramp up the finish.

Clos Solène 2009 Grenache – Russell Vnyd, Paso Robles. 20% syrah. Obvious Grenache-influenced nose of raspberry, as well as a nice dollop of dark fruit flavors on the palate. Nice balance throughout with juicy acids through the finish.

Clos Solène 2010 Mourvedre – Russell Vnyd, Paso Robles. Blended with 25% Grenache. Still getting coaxed through fermentation, this lot was from a barrel covered with heating blanket. Fascinating aromatics of roasted and macerated fruit in the nose. A bit monolithic and sweet in mouthfeel, but you can sense where this is going and want to accompany it on the journey.

Clos Solène 2010 Grenache – Russell Vnyd, Paso Robles. Given general alcohol levels in many Paso wines, a fortified Grenache may seem a bit like carrying sand to the beach. That said, this was a terrific rendition, and avoids that often old vine sappiness and astringency of many late harvest wines.


Bob Summers mentioned that he had tried the Clos Solène Roussanne at the Paso Rhone Rangers tasting, and it was his favorite wine of the entire tasting. He suggested we add a visit to them on our itinerary, to which I said, no problem, as Bob is usually on the cutting edge of finding excellent white Rhones.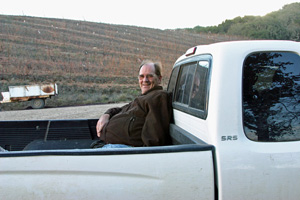 We arrived at 4pm for our appointment with Guillame Fabre of Clos Solène. Guillame and his wife Solène (it's always an astute idea to name a winery or vineyard after one's spouse) came from France several years ago. His family comes from Corbierres, but moved to Cote de Bourg in Bordeaux. He decided to come to the U.S. to pursue a career in wine, primarily because there were no appellation restrictions (sound familiar?). After a season working at L'Aventure, Stephan Asseo invited Guillame become the assistant winemaker, where he has now been working for the past five years. After our initial introductions, we all jumped into Guillame's pickup and he drove us the few hundred yards over to Erich Russell's vineyard, where Guillame sources his fruit. Rather than squeeze into the cab, Bob chose the riding in the pickup bed. We nearly lost him over a bump or two on the dirt road to the vineyard. Exiting the pickup, Guillame walked us though the block where he sources fruit, explaining the trellising, spacing, how he trains the vines, his shooting and thinning procedures, and why he picked this particular block in the first place.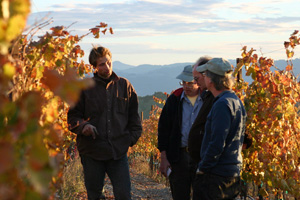 Guillame, with Al, Bob, and Ken
The sun was just starting to go down, and the light was gorgeous on those leaves remaining on the vines. So, retracing our pickup ride back to the winery, Guillame took us through a few barrels to show us what he'd been doing. They were surprisingly accessible, and quite elegant – even from barrel.
One of the more interesting things Guillame showed us was a barrel practically hidden over in a corner of the barrel room. It was covered with a heating blanket. We knew what was going on (he was helping the wine inside get through fermentation). It looked like a barrel being tucked into bed for the night. He also kept this particular barrel on a home-made rolling rack device with wheels, so he could rotate the barrel and redistribute the lees in order to round out the structure and complexity of the wine. Rotating that barrel over the course of a day seemed like a real pain, but with potentially 25 cases of wine inside, you do what you have to do.
Ken had made restaurant reservations for us for both nights in Paso – Wednesday was to be at Villa Creek, with just the four of us. A nice quiet time, with each of us bringing the requisite 2-bottles per person.

Additional Photos from Wednesday
Row 1 - Alta Colina
Row 2 - Clos Solene
Thursday - December 2, 2010
AmByth Vineyards
Tasting Notes: Current and Future Releases

AmByth 2009 Rosato – Monterey County. Unlike the rest of the AmByth wines, this blend of 66% Merlot and 34% Syrah was made from non-estate fruit, certified organically farmed, rather then biodynamically farmed. Lovely nose, and very fruit-forward – as well as tasty. There were no added sulfites. 13.5% alcohol.

AmByth 2008 Venustas – Estate, Paso Robles. This unusual blend of 80% Sangiovese and 20% Tempranillo is full on the palate, with significant fruit upfront, as well as a nice acid backbone and plenty of tannins on the back end. 12.1% alcohol.

AmByth 2009 Validus – Estate, Paso Robles. A blend of 50% Tempranillo and 50% Sangiovese, was seemingly more tannic than the Venustas, yet rounder and more approachable now. 12.2% alcohol.

AmByth 2008 Grenache – Estate, Paso Robles. Lovely nose of raspberry compote, with a light floral hint. Wonderful flavors and mouthfeel, excellent balance of acids and fruit, with nice long finish. No Sulfites Added 13.4% alcohol.

AmByth 2009 Mourvedre – Estate, Paso Robles. Fabulous earthy and fruity nose, with rich mouthfeel and long finish. I picked a hint of VA, but it seemed to blow off rather quickly.

AmByth 2008 Adamo – Estate, Paso Robles. This blend of 67% Grenache, 16% Mourvedre, 14% Syrah, and 3% Counoise carries the familiar raspberry notes, but the other components contribute a very nice level of complexity. Lovely nose, with even better flavors on the palate. 12.75% alcohol

AmByth 2008 ReVera – Estate, Paso Robles. Both black and red fruit are apparent in the nose and mouth in this blend of 52% Mourvedre, 30% Grenache, 15% Syrah, and 3% Counoise. Spiced earthy notes, with a nice gamey hint as well. Excellent balance and very long moderately tannic finish. 12% alcohol
AmByth 2008 Maiestas – Estate, Paso Robles. An interesting flip-side on the ReVera, this blend of 61% Syrah, 18% Mourvedre, 15% Grenache, and 6% Counoise ratchets up both the earthy and gamey qualities of the foregoing wine. 12.5% alcohol

AmByth 2009 Priscus – Estate, Paso Robles. Phillip originally had some difficulty getting this 44% Grenache Blanc, 25% Viognier, 17% Roussanne, 12% Marsanne blend through primary fermentation. But, we're sure glad he did. Lovely citrusy-floral notes in the nose, with nice full coverage and crisp finish.


AmByth occupies a hilltop position in the Templeton Gap, one of those breaks in California's coastal mountain ranges that allows marine air to flow inland – usually accompanied with a moderate breeze that is pulled eastward by the heat of California's Central Valley. The effect has been likened to air conditioning for the vineyard, with marine breezes cooling down the grapes after the warmth of the day. In addition, marine fog can permeate the area – again creating a cooling effect and better growing conditions for the grapes.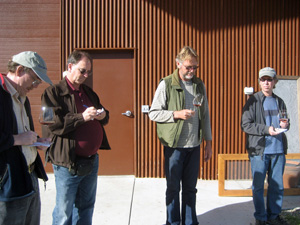 Al, Bob, Phillip Hart, Ken
There was a lot of interest for a visit to this biodynamic producer, especially given the frequent skepticism for this growing philosophy about winegrowing - if not life. All along the road as we approached the ranch, warning signs were emblazoned with "No poisons allowed," "no chemicals allowed." I almost stopped the car to make sure we weren't carrying something nefarious.
We arrived at 9:30 at Phillip and Mary Hart's AmByth Estate, and now with all of the vineyard fully harvested, things seemed to be humming along bringing in olives from the local trees. After the usual introductions, Phillip led us over to the winery, where he poured us through his current lineup of wines. The name AmByth is Welsh (as is Phillip), for "forever." The 42-acre property consists of 20 acres of vineyards and 600 olive trees, and is planted to 4 white and 4 red grape varieties. Interestingly, AmByth is Paso Robles' first and currently its only winery to produce Demeter certified Biodynamic wines.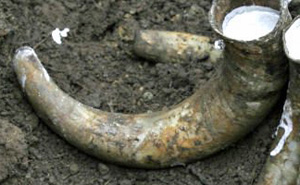 Now, almost everyone has heard of organic farming. However, just in case you've been living on a deserted island for the last decade, Biodynamic farming is a method popularized by a philosopher named Rudolf Steiner through a series of lectures given in 1924 to Austrian farmers and landowners. Steiner's philosophy regarding agriculture largely arose in response to the widespread use of commercial fertilizers and the observations of soil depletion by farmers just after the turn of the century. Biodynamic farming now seems to be gaining traction world-wide for its emphasis on superior fruit quality and soil health among many vineyard owners.
It is an approach to agriculture in which the all of the factors of the cosmos (air, water, soil, sun and moon) are interconnected and play a role in every action taken upon the land. It is considered holistic, natural and healing, with homeopathic doses of naturally occurring plant and animal materials to a compost pile, the vines and the soil in the vineyards. It also has a touch of mystical, almost primitive belief as well – one example being the use of a cow's horn holding preparations that are buried in the ground. That notwithstanding, Biodynamic farming obviously encourages the farmer or wine grower to pay closer attention to the forces of nature influencing their land. This heightened awareness, combined with the total elimination of all chemicals used for farming, should quite obviously affect the crop, one way or another.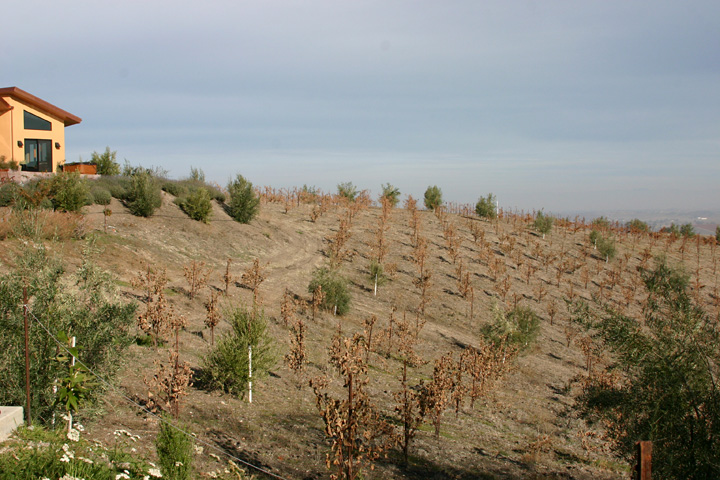 Phillip's original intention was to use a computerized irrigation system for the vines. However, after visiting Bella Luna, another Templeton neighbor, he could see that dry farming was not only possible in this region of Linne Colado and clay soils, but would also likely yield the best outcome. It was Of their dry-farmed, head-trained vines, Phillip says the Grenache is their fastest, densest growing vine (with the exception of Tempranillo), thus requiring much more maintenance and care.
As regards biodynamic farming, Phillip had attended a local annual wine event called the Hospice du Rhone. One of the seminars had introduced him to the idea, and he brought a consultant out to talk about the prospect. It didn't take long for him to get hooked on the philosophy, and he set about making the farm chemical-free for a three year period, prior to certfication. Once certified, the farm is re-evaluated annually to maintain the certification.
In the winemaking, biodynamics requires that Phillip use only native yeasts - those yeasts which come in on the grapes, or otherwise exist in the winery itself. No inoculation is done. After the grapes are foot-trodden, the grape must is left to ferment - about 10 days. Phillip ages the Tempranillo in American Oak; the rest of the varieties are aged in French oak, and he's moving toward 500L barrels. AmByth's production is currently at 1250 cases, with the desire to climb to 2000 cases. We also noticed a fairly modern bottling line in the winery. Does your Demeter certification require that, we asked. Nope, though it's certainly ancillary, he said. At ~$75K, it's something that few smaller wineries will buck up for.
From AmByth, we headed over to the aforementioned Bella Luna, to see Sherman Smoot.


Bella Luna
Tasting Notes: Current Releases

Bella Luna 2007 "Tempestuous" Tempranillo – Circle S Vineyard, San Benito County. 5% Sangiovese. Fruit-filled aromas or dark cherry, with a nice tasty mouthfeel, and longtannic finish.

Bella Luna 2008 Sangiovese – Estate, Paso Robles. Dried cherry and herbed in the nose. Slightly sweet initially on the palate, but finishes out nicely, with good acids, slightly tart and tannic finsh.

Bella Luna 2008 "Lot One" Barbera – Circle S Vineyard, San Benito County. Very nice smoky red fruit in the nose. Nice weight on the palate, with dark fruit flavors and good balance.

Bella Luna 2006 "Riserva Bellicaia" – Estate, Paso Robles. Sort of a reverse Super-Tuscan blend of 70% Cabernet and 30% Sangiovese. Nice smoky nose and mouthfeel, if a bit short on the back end. Noted a hint of green on the nose, and little on the palate as well.

Bella Luna 2008 "Fighter Pilot Red" – Bailey Ranch, Paso Robles. Organically farmed Zinfandel. Surprisingly acid based mouthfeel, and quite tasty on the finish. 10-12% new oak.


Bella Luna was a must stop for our touring group – both for the Italian varietals we wanted to check out, but also for the fact that the owners' names (Sherman Smoot and Kevin Healey) bore more than a passing resemblance to the term "Smoot-Hawley," the protectionist tariff act of 1930 that arguably contributed to the Great Depression. Even more importantly to us wine geeks, however, was the "Smoot-Hawley Vineyard" has been the source of a running joke by Tom Hill, regarding a mythical vineyard-designate bottling.
But, I digress. Getting back to Smoot and Healey, Sherm and Kevin actually grew up as boyhood friends in Paso Robles. The genesis for working together in the winery business apparently started about 1970. Kevin had just returned from Viet Nam and Sherm was training as a Navy fighter pilot preparing to go to Viet Nam. Wanting to get back to the land, when Kevin returned he took up residence on a large vineyard in Paso's Adelaida hills, learning viticulture from a dry farm proponent named Mel Casteel, something of a pioneering grower in Westside Paso. Kevin spent about 10 years honing his skills as an organic viticulturist - even started dabbling in winemaking as well. He accumulated enough experience to be offered a position by Frank Pesenti, where he gained more knowledge about head-training and working with old-vine Zinfandel. While there, Kevin developed a friendship with Frank Nerelli, Pesenti's winemaker. One thing led to another, and Kevin worked as Pesenti's vineyard manager for nearly 20 years, until the winery and vineyard was sold to Larry Turley in 2000.
Meanwhile, upon returning from Viet Nam, Sherm pursued a career in commercial aviation for over 30 years. Obviously, this gave him the opportunity to sample wines from around the world, and he quickly developed a taste for fine wine. His degree in Biological Sciences helped as he read all the text books, reference books, and articles he could find on Enology and Viticulture. Becoming a self taught winemaker, Sherm's interest lie with Italian varietals, particularly Sangiovese. (Of course, his stepfather, Dominic Marietta, had something of an influence here.) When Sherm approached Kevin in 1998 with the idea of planting most of their estate vineyard in Sangiovese, Kevin said, "That grape's going be difficult, so we'll initially treat it like a Zinfandel and see what happens!" They planted four acres - 2 of Sangiovese and 2 of Cabernet. They got a name for themselves early on with sales of their "Fighter Piolot Red" to Navy base commissaries. Not a bad way to start.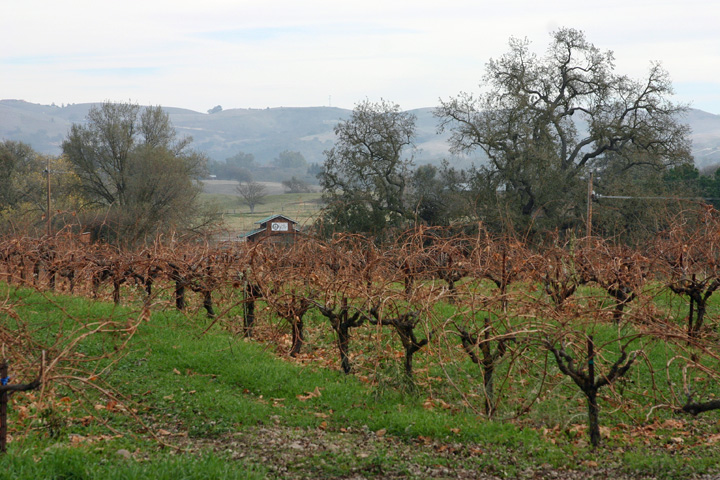 Like most Ital-philes, Bella Luna picks for acid levels rather than sugar levels. Winemaking methods center on native yeasts and open top fermenters. The duo also like to keep the alcohols in the 14% range, though Sherm admits that Barbera seems to fight that boundary. Production is right around 2,000 cases annually, from both Estate and purchased fruit from mostly dry farmed sources.
From Bella Luna, we headed back toward westside Paso, stopping at the Trader Joe's in Templeton for quick sandwich.


Edmond August/Ranchero/Kinero
Tasting Notes: Current Releases

Edmond August 2009 "Inference" – Caliza Vnyd, Paso Robles. This blend of 70% Roussanne, 30% Viognier was ripe, rich and concentrated in the nose, and rich and buttery in mouthfeel, with a lemony slightly oxidized sweet finish.

Ranchero 2009 Grenache Blanc – La Vista Vnyd, Paso Robles. Fresh citrus peel scent in the nose, with a lively feel on the palate, and amazing crispness throughout.

Kinero 2009 "Alice" Grenache Blanc – Luna Matta Vnyd, Paso Robles. Lovely nose of lemon with a touch of earth, apple and citrus-peel notes on the palate. Trading some crispness for a richer mouthfeel, this would do nicely with something like lobster.

Kinero 2009 "Cabrida Blanca" – Mer Soleil Vnyd, Paso Robles. An interesting blend of 34% Picpoul, 33% Grenache Blanc, and 33% Chardonnay. Nice nose of citrus and stone fruit that seems to balance its juiciness with richness. Flavors of white nectarine and citrus on the palate, with lovely long finish.

Kinero 2009 "Rustler" Roussanne – James Berry Vnyd, Paso Robles. Nose of honeysuckle and floral aromas, with just a touch of toast. Rich mouthfeel, lively flavors of honeyed fruit and a bit of toast, tempered with excellent balance, juicy acids and nice long finish.

Edmond August 2009 "Inquiry" Rose – Paso Robles. At 80% Mourvedre and 20% Grenache, this mourvedre-based wine is styled after those of the Bandol Region of Provence. The fruit is from several Westside Paso sources, with the juice done saignee method followed by stainless steel fermentation. More orange than rose in color, the nose was surprisingly oxidative, some of which carried through on the palate.

Edmond August 2008 "Implication" – Torrin Vnyd, Paso Robles. This blend of 72% Syrah and 28% Grenache is from the Templeton Gap area. A big wine that is rich and ripe in the nose, with loads of ripe dark fruit on the palate, and surprisingly balanced, considering its 15.9% alcohol.

Ranchero 2008 Carignane – Redwood Valley. Made from 100% old vine Carignane, this wine was fully fermented on stems, and aged in Amerian oak. Smoky and meaty aromas in the nose. Even more meaty in mouthfeel, with notes of beef blood and iodine, very nice balance, leading to long tannic finish.


About a week prior to leaving for Paso, I received an email from Ed Sauret (a 2nd cousin of local vineyard owner Richard Sauret), asking if the Grape-Nutz crew could stop by the next time we were in Paso. His timing was fortuitous. Ed is one of several "alternating proprietorships" operating out of the Denner winery on Vineyard Rd, and he agreed to have a few of his small-winery colleagues, Amy Butler and Anthony Yount (Denner winemaker), on hand for us to taste their wines as well.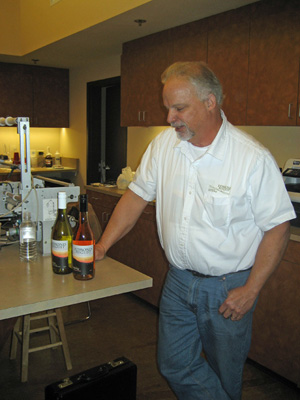 Ed Sauret
Arriving at the Denner winery a little early, we headed into tasting room to ask if Ed was around. While waiting, we tried a few of the Denner wines, but no notes were taken. Ed arrived shortly thereafter and led us downstairs on a brief tour of the facility. We'd been here in 2006 as part of what used to be an annual August Central Coast tour (situated around the Clos Pepe BBQ). And, although we'd seen it before, it was interesting to get a look at the working end of the place again.
Ed is a Paso Robles native. A former wine shop owner (Wine Vault), winery partner (Eberle), wine writer, fuel supplier to the vineyard industry, PRHS high school teacher and coach, he founded Edmond August Wines in 2008, deciding to specialize in Rhone varietals. Because Ed's wife, daughter, son, and daughter-in-law are high school teachers, bouncing around names for their blended wines seemed destined to become things like Implication, Inference, and Inquiry. Winemaking is handled by local talent, Jacob Toft, who is a product of the Viticulture and Enology Department at Cal Poly SLO, and has worked at J. Lohr, Dover Canyon, Garretson, and more recently at L'Aventure.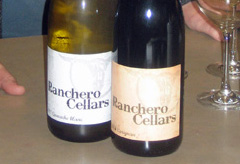 The former winemaker at Paso's Edward Sellars, Amy Butler has a UC Davis degree as well as twelve years of winemaking under her belt, working for everybody from the respected and classic houses of Napa (Schramsberg, Chalone, Stag's Leap Wine Cellars) to Paso stalwarts like Martin Weyrick, Summerwood and Peachy Canyon. She also has her own label, Ranchero Cellars, and she doing some really nice things – for instance, her Grenache Blanc was a real pleaser, all about elegance and crispness. Amy is also committed to making very small batches – e.g. three barrels, using natural yeasts and minimal processing. She also appreciates what barrel fermentation brings to the party, and uses older neutral barrels, often with some frequent lees stirring to retard oxidation.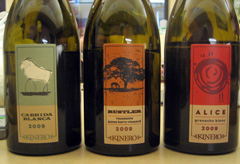 Originally from St. Louis, Anthony Yount moved to California to study agriculture at Cal Poly SLO. While finishing school, Anthony worked for two seasons with winemaker Brian Denner at Denner winery in 2006. He went on to work as cellar master at Villa Creek in 2008 and 2009, coming back to Denner as winemaker when Brian Denner left the winery in December of 2009.
Anthony's own label is Kinero Cellars, which focuses exclusively on white varieties, and at least for the time being, 500ml bottlings. As with Amy, Anthony's winemaking philosophy is non-interventionist.


Tasting Notes: Current Releases and Barrel Samples

August Ridge 2009 Sauvignon Blanc – Paso Robles. Faint nose of dried grass and clover. A touch of malo-lactic fermentation contributes to richness on the palate, nice balance, and moderately long finish. A bit mono-dimensional, but maybe not surprisingly so considering its 12% alcohol.

August Ridge 2009 Arneis – Paso Robles. Made in stainless steel with no malo-lactic fermentation. Nose of grapefruit and citrus zest, with a somewhat tart yet refreshing green apple-citrus flavor, excellent balance and long finish.

August Ridge 2007 Sangiovese – Paso Robles. The addition of 9% Cab seemed to flesh out the wine and didn't go unnoticed, especially in the middle. Lovely dried cherry aroma notes throughout, with nicely ripened flavors on the palate, very good balance and nice long finish. About 40% new oak, and seems to wear it well. Quite tasty!

August Ridge 2006 Sangiovese – Paso Robles. An interesting look at where the '07 Sangiovese might be headed. This had only 1% less Cab (8%) than the '07, but the Cab's influence on the wine and/or the additional year of aging, made it seem significantly less intrusive. Lovely dried cherry nose, excellent balance, very nice ripeness level, and delicious finish. About 35% new oak.

August Ridge 2007 "Jovial" – Paso Robles. This Super Tuscan blend of 64% Sangiovese, 20% Cabernet Sauvignon and 16% Merlot seems to have held on to all the dried cherry notes of the Sangiovese, while really fleshing the wine out. Very nice dark and red fruits in the nose, with tasty fruit and plenty of grip on the palate.

August Ridge 2007 Nebbiolo – Paso Robles. Rich and ripe qualities in both nose and mouth, with nice flavors, balance, and finish. The nose and mouthfeel probably benefited from the addition of 6% Merlot, but overall, I found the wine a little too ripe for me, something the Merlot may/may not have contributed to the final blend.

August Ridge 2007 "Ingenious" – Paso Robles. Nice job on this blend of 72% Nebbiolo, 19% Merlot, and 9% Cab, which seems to be more than a sum of its parts. This would seem to dispel my speculation that the addition of 6% Merlot contributed to the extra ripeness in the '07 Nebbiolo. Lovely spicy dark fruit in the nose, with excellent balance of dark fruit flavors on the palate and long finish.

August Ridge 2007 Reserve Cabernet Sauvignon – Paso Robles. Big and beautiful nose of cassis and spice. Flavors of dark cherry, dried herbs and a touch of toast on the palate, very nice balance and nice long finish.

August Ridge 2006 Merlot – Paso Robles. Ripe nose of fleshy red and black fruit, along with a touch of herb. Ripe dark fruit on the palate, good balance and nice finish. A bit riper than my preference.

August Ridge 2008 Barbera – Paso Robles. The addition of 14% Nebbiolo gives this wine a big blast of dark cherry fruit to the smoke-infused nose. Ripe, even slightly sweet flavors on the palate. Very nice balance and long finish.

August Ridge 2009 Primativo – Paso Robles. A barrel sample from two different barrels (new, neutral). Quite nice throughout, with spicy dark fruit, smooth textured mouthfeel, and lingering finish.

August Ridge 2009 Dolcetto – Paso Robles. Barrel sample. Smoky notes accompany hi-toned red fruit in both nose and mouth. Very tasty!

August Ridge 2009 "Rocco's Red" – Paso Robles. A barrel sample from three barrels of Dolcetto/Barbera/Sangiovese. Nose of smoky red fruits. A bit sweet and ripe on the palate, with smooth texture, delicious flavors, and very good balance.


We arrived at August Ridge at 4pm. Established by owners John Backer and Jill Zamborelli Backer in the spring of 2001, August Ridge began with the purchase of 40 acres south of Paso in the rolling hills of Creston, just off Hwy 41. The Backer's goal from the onset was to produce robust yet elegant wines reminiscent of northern and central Italy, and first planted 8 acres of Italian varieties in 2003.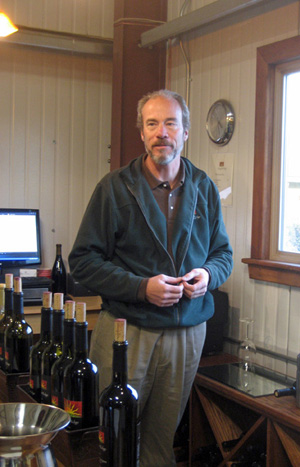 John Backer
In 2007, they released their first wines from the 2005 vintage, including Sangiovese, Merlot and an Arneis blend - 250 cases total. Their current selections include Sangiovese, Nebbiolo, Barbera, Primitivo, Dolcetto and Arneis. Two Super Tuscan style blends called Jovial and Igenious were released in 2009. They use small open top fermenters and ferment in small lots. They also use a mixture of new French and neutral oak barrels for aging.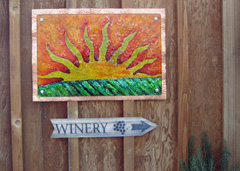 John also maintains a full laboratory to stay on top of the current developments in enology. His experience comes from the skills learned as a home winemaking in the 1990s. I'm always amazed to meet home winemakers that have gone commercial. It seems like such a daunting proposition to me. At the beginning, you're making wine to please yourself, then you're making it to sell to others – just hoping everybody else will be pleased as well. Probably says a lot about one's confidence level, huh. ;-) That said, John's still got his day job, something that's quite common with smaller production wineries. Current production is slightly under 2,000 cases, with the intention of raising it somewhat, but to no more than 3,000 cases in the near future.
It was an interesting visit, and a nice finish to the day. I think they've something good going on here, and I was pleased to see they weren't offering a Pinot Grigio.
Dinner that evening was at Thomas Hill's Organics. Nope, it's not THAT Tom Hill; it's the other one. We were also joined by Raquel Hug and Linda Baehr for fabulous food, drink and talk. In honor of the number of "August" visits we made during the day, Ken and I brought a a bottle each of August West wine - a Pinot and a Syrah.

Additional Photos from Thursday
AmByth; Bella Luna

Friday - December 3, 2010
As of Friday morning, we were also joined by Eric Lundblad, Paul Homchick, and Bryan Harrington, which now made us a party of seven. The group was getting bigger, so we piled into two cars and headed for our first stop of the day.
Daou Vineyard
Tasting Notes: Current Releases and Barrel Samples

Daou 2009 "Chemin de Fleurs" – Paso Robles. A blend of 60% Grenache Blanc, 25% Roussanne, and 15% Viognier, this wine had an appealing richness on the nose and palate – no doubt lent by the full ML treatment. Notes of green apple and apricots with a hint of vanilla in the nose.Nice balance of acids and seamless fruit, light mineral quality on the palate. 14.2% alcohol.

Daou 2008 Petite Sirah – Paso Robles. From a vineyard in the El Pomar area (Templeton). Notes of dark cherry, plum and just a touch of prune. Nice level of ripeness throughout, and smooth flavorful finish. Petite can be monolithic – especially at this age. But, this was quite accessible. There was 5% Viognier from neutral barrel blended in, which may account for the wine's general openness at this point in time. 15.2% alcohol.

Daou 2008 Syrah – Paso Robles. Nose of blackberry, anise, with lesser hints of coffee and bacon. Big, round, ripe and full of fruit, the wine is slightly sweet initially, but this seems to taper off into big fruit. At 15.8% alcohol, it's also surprisingly balanced.

Daou 2008 "Celestus" – Paso Robles. A blend of 58% Syrah, 35% Cab, and 7% Petit Verdot. Slightly ripe nose of dark fruit, some herb, and a hint of roasted fruit. Less ripe than expected on the palate, with nice dark fruit and herb flavors, very good balance and long finish. 13.9% alcohol.

Daou 2008 Cabernet Sauvignon – Paso Robles. Lovely cassis/dark cherry nose, with touches of mocha and espresso. Very seamless on the palate, nice integration of dark flavors, very good balance and tasty long finish. This is basically a Bordeaux blend, and was a very nice sum of its parts: 77% Cab, 9% Cab Franc, 8% Merlot, and 6% Petit Verdot. 14.4% alcohol.

Daou 2010 Cabernet Sauvignon – Paso Robles. Barrel sample. Similar in blend to the '08 Cab, this too was quite nice. Lots of dark fruit and some toast in the nose, with good palate coverage and balance, lots of fruit, and a long finsh. 14.2% alcohol.

Daou 2010 Cabernet Sauvignon – Paso Robles. Tank sample – just finished ML. This will apparently be bottled as more of an "everyday" Cab. Nice dark cherry fruit in nose and mouth, though a bit less extracted than those from barrel.

Daou 2010 Cabernet Sauvignon Reserve – Estate, Paso Robles. Barrel sample. Gorgeous, concentrated fruit-filled nose, with a nice toasted herb and faint coffee scent. Round and full on the palate, dense fruit, excellent balance and long finish. Quite Napa-esque in its build, this Estate wine will be the Daou flagship Cab. About 15% alcohol.

Daou 2008 Merlot – Paso Robles. Nice fleshy nose of red and black fruit, with a touch of herb and toast. Very good acids and level of ripeness, leading to smooth long finish. The addition of 22% Cab undoubtedly added some weight to this wine. 14.6% alcohol.

Daou 2010 Zinfandel – Lodi. One ton/acre yields from 50-100 yr old vines. Nice sinewy and brambly raspberry aromas, with lightly spicy red fruit on the palate.


We arrived at 9:30 at Daou's brand new facility, nearly where the old Hoffman Mountain Ranch used to be. Unfortunately, we misread a sign and ended up taking a short detour up the wrong road. No biggie, this merely afforded us the opportunity to back down a dirt road with a drop-off to one side.
Safe and sound we arrived at the new winery building on top of one of the many hills in the area. What a stunning view. In fact, we thought we saw the Alta Colina vineyards just to the north.
Founded in 2007, brothers Daniel and Georges Daou were searching for the perfect terroir, eventually bringing them to the Adelaida area of Paso Robles. What they found was land that was part of the historical Hoffman Mountain Ranch vineyard. In 1964, Dr. Stanley Hoffman was one of the first to discover that high in the west hills of Paso Robles, was the perfect soil and climate for growing world class grapes. He purchased a 1,200 acre ranch and with the assistance of U.C Davis and world renowned enologist Andre Tchelistcheff, Dr. Hoffman planted Pinot Noir, Chardonnay and Cabernet Sauvignon and founded Hoffman Mountain Ranch Winery. The winery was the first modern commercial winery in Paso Robles. Dr. Hoffman's Pinot Noir and Cabernet Sauvignon earned high accolades in the United States and internationally, helping to establish Paso Robles as a premier grape growing region.
The property's combination of high elevation, cool marine influence, southeast and southwest sun exposure and highly sought after calcareous-lime soils was exactly what the Daou's were looking for. The 100 acre property had over 70 farmable acres making it one of the larger vineyard sites in the Adelaida region.
The Daou's intention was to primarily focus on Bordeaux varieties, but also make Zinfandel and some Rhone blends. In 2008, the Daou's planted 26 acres of Bordeaux varieties. The vines were planted on 18 inch cordons, three feet apart, with six foot rows. This will equate to about 2300 vines/acre, as opposed to average 700 vines/acre. The vines are pruned to allow for only 8 spurs per vine, with each vine producing one bottle of wine. Daniel says that in contrast to the contracted vineyards, the estate vineyard will be cropped at something less than 1 ton/acre, or 8 clusters per vine, or about 60-70 gallons/ton of fruit.For the first phase of the planting, the Daous have planted Cabernet Sauvignon, Zinfandel, Merlot, Syrah, Cabernet Franc, and Petit Verdot. The first vintage from the estate vines is scheduled to be released in 2012.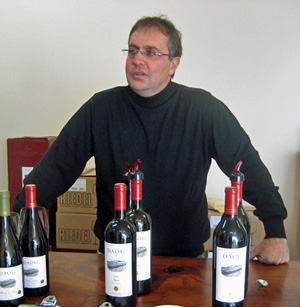 Daniel Daou
Electrical Engineers by trade, the brothers' interest in wine came naturally - they were raised in France. When it came time for college, the two brothers set out for San Diego, to attend UCSD, where they graduated with degrees in electrical and computer engineering. After college, the brothers formed Daou Systems, where they developed intranet technologies for hospitals, as well as other technology start-ups. However, Daniel never lost sight of his appreciation for wine and his desire to produce it. So, he began studying winemaking and viticulture, making his own wine, working with other winemakers to learn everything he could about the fine points of producing premium wines.
None of the earlier vintages have been estate grown, so the Daou's are understandably eager get their estate vineyards into production. While waiting for the Daou vineyard to mature, Daniel specifically looks for fruit from soils with a low pH. He uses no native yeasts in his winemaking, preferring not to leave anything to chance. He makes each wine separately in small lots, then blends each into the final lot. Nothing is bottled as 100% varietal - everything is made from blended wines. During fermentation, each tank gets three pump-overs per day using irrigators.
Construction on their new facility was finished just in time for the 2010 harvest, but there was still landscaping and a few other details to finish up. Daniel showed us around the crush pad, before heading to their tasting room, where we were joined by Daou's President, Karen Hunt, and Peter Bowers, their General Manager. We started off by tasting their current selections.
Seeming to spare no expense on innovation, they have created some interesting appendages on the fermentation tanks. Each tank is fitted with saignee custom filters at the base of each tank to collect skins and pulp away from the juice, as well as conical bottoms for seed removal. They have also hired consultant Delphine Barboux-Laurent, the winemaker at Chateau L'Evangile who crafted superb wine in the 2000 vintage, before going on to Chateau Lascombes in Margaux, where she worked with Michel Rolland to elevate the quality of the wines. Production is, or will be, about 10,000 cases.


Cinquain Cellars
Tasting Notes: Current Releases and Barrel Samples

Cinquain 2009 Sauvignon Blanc – Baja Viento Vnyd, Monterey Co. Ripe and pineapple-like in the nose, but less so on the palate resorting to more citrusy components. Nice crispness from front to back. 4 yrs neutral oak. 13.5% alcohol.

Cinquain 2009 Chardonnay – Riverview Vnyd, Monterey Co. The new French oak contributes a buttery quality ion both nose and mouth. Very nice fruit and acids, with a bit of bite on the back end. 13.5% alcohol.

Cinquain 2009 Roussanne Reserve – Paso Robles. 4 yrs new French oak contributes to a slightly sweet and buttery nose, as well as a richness to the palate. Nice acids bring some crispness to the finish.

Cinquain 2009 Syrah – Estate, Paso Robles. A bit ripe and sweet in the nose, but lovely in mouthfeel, with very nice fruit and long finish.

Cinquain 2007 Meritage Reserve – Estate, Paso Robles. A full-on Bordeaux blend using all 5 varieties. Lovely nose and mouth, with a more obvious Cab Franc quality on the palate. Excellent balance of acids and fruit, but slightly weak/soft on the back end.

Cinquain 2008 Independence Red – Estate, Paso Robles. An Bordeaux blend of 76% Cab, 7% Cab Franc, 7% Malbec, and 10% Petit Verdot, the wine has a ripe nose but less so in mouthfeel, and has nice acids through the long finish. Tasty stuff. 15% alcohol.

Cinquain 2008 Malbec Reserve – Paso Robles. Nice dark fruit, with faint touches of bittersweet chocolate in the nose. Medium to full body on the palate, with good fruit and texture, and long finish.

Cinquain 2008 "The Cinquain" Meritage Reserve – Estate, Paso Robles. Barrel sample. The latest version of this Bordeaux blend which uses all 5 varieties. Lovely nose and mouth, with a very nice complexity on the palate. Excellent balance and finish. Listed at $72 retail, it seems a bit lofty. But, it is a very nice wine.

Cinquain 2007 Touriga & Tinta – Estate, Paso Robles. A nearly equal blend of Touriga Nacional, Tinta Cao, and Touriga Franca, this wine is also fortified. Lovely nose and flavors on the palate – very Port-like, and very tasty!

Cinquain 2009 Haiku – Derby, Vnyd, Paso Robles. Pre-sample of 42% Viognier, 38% Marsanne, and 20% Roussanne. Lots of tropical fruit aromas and flavors, this has nice balance and never get overboard with concentration.


After a relatively short drive out to San Miguel, we arrived to find Beth Nagengast unloading wine from her SUV while talking on the phone. We pitched in to help set up a tasting table, and Beth gave us the low down on what she and her husband David have been doing.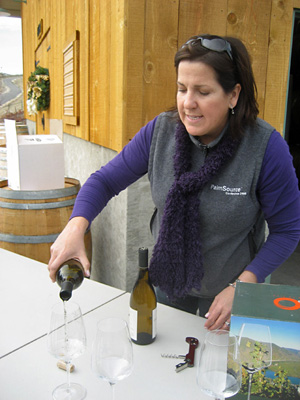 Beth Nagengast
David and Beth Nagengast share the duties, with David tending to the vineyard and winemaking while Beth manages the sales and marketing. David graduated from the Fresno State University Enology program in 1985, and now, after 25 years of Nmaking wines for a variety of small and medium sized wineries in Santa Cruz Mountains, Santa Clara County, and Oregon, he's finally doing his own thing.

In 2000, the search for the perfect vineyard site culminated in the purchase of a 20 acre hillside property, in the Northeast area of the Paso Robles Appellation, overlooking Hog Canyon and the Estrella River basin from 1000-ft elevation. The 14-acre estate vineyard overlooks Hog Canyon and the Estrella River basin and was planted in 2002 with nine varieties, including Cabernet Sauvignon, Cabernet Franc, Merlot, Malbec and Petit Verdot. Also planted are Syrah clones 174 and 877, to produce a Rhône style wine. In addition, there are three classic Port varieties, Tinta Cao, Touriga Nacional, and Touriga Franca. To augment the estate wines, some Chardonnay was sourced from Riverview Vineyard located below the Pinnacles in Monterey County, along with a Sauvignon Blanc from Baja Viento Vineyard in the Arroyo Seco sub-appellation of Monterey.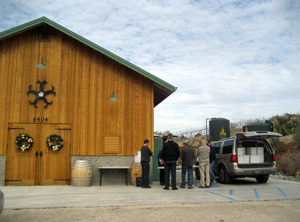 In 2007, the construction of their simple 1200 square-foot winery was completed. One of the newest wineries in the Paso Robles appellation, Cinquain Cellars is focusing on estate grown reds, including Bordeaux, Rhône, and Port varieties, as well as sourcing fruit from other select vineyards for white varieties. The first vintage released is 2006.

Winemaking methods include fermention in 1.5 ton lots, with hand punch-downs three times a day, while left on the skins for about three weeks. The grapes are pressed in a wooden basket press and then put into a mixture of 225 liter to 500 liter, French, American and Hungarian oak barrels. After at least 16 months aging, the wines are racked and bottled without any fining or filtration.
The Port-style wine is harvested late in the season, fermented slowly and fortified to 19% alcohol to stop fermentation at approximately 8% residual sugar. It's then stored in neutral oak for about12 months. The Meritage Reserve, a blend of the five Bordeaux varieties, seems to have inspired the name Cinquain Cellars. They referred to the wine as pure poetry (a cinquain is a five line poem), and the name was born.

From Cinquain, we said goodby to Bob Summers, who needed to leave us and head back home. The rest of our group went on to Farmstand 46, a small little cafe on West 46 co-owned by Cris Cherry and Tom Fundaro. The plan was to grab a late lunch, then head over to meet with Stephan Asseo at L'Aventure winery.


L'Aventure
Tasting Notes: Current Releases and Barrel Samples

L'Aventure 2008 Optimus – Estate, Paso Robles. 48% Cabernet Sauvignon, 28% Syrah, 24% Petit Verdot. Early on, this blend has included Zinfandel. But, from 2002 forward, Stephan has been using Petit Verdot instead – and what a difference. With 100% new low toast French oak, this is huge mouthful of wine. Filled with black and blue fruit in nose and mouth, very concentrated on the palate, with moderate tannins and long textured finish. 15.5% alcohol.

L'Aventure 2008 Cote A Cote – Estate, Paso Robles. This blend of 40% Grenache, 40% Syrah, and 20% Mourvedre has a ton of fruit throughout. Nose of raspberry, blackberry and toasted herbs with a hint of game. Flavors of spicy red and black fruit on the palate. Nicely balanced, with traces of oak on the back end. 15.9% alcohol.

L'Aventure 2008 Gran Verdot – Estate, Paso Robles. 60% Petit Verdot, 28% Cabernet Sauvignon, 12% Syrah. Big, but quite shut down as well. Nuances of ripe dark fruit, spicy on the palate, with long lingering finish.

L'Aventure 2008 Estate Cuvee – Estate, Paso Robles. 50% Syrah, 36% Cabernet Sauvignon, 14% Petit Verdot. Very nice nose of blackberry and dark cherry. Rich and concentrated mouthfeel, especially big in the center, with a nice sweet hit of fruit on the back end. 15.9% alcohol.

L'Aventure 2009 Optimus – Estate, Paso Robles. Barrel sample. Fruit-filled nose and palate, and surprisingly accessible. Nice balance of acids and fruit, with quite a grip on the finish.

L'Aventure 2009 Cote A Cote – Estate, Paso Robles. Barrel sample. Knowing there was 5% more Mourvedre than the '08, could easily persuade the palate to detect more gaminess in this wine. But, with this level of concentration and oak, one more easily notices the gobs of fruit and tannins. Not that there's anything wrong with that.

L'Aventure 2009 Cabernet Sauvignon – Estate, Paso Robles. Barrel sample. 95% Cabernet Sauvignon, 5% Petit Verdot. Even from barrel, I can't recall ever tasting anything approaching a straight Cab from Stephan. He's always been so much about blending, that we've usually only tried finished blends from barrel. Huge dark fruit in the nose. There are substantial tannins on the palate, but the massive fruit comes through. Very long tannic but fruit-filled finish.

L'Aventure 2009 Estate Cuvee – Estate, Paso Robles. Barrel sample. 42% Syrah, 42% Cabernet Sauvignon, 16% Petit Verdot. Killer nose of spicy dark cherry compote, wood shavings, and toasted herb. Big and chewy on the palate, with tasty fruit and spice, excellent balance and long finish.


We arrived at L'Aventure about 3pm to meet with Stephan Asseo and check out his new releases, as well as do a little barrel sampling. Although we've each been here several times, listening to Stephan talk about grapes and wine is mesmerizing. Maybe it's the accent (what accent?), or maybe it's the way he approaches being a steward of the land. Either way, it makes for a fascinating visit.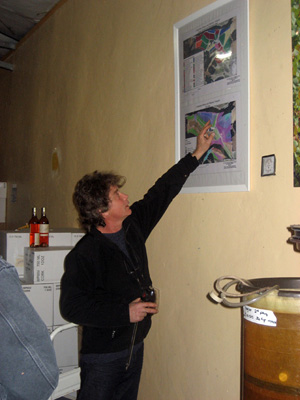 Stephan Asseo
We'd previously been here in 2003 & 2005, however, I could scarcely believe it had been 5 years since my last visit. (Note to self: get out more!). So, to recap things, Stephan Asseo is the owner and winemaker at L'Aventure Winery. Following his education at L'Ecole Oenologique de Macon, Burgundy, France. he began making wine in 1982, establishing Domaine Courteillac in Bordeaux. He and his family later purchased Chateau Fleur Cardinal, a Saint-Emilion Grand Cru, as well as Chateau Robin, in the Cotes de Castillion region of Bordeaux. Over the next 15 years, Stephan gained a reputation as a maverick vigneron (some would say he continues to this day). But, his true desire had always been to be more innovative than AOC law would allow. So, in 1996, he began a quest for a some terroir outside of France - somewhere he could pursue his "maverick" ideas as a winemaker.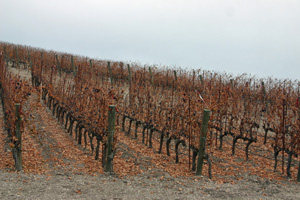 After a year's search from South Africa to Lebanon, and Argentina to Napa, Stephan found what he wanted Paso Robles. He immediately fell in love with the west side of Paso Robles. The rolling topography of the Santa Lucia Mountain Range, the deep calcareous soils, and the maritime influence of the Templeton Gap all combined to deliver what he saw as the potential to produce really great wines. The area is also influenced by an early morning fog, generally warm clear days, and nighttime temperatures that can drop by as much as 40 degrees. The close proximity of the Templeton Gap was especially interesting to him. Stephan knew this break in the Coastal Range through would allow cool breezes to blow during the afternoon, thereby cooling off the grapes from the heat of the day.
After an extensive study of the area, Stephan settled on a piece of property covering 127 acres with many hills and various elevations, complex soils, and excellent drainage. In order to maximize quality in the heat of the Paso Robles terrior, Stephan established a high density planting scheme of 2,100 vines per acre, on vertical trellising. The foliage is a very important element. It is the "maturity factory" of the vine. This explains why the volume of foliage is so large: more than 4 feet, allowing a huge amount of leaf-growth.Syrah 37%, Cabernet Sauvignon 50%, Petit Verdot 13%. There are also small parcels of Grenache and Chardonnay. In 2000 and beyond, Stephan intends to modify the percentages slightly: Syrah 36%, Cabernet Sauvignon 36%, Petit Verdot 9%, Mourvèdre 9%, plus some 3 acres of Roussanne and Viognier. There are now 58 acres planted in 40 blocks.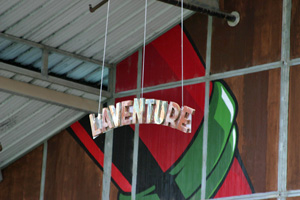 The pruning is the classic "Guillot Double," or double arm, with a very low double cordon. This, along with a regimen of leaf pulling, shoot thinning, and cluster dropping has resulted in smaller yields of 2 to 2-1/2 tons per acre, or one bottle of wine per vine. Under the thin layer of top soil, which is barely 10 inches thick at the top of the hills and 24 inches at the bottom, there are several layers of limestone, rock-shell, traces of clay, metal, and quartz. The rows are disked and chiseled regularly to help the water penetrate and reach the deeper soil. This forces the root system to dig deeper and take advantage of the terroir. This mosaic of soil brings complexity to the fruit. The rock shell / clay combination acts like a sponge, storing water during the rainy season, and redistributing it back to the roots in the dry season. This insures a constant feeding for the vines, giving them a more balanced water source, as opposed to simple irrigation. The irrigation is when needed, mostly during flowering and véraison. This also helps to keep the soil moist longer, allowing for a later harvest. Stephan picks "fully mature" fruit, not only according to brix, but also when the phenolic maturation reaches its peak, in order to create the desired intense, concentrated wines. "You need to go ripe. I'm in Paso - I make Paso wines," he says.
Stephan has always loved farming, and loves the whole vineyard-to-bottle process. He says, the winemaking alone is nothing more than "intellectual masturbation." He hand sorts, then destemmed and vinifies in small lots. As you might expect, he uses lots of new French oak for aging. L'Aventure then creates what Stephan refers to as "Paso blends," such as Optimus and Estate Cuvée, both of which are Cabernet Sauvignon/Syrah blends. His Côte à Côte is a classic Rhône blend. Interestingly, Stephan is moving toward biodnamically grown fruit. He's 90% there as of now, and is also using more native yeasts which he finds are more expressive of real terroir - though he confesses he hates running the risk of stuck fermentations. As a part of sustainable agriculture, L'Aventure runs on solar power.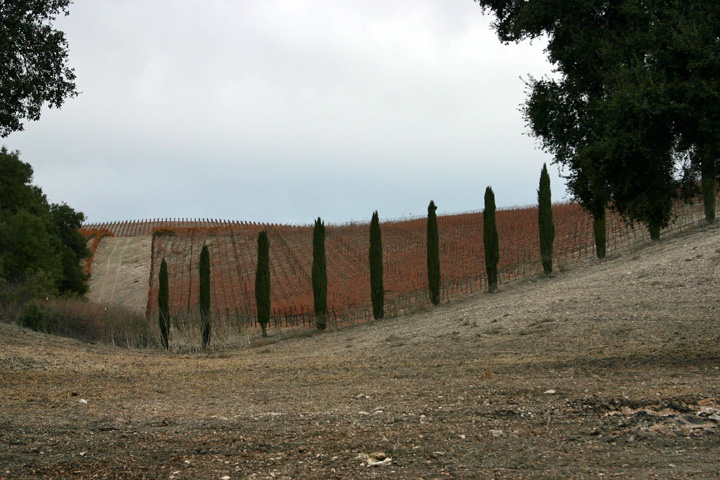 Leaving Stephan, we went back to town to get each of our cars, and then headed south to the Santa Ynez Valley. Actually, we went into Lompoc first to check into our motel, and then carpooled over to the Los Olivos area for dinner at the Ballard Inn. We were joined by John Tomasso, who had graciously set up the reservation at my favorite table. Good wine, good food and good friends.


Additional Photos from Friday
Row 1 - Daou
Row 2 - Cinquain; L'Aventure
Saturday - December 4, 2010
Awoke to a bit of rain Saturday morning. Some weather was expected over the weekend, but wasn't predicted to arrive until Sunday. It was going to be interesting to see how this might affect our planned vineyard visits for the rest of the day. A few of us met over at the local Starbuck's for a quick coffee, and we were off for Alamo Pintado Road, just north of Solvang.
Honea Vineyard
Arriving at 9:30, we met Steve Clifton at Honea Vineyard to see how things were progressing at 'Italian variety central' for the Solvang area. This is the location for much of the fruit that goes into Steve and Chrystal Clifton's Palmina wines. In addition to Tomasso, we were also joined by Karen Steinwachs, winemaker at Buttonwood Farms.
We'd last visited here in November of 2004, and were welcomed by Milt and Marilyn Honea, along with Chrystal Clifton of Palmina winery. Honea Vineyards was established as a family partnership founded by Milt and Marilyn, the grandparents of the family. Milt was a retired corporate executive who had chosen the vineyard as his retirement occupation, and he served as General Manager until he passed away in December 2008.
Purchased in 2002, Honea Vineyards occupies 40 acres on Alamo Pintado Road, the major wine country road running between the town of Los Olivos and Solvang. The property was first planted in the summer of 2003, with the varieties of Arneis, Barbera, Muscat Canelli, Dolcetto, Pinot Grigio, Lagrein, Tocai Friulano, Nebbiolo, and Sangiovese. In addition, a small acreage of Merlot which was planted several years ago by the previous owners, was kept intact. The choice of Italian varietals came from the Honea's love of Italy, Italian people, and Italian wine. Plus, Milt decided he wanted to occupy a different niche than other winegrowers in the area. To Milt, it appeared that Italian varietals in California, particularly those grown in Santa Barbara County and specifically in the Alamo Pintado corridor, were about to come into their own. The opportunity to work with Palmina's Steve Clifton clinched Milt's decision to develop the vineyard.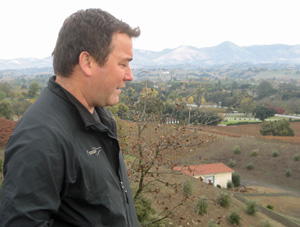 Steve Clifton
This particular location offered many geographic advantages to the Honea's goal of becoming premier producers of Italian varietals, particularly those native to the Piemonte area of Northern Italy. The Honea Vineyard lies in a valley at right angles to two North-South running mountain ranges – the Santa Ynez coast range to the South and the San Rafael range to the North. Each of these mountain ranges contain rivers that flow out to the Pacific Ocean. The vineyard's position between these two ranges provides benefits from both of these ocean outlets. Especially important is the cooling effect provided by the ocean air and frequent morning fog that creeps up the valley from Lompoc. The location is warmer than the coastal Santa Rita Hills, but not as hot as the Happy Canyon area in the eastern part of the Santa Barbara County appellation. This intermediate microclimate offered the perfect combination of cool nights, warm days and a long growing season ideal for Italian varietals.
The acreage is divided between limestone hillsides and gravelly alluvial flatlands with three prominent hills (Tre Colline) leading up from the flat land, along Alamo Pintado creek. Twenty acres have been planted in grapes and two in olive trees. The three hillsides on the property were chosen for planting red varietals, while the flats were planted with whites. An exception to this is Dolcetto, which was planted in the flats on a gravelly former river bed that seemed suitable for this particular red grape.
The two smaller hills are littered with streaks of limestone, making them ideal for reds and were planted with Nebbiolo and Lagrein. Sangiovese was planted on the warmer south-facing slope of the larger hill. The cooler north facing slope of this hill was planted to Barbera. All red wine grapes are grafted onto low vigor rootstock 420A, while the vines in the flats are split between Riparia Gloria and 420A. Development and production of the vineyard were managed by Jeff Newton and Larry Finkle from "Coastal Vineyard Care." Both Finkle and Newton have learned from their wide experience from growing Italian varieties elsewhere and from consulting with leading Italian viticulturists. Steve Clifton of Palmina Winery had major input into the vineyard plan. Having traveled to and worked in the vineyards in Italy for many years, his knowledge of how to grow Italian varieties was hugely important.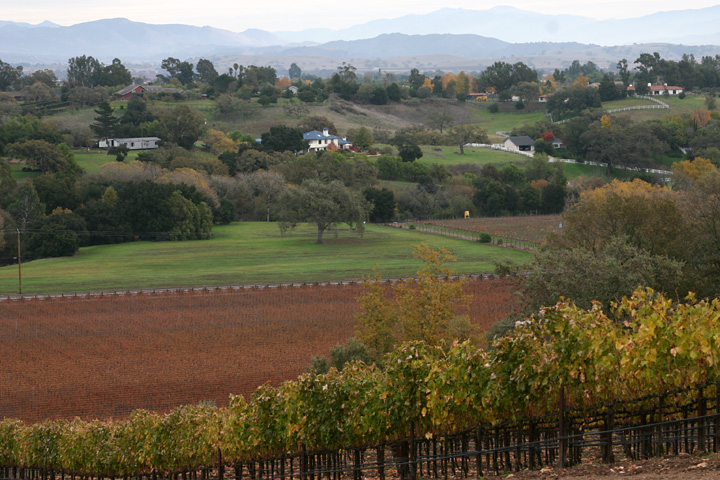 The trellising is vertical shoot positioning. Vines are spaced four feet apart with six feet between rows, producing a plant density of 1,815 vines per acre. The system includes three sets of training wires above the fruit zone, so the canopy can be trained narrowly and vertically, allowing maximum opportunity for air flow and sun exposure. They are looking for modest to low yields of high quality fruit, and use the latest techniques for water control, shoot and leaf thinning, and fruit dropping.
Steve admits there was, and still is, some resistance to Italian varieties among consumers - although things are changing for the better. It's just a matter of educating the public, Steve believes. It seemed a bit ironic to also hear that there is more resistance from California consumers to Italian varieties, than from Italian consumers to California wines. His Palmina winery in the Lompoc "wine ghetto" now produces 16,000 cases, with about 20% direct sales.


Buttonwood Farms
Tasting Notes: Current and Future Releases

Buttonwood 2009 Grenache Blanc – Estate, Santa Ynez Valley. Lovely crisp lightly lemony fruit, and very nice flavors and an acid balance throughout.

Buttonwood 2009 "Zingy" Sauvignon Blanc – Estate, Santa Ynez Valley. Re-grafted over from Cab Franc, this is quite literally zingy in nose but especially in mouthfeel. The fruit came in at 24 degrees brix with a pH of 3.2, followed by whole cluster press and stainless ferment. Notes of citrus peel, lemon and lime, with a decided crisp edge to the long finish.

Buttonwood 2009 Savignon Blanc – Estate, Santa Ynez Valley. As their signature blend of 88% Sauvignon Blanc and 12% Semillon, Karen lets this go through either partial or full ML ("whatever it likes"). Quite citrusy, but a bit rounder than the Zingy, with a nice almost creamy mouthfeel.

Buttonwood 2009 "Devin" Sauvignon Blanc – Estate, Santa Ynez Valley. This 60/40 blend of Sauvignon Blanc and Semillon was barrel fermented, followed by 30% new oak. While the citrusy sweet lemon fills the nose, there is an unmistakable hint of toasted nut in the background. Round and tasty, this would be an ideal substitute for Chardonnay.

Buttonwood 2007 Cabernet Franc – Estate, Santa Ynez Valley. Fabulous nose of tobacco-infused dark red fruit, with a nice herbed scent. Rich on the palate, it's more likely to be voted a Chinon look-a-like. 20% new oak.

Buttonwood 2009 Malbec – Estate, Santa Ynez Valley. Lovely aromatics, with ripe dark fruit in the nose. Full and rich on the palate, with lots of black and red fruit, and a hint of mocha.

Buttonwood 2007 "P.O.S.H." Sauvignon Blanc – Estate, Santa
Ynez Valley. Beginning as a late harvest Syrah, the wine is fortified at 20.8%, making it very nearly "Port-like" in both aroma and tasty. Spicy and mouthfilling, with a nice lingering finish.


From Honea Vnyd, it was an easy 10 minute drive down the road to Buttonwood Farms. Driving past a jogging Bill Wathen (Foxen w/m) along the way, we turned into Buttonwood Farms, headed past the tasting room and up the hill to the winery.
Buttonwood's founder, Betty Williams, recently turned ninety-two years old. Originally from Louisiana, Betty eventually came to Southern California, raised three children, received a law degree from USC, became a wine appreciator, and taught school. Preferring country life to city life, Betty bought the property in 1968 and slowly developed Buttonwood Farm into a Thoroughbred horse breeding facility.
For many years horses and community activities dominated her life. Betty was actively involved in early discussions about development in the Santa Ynez Valley and was co-founder of The Land Trust for Santa Barbara County. By the early 1980's, she was aware that some very exciting things were going on with grapes and wine in the County. During this time Betty's friendship with a local vintner convinced her that the higher "mesa" portion of Buttonwood would make a wonderful vineyard site.
Michael Benedict began planting the 39-acre vineyard in 1983; they now have 33,000 vines. The vineyard sits in an ideal position atop a sun-bathed mesa on the eastern portion of the 106-acre property. Buttonwood's current mix of sauvignon blanc, semillon, marsanne, merlot, cabernet sauvignon, cabernet franc, and syrah seem immediately tuned-in to the local terroir, with merlot seeming to be the mainstay. The winery was completed in time for the crush of 1989.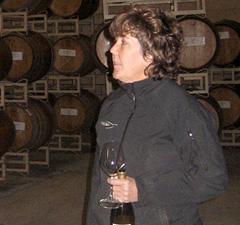 Karen Steinwachs
Original winemaker, Michael Brown, left at the end of 2006 to focus exclusively on his own label, Kalyra. So, Buttonwood went looking for some new talent. Fortunately, they found Karen Steinwachs, who became winemaker in early 2007. After spending 20 years in the high-tech world, Karen became a fan of Santa Barbara County wines. She and husband Dave Robinson were making regular trips and becaming acquainted with some of the winemakers. As many others before her, Karen wanted to get out of the high-tech world, and get into the wine world. After being turned down a couple of times, Norm Yost, then winemaker at Foley Estates, gave her a harvest job, noting that she would probably be laid off when harvest was done. Undaunted, she took the job, and her original six week job at Foley stretched into three years before she was off to Fiddlehead Cellars as assistant winemaking position with Kathy Joseph.
While at Fiddlehead, Karen sharpened and expanded her skills, taking on the day to day responsibilities of looking after the wine. And, after three harvests at Fiddlehead she knew she was ready to for the big time. Karen knew of Buttonwood Farms from her Foley days, and imagined it a place where she could stretch out - varietally speaking. The rest, as they say, is history. Production at Buttonwood is about 8,000 cases, with Sauvignon Blanc and Cabernet Franc really shining.


Kenneth Crawford
Tasting Notes: Current Releases & Library Wine

Kenneth Crawford 2008 Rose – Santa Ynez Valley. A saignee method Rose of Grenache. A Brunello yeast was used, and was fermented in neutral oak. Lovely aromatics, slightly sweet and very tasty through the long finish.

Kenneth Crawford 2008 Pinot Noir – Babcock Vnyd, Sta. Rita Hills. A blend of clones 115 and Pommard from a vineyard planted in 1982. Lightly smoky fruit-filled aroma in the nose. Delicately rich on the palate, with good middle palate and long smoky finish. The guys thought the smoke was probably cooperage-influenced.

Kenneth Crawford 2007 Grenache – Larner Vnyd, Santa Ynez Valley. Big rich and spicy nose of raspberry and herb. Spicy dark fruit on the palate, with a very chewy mouthfeel and long finish.

Kenneth Crawford 2006 Syrah – Purisima Mtn Vnyd, Santa Ynez Valley. Lots of red and black fruit in the nose, along with a hint of citrus peel. Full and rich on the palate, leaning more toward hi-toned red fruit, with excellent balance and finish.

Kenneth Crawford 2004 "Blue Fin" Syrah – Santa Ynez Valley. Named for the finest type of Tuna, this is basically a blend from Ballard Canyon vineyards, including: Purisima Mountain, Stolpman, and Larner, plus a barrel of Lafond from the Sta. Rita Hills. Nose of dark fruits, with a nice spicy and pepper quality. Still very juicy acids on the palate, with mature dark fruit flavors, and a smooth finish.


Heading back west on Hwy 246, we stopped off at Kenneth Crawford's new location in Buellton. After outgrowing their previous location, they set up shop a year ago in a new 6,000 sq.ft. space near the new Terravant custom crush facility.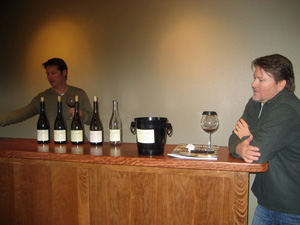 Joey and Mark
Kenneth (Joey) Gummere, and Mark Crawford Horvath met while working together at Babcock Vineyards. The two founded Kenneth Crawford winery while both were still working for their respective employers at the time, Santa Barbara Winery and Babcock Winery. Several years later, the two felt sufficiently able to go out on their own. Having decided to keep their joint label as a small production effort, they also decided to pool their talents on consulting to other wineries, as well as embarking on individual projects. It's a situation that just might be the best of both worlds, and something that's been pursued successfully by several other winemaking teams.
Winemaking methods include use of a cold room to store the 1-1/2 ton bins used for fermentation. Several types and sizes of barriques are being used for aging. Production for Kenneth Crawford remains at about 700-800 cases, with no real intention on expansion of the label. That said, Joey and Mark consult for other producers (e.g. Jorian), both individually and collectively, and this remains the backbone of their operation.
Not that I'd been saving it for this particular occasion, but I brought along a bottle of 2004 KC "Blue Fin," my last remaining bottle from an SB Futures purchase. Seemed like a fitting way to drink the wine and celebrate with its creators. Of course, it were corked, well then I'd be right where I need to be. It turned out to be delicious, with lots of life left in it.
We decided to grab a late lunch before heading over to our next stop – an open house at Peter Cargasacchi's winery. The Jalama Beach Café (formerly known as "Hi's") has a location in Lompoc and was right on the way, so we stopped and grabbed a late lunch. John Tomasso departed at this point; we were probably beginning to offend this Bronx boy's sensibility. ;-) But, he was in for the big Sashi Moorman tour. We mentioned we were attending the big celebration at Palmina, and asked if he was going. Not this year, he said, while letting us in on the not-too-surprising fact the the place could be very crowded.


Cargasacchi
Tasting Notes: Current Releases & Library Wine

Point Concepcion 2009 "Caponera" Chardonnay – Sierra Madre Vnyd, Santa Maria Valley. Nice apple/citrus qualities throughout. Nice crispness on the palate, along with some typical ML tones.

Point Concepcion 2009 "Celestina" Pinot Grigio – Sierra Madre Vnyd, Santa Maria Valley. Interesting copper color, leads to some oxidation in both nose and taste. Not exactly my bag.

Cargasacchi 2007 Pinot Noir – Cargasacchi Vnyd, Sta. Rita Hills. Clone 115. Very nice – a little backward at present, but nice flavors, almost chewy in body and nice long finish.

Cargasacchi 2007 Pinot Noir – Jalama Vnyd, Santa Barbara Co. Clones 114, 115. Nice off-sweet nose, but seemed bit bitter in mouthfeel, with some astringent acids and heat noted on the finish.

Point Concepcion 2008 "Salsipudes" Pinot Noir – Santa Maria Valley. Nice fruity nose, tasty flavors, seemed a bit bitter on back end.

Cargasacchi 2009 Pinot Noir – Jalama Vnyd, Santa Barbara Co. . Clone 828…but not! Very nice nose and mouthfeel, lots of dark and bing cherry, and tasty long finish.

Siduri 2002 Pinot Noir – Cargasacchi Vnyd, Sta. Rita Hills. Slightly ripe nose, but still young in mouthfeel, nicely ripened fruit, with nice hit of acids on back end.

Point Concepcion 2005 "Encantado" Syrah – Moss Ridge, Paso Robles. Picked under 24 brix and co-fermented with 8% Viognier. Nice fruit, definite acids as well. Drinking nicely.

Point Concepcion 2005 "Cuvee Jalama" Syrah – Central Coast. A blend of fruit Paso Robles, as well as the Larner Vnyd in Santa Ynez Valley. Darker, both in color and in fruit than the previous wine, with even more acids on the back end. Fruit seems to be holding everything together at present.

Cargasacchi 2010 Pinot Noir – Jalama Vnyd, Santa Barbara Co. Barrel sample. Intended to end up as a sparkling wine, this was picked at 19 brix. Faintly pink in color, light press without skin contact. Nice juice.

Cargasacchi 2010 Syrah – Alisos Vnyd, Paso Robles. Barrel sample – pre ML. An outside project with a lot of potential. Seems like nice juice, just tough to tell where its going at this point.

Cargasacchi 2010 Pinot Noir – Jalama Vnyd, Santa Barbara Co. Barrel sample. Clone 114. Bit fizzy right now, but very nice nose and flavors.

Cargasacchi 2010 Pinot Noir – Jalama Vnyd, Santa Barbara Co. Barrel sample. Clone 114. Different barrel, and this one seems somewhat riper than the preceding sample, in both nose and flavors.

Point Concepcion 2009 "Invincible Sun" Late Harvest Pinot Grigio – Sierra Madre Vnyd, Santa Maria Valley. 16.3 alcohol. The fruit was essentially dried on the vine. Really nice apricot aroma with a touch of caramel on the palate.


Since this December weekend was also the Holiday Weekend Tour for the Santa Ynez and Sta. Rita Hills AVAs, we knew Peter would be manning his tasting room in an area affectionately called the "Pinot Prison," over near the city animal pound. There is nothing like tasting Pinot to the sound of dogs barking.
Arriving about 3:30pm, it looked like we'd missed most of the crowd. I would tell you that Peter was in rare form, but then he's always in this form. ;-) He looked excited to see us – no, really...seriously! "You guys are lucky, said Peter, the winemaker from Penfolds' is due here anytime." He was referring to Jason Barrette, one of several winemakers for Penfolds, who arrived with Morgan Clendenen from Cold Heaven Cellars.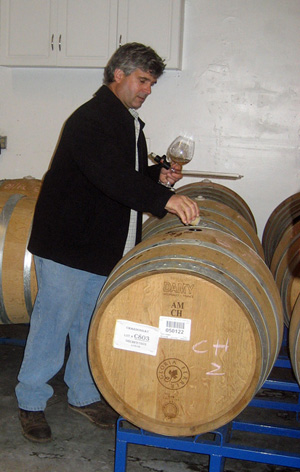 Peter Cargasacchi
Peter poured us through all the wines he had on the table, including an '02 Siduri that I'd brought along to try. As with the Kenneth Crawford visit, sometimes it's nice to share a bottle with the winemaker of his own wine - sort of the fruit of his labor. Interestingly, it was through Adam Lee's Siruri winery that I first heard of the Cargasacchi Vineyard. On a visit to Siduri in 2002, Adam had a couple of barrels with "Cargasacchi" written on them in chalk. Where the heck is that, I recall asking Adam. When he told me, I thought, how the heck have I not heard of this?


Palmina - Red, White and Green Celebration
We'd been invited to the annual Red, White and Green celebration at the recently expanded Palmina tasting room. This is an annual event put on by Palmina at holiday time to celebrate the season with all their fans and friends. When we arrived, I could see that John had been right - the multi-room facility was just about wall-to-wall with people. That said, the wines were great and the food was terrific.
Just to recap Palmina's background, the winery was founded by winemaker Steve Clifton in 1995, who produced the first Palmina wines in his home basement. He named the winery project in honor of a good friend named Paula, who had been a big factor in Steve's love for food and wine. After Paula succumbed to breast cancer, Steve found out that Paula's given name on her Italian birth certificate was Palmina.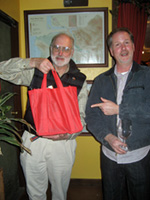 Paul and Bryan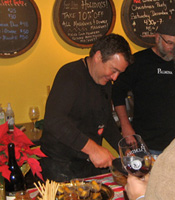 Steve slices up a pizza
In 2000, Steve was going to be hosting some visitors from Italy and needed to find someone who spoke Italian. He was steered to Chrystal Seals, the wine manager for a local restaurant. They shared the same sensibilities and escitement about food and wine, and Chrystal soon became involved in all aspects of Palmina. In fact, they were married in Friuli, Italy in the Spring of 2004.
Palmina makes a point of not trying to emulate the Italian versions of these wines, but rather interprets the styles dictates by the growing conditions and vineyard sites of Santa Barbara County. So, they feel the wines are Italian by tradition, but modern by design. This factor does come through in the wines, and each of the varieties are fascinating renditions of their Italian counterparts.
Although I took no tasting notes during the event, I did come away with a definite predilection for the Arneis and Lagrein, and thought the Barbera and Nebbiolo were terrific. And the Savoia is out of this world. Paul decided to stock up, as you can see by the accompanying photo. One last thing, the tasting room was exceptionally well merchandised. In addition to plenty of each of the wines they were pouring, there were large bottle formats, library wines, and pre-packaged gift boxes of wine with Italian culinary items. It was the perfect place to do some holiday shopping.


Additional Photos from Saturday
Row 1 - Honea Vnyd
Row 2 - Buttonwood

Sunday - December 5, 2010
Stolpman/Piedrasassi/Evening Land
Tasting Notes: Current Releases

Piedrasassi 2010 Syrah – Spanish Springs Vnyd, Arroyo Grande. Barrel sample. 10-30% whole cluster fermentation. Huge fruit, great acidity, fabulous stuff!

Piedrasassi 2010 Syrah – Rim Rock Vnyd, Arroyo Grande. Barrel sample. Picked at 21.5 brix from a vineyard in the Nipomo area; a section grafted over by Stephan Asseo. Huge nose of macerated fruit, lovely body, and terrific fruit-filled finish.

Piedrasassi 2008 Syrah – Central Coast. Barrel sample. This was a blend of vineyards. Beautiful dark fruit nose, very tasty flavors, and fabulous acids balance everything out.

Piedrasassi 2007 Syrah – James Berry Vnyd, Paso Robles. A bit riper than the previous wines, but still great balance of acids on the palate, and nice finish.

Piedrasassi 2007 Syrah – Rim Rock Vnyd, Arroyo Grande. Picked at 23.5 brix; 50% whole cluster. Easily mistaken for a co-ferment, this wine has amazing floral aromas in the nose, with dark fruit, and black olive flavors.

Stolpman 2006 "Hilltops" Syrah – Stolpman Vnyd, Santa Ynez Valley. This was in prime shape, with possibly a riper mouthfeel than others, but excellent balance throughout.

Stolpman 2006 "Angeli" Syrah – Stolpman Vnyd, Santa Ynez Valley. Warmer red fruit profile. Less sweet/ripe than the rest, with more licorice flavor through finish.

Stolpman 2006 "L'Avion" Roussanne – Stolpman Vnyd, Santa Ynez Valley. Nose of honeysuckle and beeswax, with lovely honeyed flavors and excellent balance on the palate.

Piedrasassi 2003 Syrah – Santa Ynez Valley. From Watch Hill, Harrison Clarke, and Westerly vineyards. Parker had raved about this wine on release. He was right. The wine seems beautiful right now, with an elegant mature quality, yet still lots of distance left in it.

Piedrasassi 2008 Vin Santo – Santa Ynez Valley. Made from cold air-dried Sangiovese fruit that is till fermenting. Has the body of thin syrup, with aromas and flavors of caramel and honey. Currently at 7% alcohol, but will go to 15%.

Evening Land 2010 Pinot Noir – Memorius Vnyd, Sta. Rita Hills. Mt. Eden, Calera and Swan clones. Tiniest bit of whole cluster. Light in color, with a hi-toned cherry earthy aroma. An acid balance to the fruit, with long finish.

Evening Land 2010 Pinot Noir – Bloomsfield Vnyd, Sta. Rita Hills. 100% destemmed. Very pure in fruit - almost ethereal, and strikingly French in style.

Evening Land 2010 Pinot Noir – One Tree Hill Vnyd, Sta. Rita Hills. 50% whole cluster. Sashi was going for the Dujac thing here, and the stem inclusion here really seems to take the wine up a notch.

Evening Land 2009 Pinot Noir – Occidental Vnyd, Sonoma Coast. Calera clone. After Larry Hyde spent 8 years cleaning up this virused clone, Steve Kistler took it to Occidental Vineyard. Definite red fruit profile, with a nice pine/cedar quality throughout.

Evening Land 2009 Pinot Noir – Estate, Sta. Rita Hills. This was an estate vineyard blend on 1-yr old Taransaud barrel. Obvious coffee and espresso aroma to the dark cherry fruit. Round and delicious.

Evening Land 2009 "Memorious" Pinot Noir – Estate, Sta. Rita Hills. Very dark in color. Native yeasts, lots of acid, excellent balance. Dark nose and flavors, with a terrific mid-palate.

Stolpman 2009 Syrah – Stolpman Vnyd, Santa Ynez Valley. Low density vnyd, about 830 vines/acre. Entav clone 383. 25% whole cluster. Nice clove scent to the smooth dark fruit.

Stolpman 2010 Syrah – Stolpman Vnyd, Santa Ynez Valley. High density vnyd, about 3,000 vines/acre. 25% whole cluster. Big and tannic, chewy mouthfeel and finish.

Stolpman 2010 Syrah – Stolpman Vnyd, Ruben's Block, Santa Ynez Valley. High density vnyd, about 6,000 vines/acre. Rostaing clone. 100% whole cluster. Picked at 23.5 brix, with a 3.6 pH. Nice dark fruit, chalky tannins and long finish.

Stolpman 2008 Sangiovese – Stolpman Vnyd, Santa Ynez Valley. High density vnyd. No, it's not Brunello, this is more decadent, and it's probably one of the best examples of New World Sangiovese there is.

Evening Land 2008 "La Source" Pinot Noir – Seven Springs Vnyd, Eola-Amity Hills, OR. 1/2 from own-rooted 30 yo vines
and 1/2 from 15 yo vines planted with root stock. Nice nose, though it struck me as super ripe. Good texture and elegance, though it seemed to me there was a slight hole or flattening at mid-palate.

Evening Land 2008 "La Source" Chardonnay – Seven Springs Vnyd, Eola-Amity Hills, OR. Notes of lemon-lime, citron, persimmon. Wonderful flavors and mouthfeel, excellent acids and balance.


We were originally scheduled to meet Sashi Moorman at Stolpman Vineyard for a short tour, to be followed by a look at the local Evening Land project, and finally a tasting back in the Lompoc "wine ghetto." However, Sashi's still had some out-of-town guests, and the weather was getting iffy by the minute. So, we decided to postpone the vineyard stops until another visit, and just concentrate on the tasting end of things. No harm there. So in the interim, we all decided to go back to the Jalama Beach Café for a little breakfast.
After breakfast, we headed over to the Stolpman winemaking facility in the Lompoc wine ghetto. One of the staff was moving some barrels around, and Sashi gave us the low-down on what appeared to be some new cooperage. In addition to the 500L puncheons, Sashi was now also using a lot of 265 liter cigar-shaped barrels, originally developed for Stolpman's Italian production, in order to get more lees contact.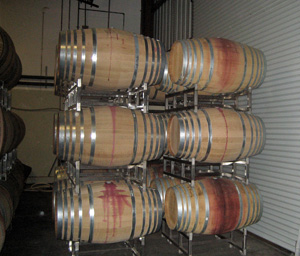 Sashi Moorman is the winemaker for Stolpman Vineyards. He first became involved with Stolpman grapes working working for five years as assistant winemaker with Adam Tolmach at Ojai Vineyard. Joining Stolpman as Winemaker in 2001, Sashi had more of a diverse background than maybe the usual cellar rat. He spent his early years in Tokyo and Alaska, attending high school and college on the East Coast (geting a Liberal Arts degree from Vassar College) and cooking professionally in New York City and Washington, D.C. Sashi was still in college when he began to work summers at Obelisk, a Washington D.C. restaurant owned by chef Peter Pastan. Even later, when he moved to California to be assistant winemaker at the Ojai Vineyard, Sashi kept the Obelisk connection. In fact, Pastan frequently comes out to help Sashi with the crush, doing whatever is necessary and and acting as unofficial winery chef.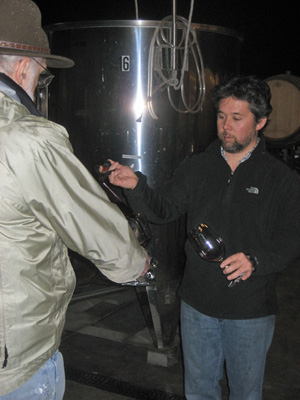 Even with all that is going on at Stolpman, he has had a few sidelines as well - his own label Piedrasassi with Peter Hunken, and a joint project with Hunken, Chad Mellville and Jim Knight called Holus Bolus. A recent change has seen Sashi withdrawing from Holus Bolus, and Peter withdrawing from Piedrasassi. And, as if all that weren't enough, he is also the California winemaker for Evening Land Vineyards, a producer who bought the famous 25-acre Occidental Vineyard in the Sonoma Coast, leased Oregon's equally famous Seven Springs Vineyard, and put money into a new 40-acre Santa Rita Hills vineyard (a project Sashi is overseeing). One of the more interesting aspects of the Evening Land project is that none of the wines are to be over 14% alcohol. All of these wines are made at the Lompoc "Wine Ghetto," the small industrial park at the outskirts of the city, where Hwy 1 and Hwy 246 cross paths.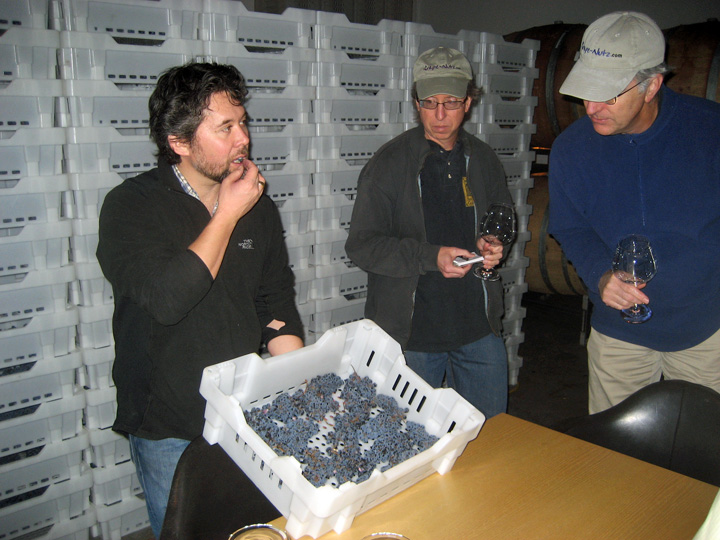 Sashi Moorman, Ken Zinns, and Eric Lundblad try some 2010 Sangiovese to be made into Vin Santo
Epilogue -
Over the past ten years, Paso Robles has seen some exciting wine growth, usually centered around Syrah and other Rhone Valley varietals, and usually culminating in more than a few highly extracted, often high alcohol wines. Cabernet Sauvignon, essentially the founding grape of the region, has now apparently been relegated to only a supporting role. No matter though. While the Rhone movement continues to play a major role here, it seems Paso has also discovered (or re-discovered) Italian varieties as well. They're also discovering such radical things as biodynamics and lower alcohols.
Additionally, much has been made of the East-Side vs. West-Side of Paso debate. The fervor seemed to have peaked out in 2005-06 with proposals and arguments to define the West-Side as sub-appellations within the greater Paso Robles AVA. True, some still discuss the relative merits of the issue and some even kindle the embers, but the fire seems to have largely died out. And, that's been a good thing for the region.
The Santa Ynez Valley may have been worried when the cooler region to the West in essence seceeded to form the Sta. Rita Hills AVA in 2001. They need not have been. Although the focus on quality Pinot Noir and Chardonnay (not to mention Sideways) has made the SRH famous, and rightly so, the SYV still has its reputation intact. In fact, it was very encouraging to taste some excellent examples of Sauvignon Blanc, Cabernet Franc, and Syrah, plus what appears to be a fabulous source for Italian varieties as well.
One of the more interesting things we heard during our short time in the Santa Ynez Valley was that there had been two "come to Jesus" moments during 2010. The unexpected departures of Kris Curran and Nick de Luca, from their respective winemaking positions at Foley and Dierberg, appeared to send a shudder through the tightly-knit winemaking community. It was viewed by some as a clear message - subject to some interpretation of course. Quite easily, the economy could have been at the root of these exits. However, another and potentially more ominous viewpoint shared with us was that no one person (e.g. a winemaker) ought to dominate the brand's personality. In other words, there was no room for a "rock star" in the organization whose reputation might be viewed as more important than the winery itself.