Southern California Wine Tour – June 2018 – Part 1
One of my main wine touring goals for 2018 was to visit two parts of California where I had never gone to check out wineries and vineyards – far northern and far southern California. I traveled to several northerly parts of the state in early May and now it was time to plan a trip to the south. I checked in with Eric Anderson of Grape-Nutz and he was game to come along on this wine tour (especially since he lives in Southern California so it would not be a long journey for him), and he invited three friends to join in as well – Jay Selman (of GrapeRadio), Paul Burns, and Barry Cole.
Since I'd never been wine-tasting in that area before and had limited knowledge of Southern California wine regions, it took some research to decide where to go. Unlike the more remote spots I visited in the northern parts of California, wine country in the southern part of the state is close to heavily-populated regions so many of the area's wineries get plenty of visitors, yet they remain largely unknown outside of those local regions. So even though this tour would not really take me off the beaten track as was the case with my Northern California wine tour, I thought that I might still discover a few under-the-radar wineries.
There are four significant Southern California wine regions: the Los Angeles area, Cucamonga Valley, Temecula Valley, and San Diego County. Although Los Angeles is the historic birthplace of the commercial wine industry in California, nothing really remains of these early endeavors, and the current wineries in the area were too far from the other three regions to include them on this trip. Cucamonga Valley is another wine region with a long history, and although most of its vineyards have been swallowed up by development over the past 70 years, I felt that there was still enough there to be of interest to visit. The general perception of Temecula Valley wine has been a mixed one, but I thought it was worth checking it out for myself – and it also gave me the opportunity to look at a new and promising vineyard and wine project in that area. Finally, San Diego County is where the first wine in California was made by the Spanish in the eighteenth century, and although the area's wine industry since then has been limited, it is starting to experience what looks to be a new and exciting chapter.
Just to illustrate how limited my knowledge of these wine regions had been prior to this trip, I don't know that I'd ever tasted a wine from Temecula Valley before, just one that I can recall from Cucamonga Valley (though made by a Sonoma County producer), and only a handful from San Diego County. It was (barely) enough to get a start on planning specific wineries to visit, and I have to thank Eric as well as a couple of the Southern California vintners I contacted who helped in suggesting other producers of interest.
Southern California wine
Many people think of Napa or Sonoma when it comes to California wine, but Southern California is the birthplace of wine in the state. It is believed that the first Vitis Vinifera grapevine cuttings to arrive in what was then the Spanish colony of Alta California were brought to Mission San Diego de Alcalá in the 1770s. These were almost certainly Listán Prieto vines, introduced from Spain to the New World in the 1500s and brought to San Diego through Baja California – that grape variety has since become known simply as Mission in California. Most of the early Spanish wines in California were probably sweet, and a distinctly California style of sweet wine called Angelica made from Mission grapes was produced in Southern California, and probably named for Los Angeles, one of the early centers of winemaking in the state.
The state's first commercial vineyards and wineries were established in Los Angeles in the 1830s, when California was still part of Mexico (which had won its independence from Spain by that time). Not many years afterwards, commercial vineyards and wine production spread to Cucamonga Valley, east of Los Angeles, and elsewhere in California. The Anaheim area was widely known for its grapevines until they were decimated by Pierce's Disease in the 1880s, when much of that area was replanted with orange groves – Pierce's Disease has continued to be a significant problem for grapevines over the years in many parts of Southern California. Grapevine cultivation and wine production declined throughout most of the region in the later 19th century, and the Prohibition years took their toll as well. Although Southern California has regained a healthy wine industry since the repeal of Prohibition, it long ago lost its preeminent position of grapegrowing and winemaking in the state. Remnants of that once-thriving business still remain in a few areas such as Cucamonga Valley, while other parts of Southern California have experienced a wine revival in more recent years.
I planned four days of wine touring, starting in San Diego County, the southernmost of the three wine regions we visited, continuing north to Temecula Valley, and then finishing with a brief stop in Cucamonga Valley. For Eric and his Southern California contingent, the tour started and ended within a reasonably short drive from their homes, but coming from Oakland, I needed two additional drive days.
Our touring base in San Diego County was in Escondido, in the northern part of the county. I headed out on a Friday morning and it took me a full day to drive to Escondido, spending far too much of the afternoon creeping along in painfully slow traffic through the Los Angeles area. It had been many years since I'd driven through that area and I was quickly reminded of why I had avoided doing that for so long.
I finally got to Escondido in the late afternoon and checked into my motel, the Comfort Inn. I was very happy with my stay there – I splurged for a nicer place than the more budget-minded motels where I usually stay on wine tours. The location was convenient and quiet, and the room and amenities were very nice. I had dinner at Stone Brewing, one of San Diego County's best-known breweries. The place was packed but since I was on my own that first evening, I managed to avoid a long wait for a table by getting a seat in the bar area. I ordered the Kurobuta pork pasta for dinner, which I really enjoyed – a good-sized portion and I finished it all. Of course I had to try couple of Stone Brewing's famous IPAs – the "Exalted" IPA was my favorite of the two. Though a bit pricey, I enjoyed my meal and I'd gladly go back again.
The next morning I got ready for the day's wine visits – Eric, Jay, Paul, and Barry were all traveling together and they would be meeting me at our first winery of the four-day tour. Friday afternoon had been hot for much of my drive to Escondido, but it was foggy and cool on Saturday morning – the area is only about 15 miles from the Pacific Ocean so it gets some marine influence in its climate. The fog burned off by mid-morning and it was getting warm again by the time I started to our first San Diego County wine destination, a short distance southeast of Escondido.
San Diego County Wine
As noted earlier, the first wines in California were made at Mission San Diego de Alcalá in the late eighteenth century, though through the years, the San Diego region has not been particularly known as one of the state's significant wine regions. The Valley Center area not far from the city of Escondido was home to a sizable vineyard and winery operation in the 1850s, and by 1900 there were over 20 wineries in San Diego County. Prohibition largely wiped out the region's wine industry, with only a handful of wineries surviving by the time it was repealed in 1933. Pierce's Disease took its toll on the region's vineyards too. Other crops such as citrus and avocado became widely planted at this time, and these replaced a number of vineyards. By 1964, only two wineries in San Diego County remained, Bernardo and Ferrara (now known as Forgotten Barrel).
The modern rebirth of viticulture and winemaking in San Diego County is very recent, mostly taking place since the early 1990s. Grapevine planting seems to be accelerating just in the past few drought years, with more water-intensive crops being replaced by winegrapes, which require significantly less water. Because the county is a large area, it contains numerous microclimates depending to a large extent on proximity to ocean breezes and on altitude, allowing for a wide range of grape varieties to be grown. Most of San Diego County's vineyards are within the large South Coast AVA (established in 1985), which extends from the Mexican border north to the Los Angeles area. In San Diego County, two smaller AVAs are located within the South Coast AVA – San Pasqual Valley AVA, just southeast of Escondido and established in 1981, and Ramona Valley AVA to the east of Escondido, approved in 2006.
Today there are over 115 bonded wineries in San Diego County, most of which have fairly small annual production. The lack of much of a strong historical wine culture in the region can be seen as both a negative and a positive. Negative in that there is no widely-recognized regional wine variety or style, but positive in that this same lack of tradition allows for current grapegrowers and winemakers to be more experimental and innovative in many respects, not feeling pressure to conform to any preconceived expectations.
I drove into the Orfila parking lot a few minutes before their 11am opening time, and Eric, Jay, Paul, and Barry were already there. I'd never met Paul or Barry before (though Paul and I were Facebook friends) and we were all able to talk for awhile outside the tasting room while waiting for it to open up. Although we had not made an appointment at Orfila – the only drop-in visit during our Southern California wine tour – Eric and I both thought this would be a good place to check out, especially as Eric had visited there back in 2002. The winery door was finally unlocked, and we all stepped inside. The space is large and airy and includes barrel storage as well as the tasting area. There's a square-shaped tasting bar, and plenty of interesting wine-related merchandise to look at around the rest of the tasting area. Christine from the tasting room welcomed us inside, and we headed straight for the bar to start in.
Orfila is located in the small San Pasqual Valley AVA, which was established in 1981, one of California's earliest AVAs. Orfila is actually the only commercial vineyard located in the appellation – a couple of other vineyards and wineries are located nearby but outside the official AVA boundaries. The first grapes were planted at the estate vineyard in 1973 (some of these vines still remain), and the winery was initially known as San Pasqual Winery and later as Thomas Jaeger Winery. Current owner Alejandro Orfila purchased the winery in 1994. Now in his 90s, he was the Argentinean ambassador to the United States for a time and held numerous other posts including Secretary General of the Organization of American States.
Orfila's original winemaker, Leon Santoro – who passed away in 2009 – helped to move the vineyard and winery in a new and better direction, planting more Rhône varieties that were better-suited to the site than the Chardonnay that had been there before, and changing the winemaking regimen to improve quality. Santoro is often credited with helping to point the way toward better wines from San Diego County as a whole. Justin Mund is the current Orfila winemaker – he grew up in Healdsburg and studied fruit science at Cal Poly San Luis Obispo. Beginning in 2006, he worked at several wineries including Ferrari-Carano in Sonoma County and Laetitia and Addamo along the Central Coast before coming to Orfila. During our visit, we learned that Wine Enthusiast magazine had given a 91-point score to the winery's 2015 Montepulciano, the magazine's highest rating ever for a wine from San Diego County.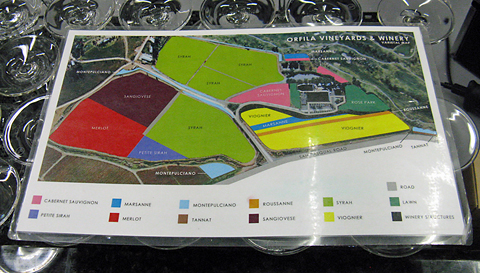 The winery and estate vineyard are located on a 70-acre property that is within a 10,000-acre agricultural preserve owned by the City of San Diego. About 40 acres of winegrapes are planted, and more plantings are planned in the future. Syrah takes up the largest percentage of the vineyard, and there's Viognier, Sangiovese, and Merlot as well, plus smaller blocks of Cabernet Sauvignon, Roussanne, Marsanne, Petite Sirah, Montepulciano, and Tannat. As is the case with a number of other wineries in San Diego County and in Temecula, weddings and other events are big at Orfila, and part of the area outside the tasting room was being prepared for a wedding reception the afternoon that we visited.
Assistant tasting room manager Brian Robison was behind the tasting bar and poured most of the wines for our group. We all chose our own assortment of six wines to taste, and I focused on wines sourced from San Diego County vineyards, and all but one of those was from the Orfila estate vineyard – the estate wines are labeled as Pasqual Valley AVA. I got tastes of a couple of other wines that Paul and Barry were trying as well. Most of Orfila's non-San Diego wines are from Central Coast fruit, largely from Arroyo Grande Valley and elsewhere in San Luis Obispo County, plus some from Santa Barbara County as well. White wines and rosés are aged in stainless steel or French oak, while reds are aged mainly in French oak as well as some American and Hungarian barrels.
I started out with the 2016 Estate Viognier, with nice floral and tropical fruit aromatics plus perhaps a hint of oak, a moderately rich mouthfeel and finish, and good balancing acidity. Next up was the 2016 Estate Sangiovese, which was a bit on the oaky side for me but featured red fruit and herbal notes, with moderate tannins. The 2016 Cabernet Sauvignon was sourced from a vineyard in the Fallbrook area farther north in San Diego County. A lighter style of Cab, this displayed some herb and bell pepper notes along with currant and spice, and medium-light body and structure. The 2015 Estate Merlot had more upfront spice with black cherry, herb, and earth undertones, more weight on the palate than the Cab with moderate tannins, a pleasant Merlot that drinks well now but should develop for a few more years. I followed this with the 2016 Estate Syrah, with dark berry, smoke, spice, and vanilla notes, medium body and finish.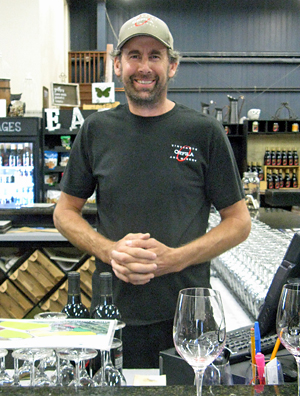 I got a taste of a couple of wines sourced from San Luis Obispo County. The 2016 Petite Sirah featured both red and black fruit, pepper, and spice on the nose, a fairly rich texture, and grippy tannins. The 2016 Lagrein was very nice, showing upfront dark berry fruit, floral and herbal notes, with big structure and tannins.
We asked Brian about the 2015 Estate Montepulciano, and even though it was officially sold out, he was generous enough to open a bottle for us to taste. This was indeed a standout, with red fruit, herbs, and earth, plus spice and vanilla in support, a lively mouthfeel with plenty of structure and fine tannins on the finish.
Wines that I didn't taste included an off-dry sparkling wine made from Muscat Canelli and Orange Muscat, two Chardonnays, Pinot Blanc, dry and off-dry Rosé, Pinot Noir, Tempranillo, Zinfandel, and a late harvest Syrah. Total annual production is around 20,000 cases.
Our visit to Orfila was a strong start to our Southern California wine tour. Brian was very knowledgeable about the wines and he was fun to talk with. The wines overall were good, and the estate bottlings showed the potential for the area. The 2015 Montepulciano was the highlight for me, while the 2016 Viognier, 2015 Merlot, and 2016 Lagrein were also very good. I should note that the wine prices were quite reasonable too. Orfila is certainly a winery worth checking out in the Escondido area.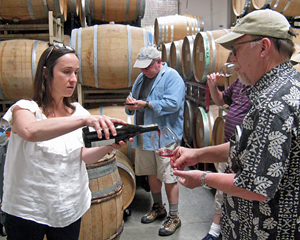 It was a fairly short drive to our next winery destination – and it would have been even shorter if I hadn't misread the signs for getting back on the freeway and led Eric into the entrance of a shopping center! Our next two visits were both under the same roof, at an urban winery facility in Escondido. It's always a bonus to be able to cut down our travel time by visiting more than one vintner in the same location, and we were able to do the same thing the next day as well. After finding the facility, we headed inside and we were soon welcomed by the husband-and-wife partners of J. Brix Wines, Jody Brix Towe and Emily Towe. Yes, Brix is really Jody's middle name – he was destined to become a winemaker!
I'd first met Jody and Emily at a tasting of natural wines in Oakland in early 2016. I liked their wines right off the bat, and I've enjoyed them at several other Bay Area tastings since then, so visiting Southern California wine country provided the perfect opportunity for me to visit them at their winery. Jody and Emily moved into the Escondido facility in 2013, and currently share it with four other producers. It's a fully-equipped winery that even includes its own bottling line. Though a bottling line needs a good deal of time to maintain it properly, having one in-house is very helpful for bottling many small-lot wines.
Jody studied horticulture in college and he still has a day-job in landscape management. He told us that he's always enjoyed working outdoors, and he traces his interest in food and wine to his mother and stepfather, who were both in the food business as a caterer and chef. Emily's background is as a freelance writer and journalist, and she has been working at J. Brix full-time for the past two years. As with many vintners, it was one bottle that flipped the switch for Jody and Emily and started them on the path to making their own wine – in their case, it was a Pinot Noir from Bien Nacido Vineyard in Santa Maria Valley. That wine made such an impression on them that they sought out the producer (Tantara) and not long afterwards, they volunteered as harvest interns at the winery.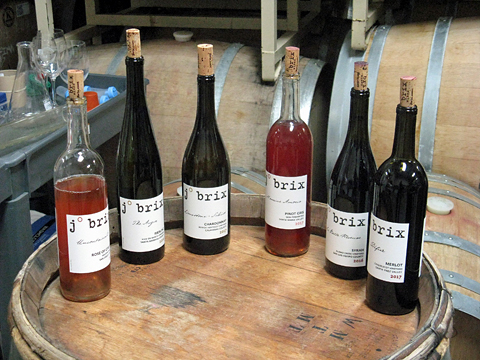 In 2009, Jody and Emily decided to try winemaking on their own – they lined up fruit sources and barrels from their new friends in Santa Barbara County and made a few barrels of wine in their garage. That hobby soon turned into a real winery business, and they produced their first commercial wines in 2010. Jody and Emily continue to work with fruit from Santa Barbara County and elsewhere along the Central Coast, plus a little from the Sierra Foothills, and they've also been sourcing fruit from San Diego County vineyards. These San Diego County sites include McCormick Ranch in Pauma Valley near the base of Palomar Mountain (Carignan), Hagata Vineyard in Valley Center northeast of Escondido (Cinsaut), and Rancho Guejito Vineyard in San Pasqual Valley near Escondido (Counoise). Hagata Vineyard is farmed by the Broomell family – we would be meeting with Chris Broomell and his wife Alysha Stehly of Vesper Vineyards a short time later. Jody and Emily noted that the Cinsaut is dry-farmed, sometimes also the Carignan, as well as their Syrah from Alamo Creek Vineyard in southern San Luis Obispo County.
They're always on the lookout for additional sustainably- and organically-farmed sites for grape varieties they enjoy working with, and Jody's horticulture background comes in handy when both of them visit vineyards during the year. They like the potential for San Diego County fruit, and Emily said that they feel that Rhône varieties do particularly well in the area. She told me that they would love to work with more fruit from San Diego County and expect that they will do so in the future.
Winemaking is minimalist, and most would consider them to be part of the natural wine movement, with native yeast and malolactic fermentations, aging in neutral vessels, no additions other than sulfur, and no fining, filtering, or cold-stabilizing of wines. All of the J. Brix wines are labeled as single-variety and single-vineyard.
After chatting with Jody and Emily for a little while, we all gathered near an upright barrel in the winery, where six current J. Brix releases had been opened for us to taste. We started out with the 2017 "Uncontainable" Hagata Vineyard Rosé of Cinsaut – this was foot-trod and kept on the skins for five hours prior to being pressed into neutral French oak. Light salmon-pink color, aromas of earthy red fruit, spice, and a savory note, with medium-light texture and good acidity. Next was the 2016 "The Augur" Kick-On Ranch Riesling, from Los Alamos Valley in Santa Barbara County. One of a number of notable California Rieslings in recent years, this was whole-cluster pressed into neutral French oak. Featuring bright citrus fruit plus flowers and herbs on the nose, with vibrant acidity and a long, clean finish.
We tasted one more white wine, the 2017 "Limestone + Schist" Rorick Heritage Vineyard Chardonnay, from 40+ year old own-rooted Old Wente clone vines in Matthew Rorick's vineyard in Calaveras County – you can probably guess the soil types there! Made in neutral French oak with full malolactic fermentation, this was a particular standout, showing bright lemon fruit with earth and floral undertones, great texture, and a chalky mineral quality on the finish. We moved on to a Ramato-style wine, the 2017 "Nomine Amoris" Riverbench Vineyard Skin-fermented Pinot Gris, sourced from a site in cool Santa Maria Valley. Destemmed and then fermented for 18 days in t-bins plus a little in an amphora, and aged in neutral French oak, this was another highlight of the J. Brix wines. Bronze-salmon color, with floral and stone fruit aromas along with the distinctive phenolic undertones often found in this type of wine, medium texture, with mild chalky tannins on the finish.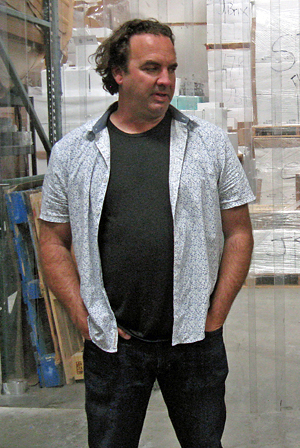 Jody and Emily poured us the 2016 "La Belle Rêveuse" Alamo Creek Vineyard Syrah next, with fruit from a vineyard in far southern San Luis Obispo County, just north of Santa Maria – a cooler site for Syrah in California. Fermented entirely with foot-trod whole cluster fruit and aged in neutral French oak, this was another standout. Beautiful floral aromas along with dark berry fruit, spice, and earth, medium weight with a lively texture, and finishing with fine tannins. Our final wine was the 2017 "Défier" Coquelicot Vineyard Merlot, from a certified organically-farmed site in the Los Olivos District of Santa Ynez Valley. This was an intriguing and different interpretation of Merlot, made by carbonic fermentation in an egg-shaped plastic flextank, then aged in neutral French oak. Styled after Cru Beaujolais (though of course using Merlot rather than Gamay), this displayed bright and fresh berry and herb aromas, medium body, and milder tannins – nothing very complex but definitely a fun wine.
In addition to the wines we tasted during our visit, other recent releases include "Rougarou" Carignan from McCormick Ranch, "(The Hornswoggle) Stay-in-Bed Red" Cinsaut-based blend, "Audire" Pinot Noir from Kick-On Ranch, "Cobolorum" Pét-Nat Riesling from Kick-On Ranch (a past favorite of mine), and "Coucou" Counoise from Rancho Guejito Vineyard. Jody and Emily are planning to add Chenin Blanc from Santa Ynez Valley to their wine line-up this year, and they're also looking to bring in more varieties from Rorick Heritage Vineyard. Production from last year's vintage was around 1,500 cases, and the plan is to increase that to about 3,000 this year.
Jody and Emily were a pleasure to talk with, and we had a great time visiting them and tasting their J. Brix wines. I felt that this was the most consistently strong wine line-up of our entire Southern California wine tour. All the wines were very good, with the 2017 "Limestone + Schist" Chardonnay, 2017 "Nomine Amoris" Skin-fermented Pinot Gris, and 2016 "La Belle Rêveuse" Syrah being particular standouts. The quality of their fruit and the straightforward yet out-of-the-mainstream winemaking methods shine through in all of their wines. J. Brix was the only winery we visited on our trip that is open by appointment only, but I highly recommend visiting Jody and Emily if you're in the Escondido area. The J. Brix motto, in both their winemaking and in life, is "Only Love," and I've found it easy to love their wines.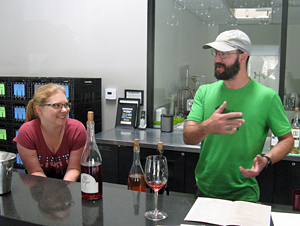 After our visit with Jody and Emily, we moved to the front tasting room portion of the urban Escondido wine facility, where we met Alysha Stehly – she and her husband Chris Broomell are the proprietors of Vesper Vineyards. Vesper is another producer I first came across at a tasting of natural wines, this one in San Francisco in late 2016. As with J. Brix, the Vesper wines impressed me right away. Chris was out in the back of the winery as they had just gotten in an old redwood tank from another winery and he was helping to get it set up, but he was able to join us a short time later. The SansV tasting room is a modern yet welcoming space that opened in early 2014, and Vesper has been sharing it with two other labels, Stehleon Vineyards and Jack Simon Vineyards.
Both Alysha and Chris have long family histories of farming in San Diego County, and both are from the Valley Center area, a few miles northeast of Escondido. Alysha's family grows citrus and avocado (very typical crops in the region) while Chris' family grows citrus, hay, and row crops. Both the Stehly and Broomell families have added grapevines to the list of crops they farm, but the Valley Center area is no newcomer to wine – a commercial winery had been established there as far back as the early 1850s. Sunrise Ranch is Alysha's parents' vineyard, and Triple B Ranches is the estate of Chris' family. Though Alysha and Chris grew up not far from one another, they didn't meet until they both attended a wine conference in Sacramento about 11-12 years ago.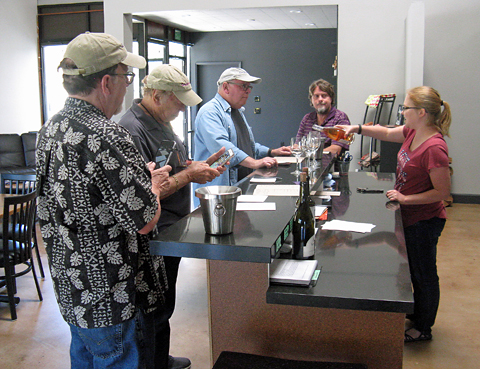 With farming in their blood, it's no surprise that both Alysha and Chris studied related fields in college – Alysha earned a degree in viticulture and enology from UC Davis (she also has considerable interest in art history) and Chris's field was environmental horticulture. Chris eventually gravitated toward wine, gaining hands-on experience working at Jaffurs Wine Cellars, and both have spent time learning at wineries and vineyards in the Southern Hemisphere – Chris in Australia and Alysha in Argentina and Chile. Vesper – named for the road in Valley Center where both Alysha and Chris grew up – was launched in 2008, around the same time that Chris started making wine for his family from their vineyard, planted in 1997. They started Vesper that year with one barrel and have grown from there, with current production at around 2,500-3,000 cases.

Chris is the winemaker for Vesper, and Alysha – with her more technical training from Davis – is the enologist, but in reality, they each share in the overall tasks needed in the vineyard and in the cellar. Both Alysha and Chris have other jobs in addition to Vesper – Alysha is also a viticulture instructor at a local community college, and she makes the wine for her parents' Stehleon Vineyards label, while Chris consults for Rancho Guejito and his family's Triple B Ranches.

One of the main goals of Vesper is to showcase fruit from San Diego County vineyards, so the Vesper wines are made exclusively from San Diego County fruit, and all the wines are single-vineyard bottlings. Some fruit comes from the vineyards of Alysha's and Chris' families, and other sources have included Rancho Guejito Vineyard in San Pasqual Valley, Hidden Gem and Highland Hills vineyards in Ramona Valley, El Nido Vineyard very close to the ocean, McCormick Ranch in Pauma Valley, and Orfila Vineyard in San Pasqual Valley. They are also working with three new San Diego County vineyards planted for Vesper – the grower worked with Alysha and Chris to select the varieties planted at these sites. As more agricultural land in San Diego County – as elsewhere in California – is threatened by residential and commercial development, Alysha and Chris look to support local growers to help preserve the region's farmlands.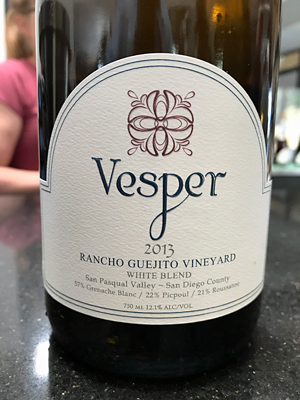 Alysha and Chris noted that many of the soil types in northern San Diego County are based on granitic sandy loam. Elevations of the different sites vary, with the family vineyards in the Valley Center area at around 1,500-1,600-foot elevation. Of course the climate of the vineyards that they source fruit from varies according to the location, but in general the growing regions of San Diego County are not as hot or dry as some people may think – comparable to better-known areas such as parts of Napa Valley and Paso Robles. Most of the grape varieties that Vesper works with are Rhône varieties, as well as Carignan, and Chris has mentioned that he feels Iberian varieties also look to be very suitable for the region.

Picking decisions for the Vesper wines are made mainly on pH and acidity rather than brix – something we heard from nearly every vintner we visited on our Southern California wine tour, and something that's critical in warmer growing regions for vintners looking to create freshness in their wines. Alysha and Chris pursue minimalist winemaking for their wines, and they made the move to using only native yeast fermentations in 2011 and moving further in more recent years toward making what is widely considered natural wine.
Alysha started us out on tasting the Vesper wines and Chris soon joined her behind the tasting room bar. We began with the 2016 McCormick Ranch Rosé, from 50% each dry-farmed 35-year old Grenache and Carignan. Earthy and slightly higher-toned red fruit and herbs on the nose, this had a medium-light mouthfeel and a clean finish. The 2013 Rancho Guejito Vineyard White Blend was next – a Rhône-style blend of 57% Grenache Blanc, 22% Picpoul, and 21% Roussanne. Destemmed and fermented on the skins for 20 days and aged in an older puncheon, egg, and flextank, this had aromas of apple and apple skin, earth, lots of spice, and the phenolic character common in skin-fermented whites, medium weight on the palate with a mild tannic bite on the finish. We followed this with the 2016 Triple B Ranches "Mar-Cin," an intriguing blend of 50% each Marsanne and Cinsaut. All of the fruit was picked on the same day – the Cinsaut was fermented with whole clusters. Aromas of stone fruit, cherry, flowers, and spice, with a bright, medium-bodied mouthfeel and finish.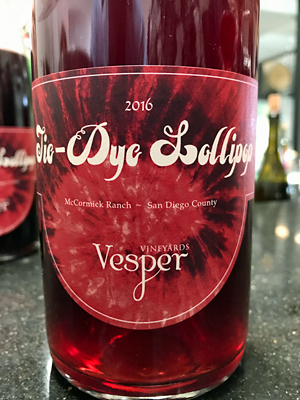 Alysha and Chris poured us the 2015 McCormick Ranch "Tie-Dye Lollipop" – a 50/50 blend of Carignan and Grenache, destemmed and fermented in t-bins and aged in older 600-liter demi-muids. Bright, higher-toned red fruit and spice with an earthy element in support. We then compared that wine with the 2016 McCormick Ranch "Tie-Dye Lollipop," with the same blend and same treatment in the winery as the 2015 vintage. This had more earth and spice notes as well as a hint of flowers, and some darker blueberry aromas in the background along with red fruit, medium-bodied with good acidity and moderate tannins. A couple of the people in our group preferred the 2015 vintage though it seemed that most of us liked the 2016 vintage better – the 2016 was my choice among the two.
We went back to a white wine before finishing with two more reds. The 2016 Sunrise Ranch Grenache Blanc was made by direct press into neutral barrels. Intense apple aromas with hints of flowers and fresh herbs, this had medium weight on the palate with a long, pleasant finish. The 2013 McCormick Ranch Carignan was sourced from that site's dry-farmed vines planted in 1981, destemmed prior to fermentation, then aged for two years on the lees in a plastic flextank. A bit reductive on the nose at first, but that blew off to reveal bright red fruit, earth, spice, and a savory note, with medium body, good structure and moderate tannins. Our last wine was the 2013 Hunter & Mazzetti Vineyard Syrah, from a site that's not far from McCormick Ranch, and located on the Rincon Indian Reservation. The fruit was destemmed, and featured blackberry and earth aromas with flowers and spice in the background, good acidity and a bit bigger tannic finish.
Other Vesper wines that we didn't taste on this visit include a Rosé and a Picpoul from Rancho Guejito Vineyard, a Picardin from Jack Simon Vineyard, Pinot Noir from El Nido Vineyard, Mourvèdre from Hidden Gem Vineyard, and Syrah from Orfila Vineyard.
Alysha and Chris are both outgoing people whose enthusiasm for what they're doing was readily apparent during our visit. We had a fun time talking with them and tasting their Vesper wines. My favorites were the 2016 "Mar-Cin," 2016 Grenache Blanc, and 2013 Carignan, and I liked the 2016 "Tie-Dye Lollipop" as well. I thought the wines all showed a lighter winemaking touch, and Alysha and Chris do a fine job of showcasing San Diego County fruit in their wines, helping to demonstrate that the region can produce high-quality winegrapes. The Vesper wines were distinctive, fun, and affordable. The SansV tasting room, where Vesper wines are available to taste, is open on weekends, and it should be considered a "must" if you're visiting wineries in the Escondido area.
We took a break for lunch after our visit with Alysha and Chris at Vesper. Our group's Southern California contingent had picked up some sandwiches in the morning before heading to San Diego County, and all we sat down at a table in the SansV tasting room to enjoy them along with a little Vesper wine.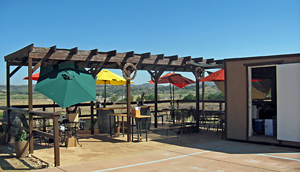 Our final winery of the day, Edwards Vineyard & Cellars, was a suggestion from one of the vintners that we would be visiting the following day. I saw that this was likely to be close to an hour's drive east from Escondido, so we hit the road as soon as we'd finished our lunch. The drive did take awhile, but it was very scenic, winding through a gorge and then out to rolling hills. Trying to stay on schedule, I drove a bit faster than I might normally have gone, though Eric – following me while driving the car with the rest of the group – had no problem keeping up. I learned after we arrived at Edwards that our pace was a bit faster than Barry would have liked, but at least got there on time! Beth Edwards greeted us and told us a bit about the vineyard and winery.
The Edwards estate vineyard and winery are located in Ballena Valley, a few miles east of the town of Ramona at about 2,500-foot elevation, and within the Ramona Valley AVA which was established in 2006. Owners Victor and Beth Edwards were among those who were instrumental in the process of having the AVA approved, and they have been active members of the Ramona Valley Winery Association from the start – Victor is the current Association president. There are around 30 wineries located in the Ramona Valley AVA. Victor is originally from Long Island and Beth is from Oceanside in San Diego County. They met in 1985, and both shared art-related backgrounds – Victor in photography and Beth in technical illustration – and they also shared a love of food and wine. A mid-1980s vacation through California wine country officially hooked them on wine. Victor learned winemaking through various wine and viticulture courses at UC Davis and elsewhere, and he's gotten advice from several generous vintners along the way, including Cathy Corison.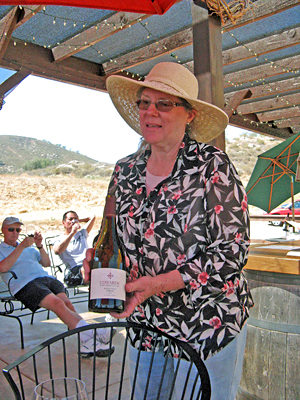 The Edwards estate vineyard is actually not where Victor and Beth started out growing winegrapes. They planted a smaller vineyard at another Ramona Valley site in 1990, where Victor produced his first Petite Sirah in 1997. This variety remains at the heart of the Edwards production today. Victor and Beth bought their current 64-acre property in 2002 and planted their three-acre vineyard from 2003-2009. It's planted to Syrah, Petite Sirah, and Cabernet Sauvignon, with 50% of the vines being own-rooted. Beth told us that they would like to add some Chardonnay at some point. Victor farms the vineyard using sustainable practices, avoiding herbicides, and there are owl boxes in the vineyard to help control gophers and other pests. Victor and Beth had planned to convert an 8,000-square foot barn on their property to a winery – sadly the structure burned down in a 2007 wildfire, but they plan to rebuild it.
Opened in 2011, the Edwards tasting area is on an outdoor patio overlooking their vineyard, and next to a small building that Beth called their "shack-teau"! Since Victor was finishing up with some work and was not able to join us right away, Beth led our group farther up the hill to their house and winery. We had an outstanding view of the vineyard and the Ballena Valley from just in front of the house. There's a small crushpad adjacent to the house with barrel rooms located directly below the house. Beth also showed us the area in back of the house where they raise sheep.
Victor joined us after we headed back to the tasting area, and we all talked more about the vineyard and wines. Nearly all of the fruit for the Edwards wines comes from their estate vineyard, along with a small amount of Sauvignon Blanc and other varieties purchased from nearby growers in the Ramona Valley AVA, so all of the wines are labeled as Ramona Valley. Beth said that they typically harvest around six tons from their vineyard. For aging their wines, Victor uses mostly French oak, usually around 30% new, with Taransaud being one of his favorite coopers. Some American oak is used on the Petite Sirah. Reds spend about three years in barrel, with the aim of integrating the oak.
Beth started out our tasting with the new 2017 Estate Rosé of Syrah, which includes 5% Sauvignon Blanc. This had a salmon-pink color, with bright watermelon and herb aromas plus hints of flowers and red fruits, medium-light bodied with a clean and pleasant finish. We continued with the 2012 Estate Syrah, which displayed bold dark fruit on the nose along with lots of anise and other spices along with a touch of vanilla/oak in the background. Medium-full bodied with a fairly rich yet lively texture, this finished with moderate tannins.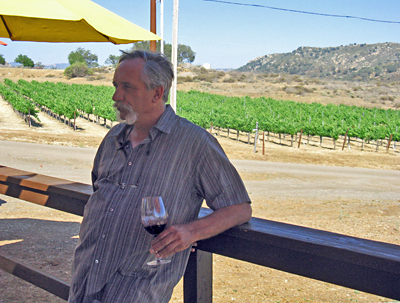 We tasted two more wines after Victor joined us. The 2014 Estate "Chosen Suns" is a blend of 50% Syrah and 25% each Petite Sirah and Cabernet Sauvignon. Lots of upfront spice and dark berry fruit along with earth and vanilla, this had rich mouthfeel with plenty of structure and a grippier tannic finish. Our final wine was the 2013 Estate Petite Sirah. I have to admit that Petite Sirah is not usually one of my favorite varieties but this was a standout. Intense blackberry, flowers, spice, and earth aromas with a touch of sweet oak, medium-rich texture, lively acidity, and big but refined tannins on the long finish.
In addition to the wines we tasted, other recent Edwards wines have included two other Syrah-based dry rosé wines ("Valley of the Sun Rosé" and "Côtes du Ramôna Rosé") with different varietal blends, a 100% Cabernet Sauvignon, a "Mature Oak" Syrah bottling using older barrels, a Syrah-Petite Sirah blend called "Whale Mountain Red," and a non-vintage Syrah and Cabernet-based red blend called "Happenstance Cuvée." They've also made sweet wines including a Late Harvest Syrah and a wine they call "Censorship" – since they say that Federal regulations prohibit them from using the term "Port" or other related terms on the "Censorship" label, the label features redacted, blacked-out words. Total production is only about 350-500 cases per year.
It's a lengthy but scenic drive from Escondido out to Edwards, and I thought it was worthwhile for the opportunity to visit with Beth and Victor and to taste their wines. The wines were bigger and bolder in style than most others we tasted from San Diego County, but that's to be expected with the grape varieties that Edwards works with. I thought the 2013 Estate Petite Sirah was a particular highlight, and I enjoyed the 2017 Rosé of Syrah as well. Beth and Victor are doing a fine job of showcasing Ramona Valley AVA fruit in their wines, and I think that higher-elevation grapegrowing regions of San Diego County such as this one will be ones to keep an eye on in the future.
We made the drive back from Ramona to Escondido after our visit at Edwards, taking it a little slower than on the way out to the winery. Eric and the others were all staying at the same motel where I was, but they still had to check in once they arrived. Before long it was time to head back out for dinner, at Brigantine Seafood Restaurant. The early-evening weather was pleasant so we opted to sit out on the shaded patio. The group had mixed reviews of the food, and I may just have lucked out with the dish I ordered, which was very good – wok-charred ahi with vegetables and jasmine rice. I had a couple of nice beers there too – Karl Strauss IPA (I think that was Jay's recommendation) and then a Ballast Point "Sculpin" IPA.
We all finished up the evening with Scotch and Cognac in Paul's motel room. We'd discussed bringing some bottles for after our dinners on the trip – Jay brought two bottles of Scotch, the Highland Park 12 Year Old and Balvenie 21 Year Old, Eric brought another one, the Talisker 10 Year Old, and I brought a Cognac, the Courvoisier XO. Each of the three bottles of Scotch were quite different from one another, and of course everything was really good!
Our first day of the Southern California wine tour was a fun one, and we tasted some good wines from all four of the San Diego County producers we visited. With four wine stops during the day, it felt a little rushed and it would have been nice to spend more time with the vintners. We did manage to get a nice, if short, overview of some of the things going on in San Diego County wine country, with fruit sourced from vineyards in different parts of the county and wines made in different styles.