Southern California Wine Tour – June 2018 – Part 4
Eric, Jay, Paul, Barry, and I had visited wineries in San Diego County and Temecula Valley on the first three days of our Southern California wine tour. Despite their proximity, the two regions are very different in many ways, but we found good wines in both of them. Tuesday was the final day of our tour, and it would include a visit to one of Southern California wine country's newest producers as well as one of its oldest.
We planned a fairly early start to our Tuesday wine tour, since there was a good deal of driving involved that day (especially for me). Fortunately, none of us were late sleepers so we were able to get things going on schedule that morning.
I actually sneaked over to join Paul and Jay at the Temecula Quality Inn breakfast buffet to see if it was better than the one at the La Quinta next door where I was staying – it was, but not by much. After breakfast, we all checked out of our motels and drove a short distance up into the hills west of town for our morning appointment.
When I had been researching possible places to visit in the Temecula area prior to our wine tour, I came across a couple of web articles about a new wine project called Sol De Luz. The information looked intriguing right away – planting in the cooler and wetter hills above Temecula Valley. And when I saw that the winemaker for the project is Mark Horvath – with whom both Eric and I have tasted on a few occasions, most recently for his own Crawford Family Wines label – I knew I had to visit and find out more. Mark arranged for us to meet him just off the intersection of two roads climbing into the rugged hills west of Temecula, and we had no trouble finding him there. Mark greeted us, and also introduced us to Aaron Saltzman, the marketing director for Sol De Luz and sister label Sweet Oaks – both led us on a tour of three of their vineyards in the hills that morning.
Sol De Luz and Sweet Oaks are run by Heather Petersen and Jason Altpeter, who were recently married. Originally from Ohio, Heather founded the National Merchants Association, a credit-card processing firm, in 2004. In 2014, she began buying property in the De Luz area, a mountainous region west of Temecula Valley that extends to the eastern edge of the Marine Corps' coastside Camp Pendleton. Heather has continued to purchase property in this area, as well as some in Temecula Valley as well. Farming is in her family's background, and she saw the potential for the De Luz region to grow high-quality winegrapes and to share in the wine / events business that has been so successful in Temecula.
Heather met Mark in 2016 through a mutual friend, and brought him into the project as the winemaker. Mark grew up in Mission Viejo in Orange County and worked in hotel management before he refocused his career toward wine. He started out in wine working in Sonoma County but he's best-known for his work in Santa Barbara County. He joined Babcock Winery in 1998 and became their winemaker, and along the way he formed the Kenneth-Crawford label with friend Kenneth "Joey" Gummere in 2000. Mark established the Crawford Family Wines label with his wife Wendy in 2011 (Crawford is the maiden name of Mark's mother as well as his middle name). Mark is continuing to make the Crawford Family wines in Buellton in addition to his new role in Sol De Luz and Sweet Oaks.
Mark told us that he liked the idea of the Sol De Luz project in part because it would be starting from scratch, but he admitted he was unsure about the Temecula region at first. He said that there are a number of talented winemakers there and that overall quality is on the way up, but he feels the farming of many of the area's vineyards is still not as good as it could be (something that can be said of a number of other California wine regions as well). Mark feels there is a market for different and more elegant wines than most of those that are typically produced in the Temecula region, and the Sol De Luz wines could help fill this niche.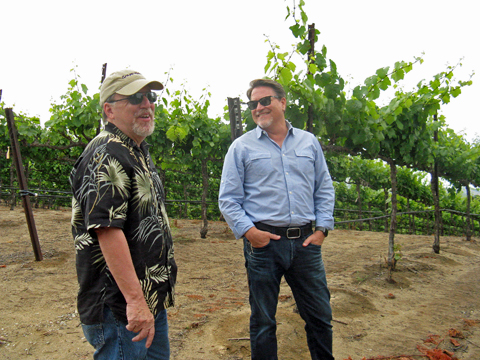 Jay Selman, Mark Horvath at Serreno Vineyard
The higher-elevation De Luz region is cooler than Temecula Valley (though it's still certainly not "cool climate") and it gets more ocean influence and more rain. Morning fog is common, as we saw at the first vineyard site that Mark brought us to during our visit. Soil in the area tends to be volcanic and clay, as opposed to the decomposed granite that is ubiquitous in Temecula Valley. The De Luz region already has a number of smaller "mom and pop" vineyards scattered about the hills, and their fruit goes to various Temecula producers, but De Luz is little-known outside the local area. In an effort to help create more of an identity for De Luz, there is an effort underway to have a new AVA created for the area. Wes Hagen, who has worked on other AVA petitions (most notably for Sta. Rita Hills) is heading up the work on this. The proposed boundaries of the AVA have not yet been finalized but Mark said that the new appellation is expected to be mostly, and perhaps entirely, within the existing Temecula Valley AVA. The exact name for the proposed AVA has not been finalized either – I've seen references to De Luz Hills and De Luz Highlands as possibilities. The hope is to start the formal AVA review and approval process sometime this year – the entire process often takes several years.
Currently, six vineyard sites with a total of 87 acres have been planted or are in the process of being developed for Sol De Luz and Sweet Oaks, with most of the new planting in the De Luz area. Scott McIntyre of Sierra Pacific Farms is the vineyard manager, and Jim Stollberg of Maverick Farming Company is the consulting viticulturist. All of the new vineyard sites will be farmed sustainably with an aim of being SIP (Sustainability in Practice) certified – nearly 200 California vineyards are currently certified under this program.
Mark told us that over 20 grape varieties are currently planted, including some pre-existing plantings. He noted that the Sweet Oaks site in Temecula Valley has Pinot Gris and Muscat that had not been tended for some time and they're working to bring back those vines. Mark mentioned that Heather loves Sangiovese and Cabernet Franc in particular, so those varieties are among the new ones being planted. It is expected that it will take some time to find out what does well at the different sites. Mark feels that Grenache will thrive in the area, and they are planting a lot of this variety both for red and rosé production. There are interesting twists to some of the new plantings, such as one block where Syrah, Grenache, Mourvèdre, Cinsault, Counoise have been interplanted. New plantings are typically on 6x3 spacing, while older existing ones have the wider vine spacing typical of Temecula. The plan is to keep most or all of the estate fruit for the two new wine labels.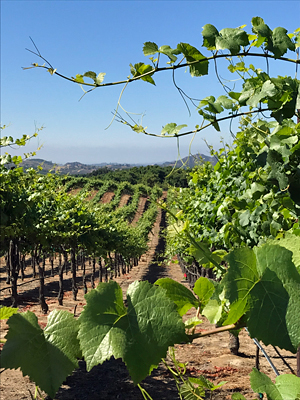 Serreno Vineyard
Sol De Luz and Sweet Oaks are related labels but the intention is to keep their focus separate. There has not yet been any wine produced under the Sol De Luz label, while Sweet Oaks bottled wine for its first vintage not long ago. These first Sweet Oaks bottlings include Chardonnay, Viognier, Zinfandel, Malbec, and a Grenache-Syrah blend. The wines are currently produced at Sweet Oaks Ranch in Temecula Valley, another property that Heather purchased, and there is a new wine facility in the valley being built for production of both labels. The Sol De Luz wines, which are expected to debut in 2019, will be considered the project's top-tier bottlings. Mark mentioned that growing a lot of varieties will allow them to make quite a few different wines, which is good for direct-to-consumer sales. Some varieties are being planted specifically for wine club offerings – the idea is to develop a few particular small-production wines as club-only bottlings. Expected production for this year's vintage is expected to be around 6,500 cases, then ramping up to about 12,000 next year, and ultimately aiming for 42,000 cases in 2020 when most of the new vineyards come online. A tasting room is being planned for Old Town Temecula.
There's obviously a lot for Mark to do with all of this work on the new project going on, and he told us that he's been spending four days a week in De Luz, flying down from Santa Barbara County. This year will be the first big harvest for the new project, and Mark is hoping that the timing will work out between Sol De Luz and Crawford Family. He thinks that harvest in De Luz will be winding down about the time that it will be starting up in cooler Santa Barbara County, but he'll still need to find out how it works out. Mark mentioned that it will take some time to find out how the fruit develops at the new vineyard sites, and he noted that he will be dealing with less "hang time" for the fruit there than what he's used to in the cooler Sta. Rita Hills region. To help things go smoothly during harvest and crush, Mark has hired an assistant winemaker for Crawford Family Wines (the first time he's done that) and there is also one at Sol De Luz, so thinks that things will be covered all around.
After our group chatted with Mark and Aaron for a few minutes, they led us along hilly roads to three vineyards, each in different stages of development. Our first stop was Serreno Vineyard – all of the vineyards are currently named for the roads on which they're located, though Mark mentioned they may give them different names at some point. Serreno is an existing vineyard that Heather purchased in 2016, and 2017 was Mark's first year working with it. Situated on a sloping hillside with mostly sand and clay soil, the vineyard was planted about 15 years ago to Chardonnay and Pinot Noir, plus a little Merlot and Syrah. Chardonnay and Pinot Noir in Temecula? On the morning we visited this was indeed a foggy and cool spot, farther to the west than the other sites we visited a short time later, though Mark pointed out that it's still not nearly as cool as the Sta. Rita Hills sites he works with for his own label. The views from Serreno Vineyard made it a perfect spot for Mark to show us how distinct the De Luz area is from the rest of Temecula, sort of a buffer zone between coastal Camp Pendleton and hotter Temecula Valley. Eric summed up the key moment as we listened to Mark at the vineyard:
'Mark killed it for me with his "this is the desert" (gesturing toward Temecula), (pause) "and this is not" (gesturing toward the coast). Nothing could have been more clear.'
Our next stop was at Calle Cresta Vineyard, on a dramatic steep hillside. This had formerly been planted with citrus trees but was abandoned, and the trees mostly dead, before it was planted with grapevines. During our drive through the De Luz region, we saw other hillsides with dead or dying citrus and avocado trees. These had been widely-planted in the area, but they are water-intensive crops, and there are currently financial incentives of up to $15,000 per acre from the local water district to convert farming from citrus and avocado to less water-intensive winegrapes. Mark noted that well water quality in the area is poor and water is actually piped in from the city of Temecula.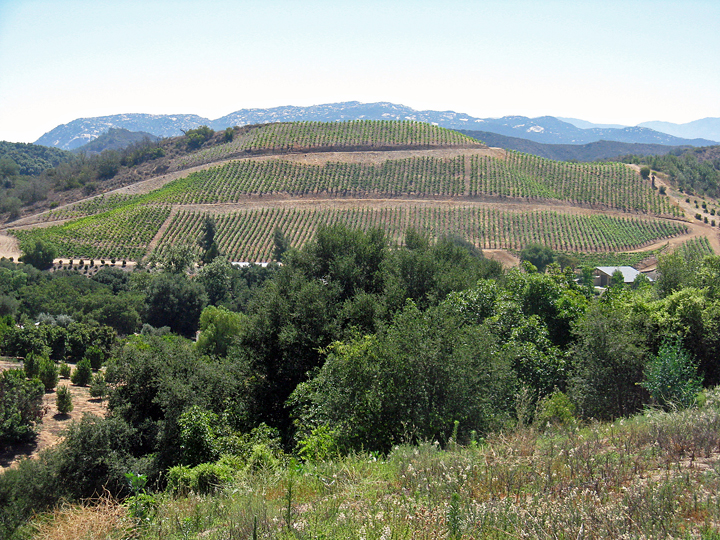 Calle Cresta Vineyard
Calle Cresta is the first of the new De Luz vineyards that has been developed. The 9.7-acre vineyard is on a dramatic steep hillside at a warmer but windier spot than Serreno Vineyard, with volcanic and sedimentary soil. Most of it is on a south and southwest-facing slope, with smaller portions southeast-facing and a little more north-facing. It's planted mainly to Sauvignon Blanc, which is trellised, while the upper parts of the slope are head-trained Sangiovese and Cabernet Franc. We'd noticed that we had not passed through any deer fencing at the two vineyards we'd visited, and Mark told us that, surprisingly, there are no deer in the area. He said they are waiting to see whether they will need bird netting at Calle Cresta, and mentioned that they have needed to put up bee netting at Serreno Vineyard. Heather is planning an wedding / event venue at Calle Cresta, and possibly a future tasting room. I asked Mark how neighbors feel about the potential for such development in the area and he said that while some neighbors are concerned, most seem supportive.

Our third and final vineyard visit with Mark was at Calle Jardin Vineyard. Spread out along gently-sloping hills, with a small creek running through the site, it had been an abandoned avocado orchard with dead trees prior to the new vineyard development. The soil there includes volcanic, clay, decomposed granite, and sand. The site is large enough that it is being planted in two stages – most of it was planted last year (Mark called that portion "Jardin 1") and the rest still being developed and will be planted this fall ("Jardin 2"). Jardin 1 includes Sangiovese, Cabernet Franc, Cinsault, Petite Sirah, and Albariño, while Jardin 2 will include Zinfandel, Cabernet Sauvignon, Barbera, Nebbiolo, Arneis, Sangiovese, Pinot Gris, and Mourvèdre. The Albariño is planted in sandier spots near the creek, and Mark pointed out Petite Sirah on the upper part of the hill beyond. The Sangiovese vines are head-trained, as well as some of the Cab Franc. Mark noted that development of the Cabernet Franc, Cinsault, and Albariño vines is coming along faster than the other varieties at Calle Jardin. Although some of the site is in sort of a lower-lying bowl in the landscape, Mark said there should be no frost issue for the vines, as frost season is typically over by late February there. Heather is planning a tasting room and hospitality center at the site as well as a winery and a chilled storage area, to hold fruit before it is processed there or at Sweet Oaks. Mark said that other vineyard sites in the De Luz area are currently being developed, but the current focus is on Calle Cresta and Calle Jardin.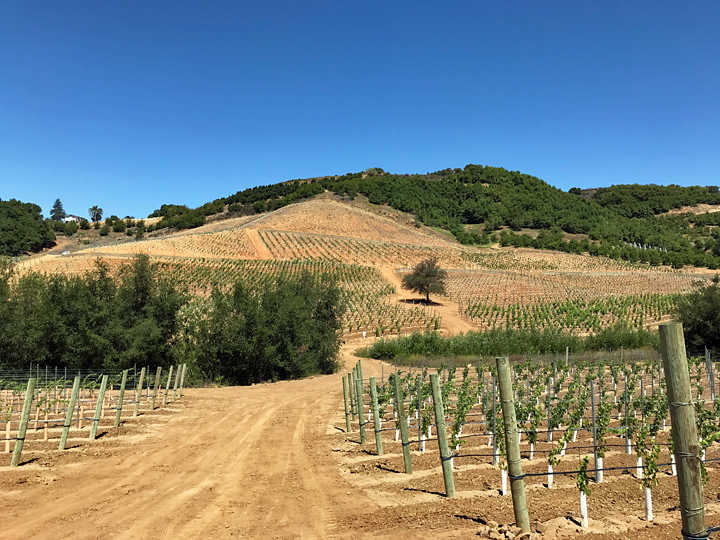 Calle Jardin Vineyard
Wow, this was a fantastic tour of the new Sol De Luz project with Mark and Aaron! It was fascinating to see the various vineyard sites and how they differ from one another as well as how different they are to vineyards in Temecula Valley itself. The creation of a new AVA for the area will help to further differentiate it from the rest of the Temecula area. It was great to see so many varieties going into these new vineyard sites with the goal of seeing what will work well at each location, and with the idea of fine-tuning the plantings once Mark and the Sol De Luz team learns what's working and what's not. I'm looking forward to trying the Sol De Luz wines when they're released. This looks like an exciting new project, and it should be fun to watch how it develops in the years to come.
After our visit with Mark, I talked with Eric, Jay, Paul, and Barry, and they decided not to join me on my afternoon visit to Cucamonga Valley – it would have been something of a detour for all of them and I can't blame them for not wanting to fight the traffic getting back home. The four of them had lunch in Temecula and then went home to Orange County, where they all got back to their respective places by mid-afternoon. I drove north to Cucamonga Valley (no time for lunch on this day for me, oh well), and I arrived a little after 12:30 at my winery destination there.
Cucamonga Valley
Cucamonga Valley is located between Los Angeles and San Bernardino, near the foot of the San Gabriel Mountains. Early commercial winegrape planting was established by Tiburcio Tapia in 1838 and grew from there. A portion of his winery still stands and is thought to be the oldest winery building in California. Although grapevine cultivation and wine production declined throughout most of Southern California in the later nineteenth century, it continued to thrive in Cucamonga Valley. Secondo Guasti's Italian Vineyard Company vineyard encompassed over 20,000 acres by the 1910s, reputedly the world's largest at that time. At the beginning of Prohibition, more winegrapes were grown in Cucamonga Valley than in Napa and Sonoma combined. Even Prohibition didn't hurt the region's vineyards substantially, as growers provided fruit for sacramental wines and shipped boxes of grapes – mostly Zinfandel – to home winemakers throughout the country.
Following Prohibition, more wineries were launched in Cucamonga Valley and by 1940 there were more than 45,000 acres of vineyards and around 60 wineries in the region. But following World War II, Cucamonga Valley faced increasing pressure from development, as the greater Los Angeles urban area spread over more and more land. Brookside Winery was the largest in Cucamonga Valley for a number of years, but it faded away by the early 1980s. The Cucamonga Valley AVA was established in 1995, but it has not helped much with the continued decline of the region's wine industry. Today there are probably fewer than 1,000 acres of vineyard remaining in Cucamonga Valley, and only three wineries – Galleano, Joseph Filippi, and tiny Rancho de Philo – continue to produce wine in the region. The focus of all three is probably much the same as 50-60 years ago, with sweet, fortified wines being a particular specialty. In addition to these three Cucamonga Valley producers, several vintners from outside the region have bought fruit from there.
The climate of Cucamonga Valley is quite warm and is prone to significant winds, and the soils are alluvial, with lots of deep sand and some rocky areas. Not surprisingly, grape varieties that do well in warmer climates are the predominant ones in the region, including Zinfandel and Grenache. Since many of the remaining vineyards were planted before World War II, a number of older varieties rarely seen in more modern California vineyards still thrive in Cucamonga Valley, including Mission, Palomino, Golden Chasselas, as well as more familiar varieties such as Alicante Bouschet, Carignane, Cinsault, and Mataro.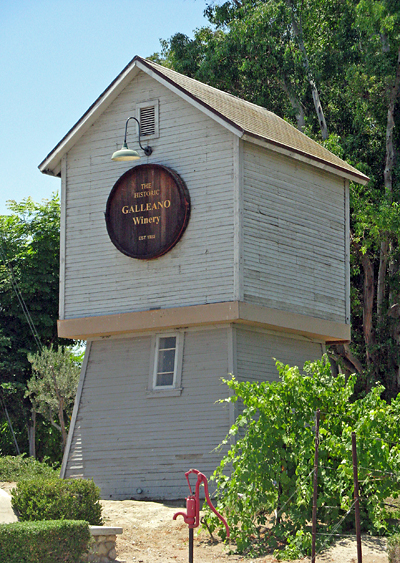 My final visit of the Southern California wine tour was at Galleano Winery in the historic growing region of Cucamonga Valley. Located in the Mira Loma area at the northern edge of Riverside County, the winery and adjacent vineyard are like an oasis in a landscape dominated by anonymous warehouses and business parks – a far cry from past years when this was all a thriving grape-growing area. There are fewer than a handful of wineries remaining in Cucamonga Valley now, and since I knew I would only have time to visit one of them, Galleano was my choice. This was due both to its long history and also because the Galleano family manages the region's best-known old vines at Lopez Vineyard, which I hoped to see while I was in the area. I'd tried a Lopez Vineyard Zinfandel made by Carol Shelton at a tasting a few months before my visit and found both the wine and the story behind it to be intriguing.
The day was already getting hot when I arrived at the winery tasting room in the early afternoon. I was a bit earlier than expected and had to wait for a few minutes for Domenic Galleano to arrive, so Jorge Davalos at the tasting room poured me a few tastes to start off. The simple, rustic tasting room and the old winery buildings all have a real throwback feel to them, as if you could have walked in 50 years ago and it would have felt exactly the same. Jorge told me he had worked at Galleano for 11 years, and I soon found that some employees there have been with the winery for decades. Domenic came into the tasting room after a short time and greeted me.
Domenic told me that Galleano is the oldest winery in Southern California that is still run by the original founding family and in its original location. Much of the winery production is in Sherry and Port style wines – styles that were once common throughout many California wine regions but which have fallen out of favor in all but a few. The wineries of Cucamonga Valley continue to specialize in these sweet wines.
Galleano Winery's history stretches back to 1927, when Domenico Galleano, who had arrived in California from the Piemonte region of Italy in 1913, purchased the 160-acre Cantu Ranch in the community of Wineville – the area had been well-known for vineyards prior to Prohibition. A few years later the town was renamed Mira Loma, though the road where the current winery is located is still called Wineville Road. When Prohibition ended in 1933, Galleano Winery officially started production – though Domenico may well have been making wine there even before the end of Prohibition! For some time, an older building on the property was used as the winery until the current winery structure was built in the late 1940s. The complex of old structures at the Cantu-Galleano Ranch is now listed on the National Register of Historic Places. In 1983 Domenico's grandson Don and Don's wife Charlene took over the operation of the winery, and they have been joined by their son Domenic in running the business.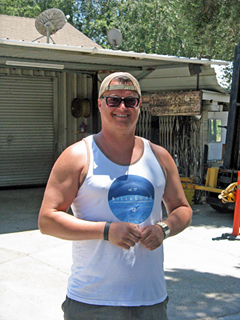 Domenic Galleano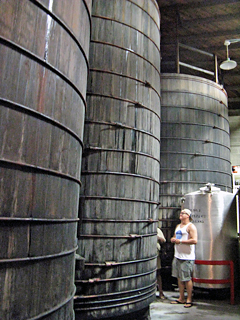 Old Redwood Tanks
Domenic asked me if I would like to take a brief tour of the winery, and I couldn't pass up an opportunity to take a look at an older facility such as this one. Another tasting room visitor and I followed Domenic back into the main winery structure, where he showed us a row of huge (10,410 gallon capacity) old concrete fermentation tanks that are still used for most of Galleano's red wine production. Concrete is again becoming a favored fermentation vessel among smaller wineries – Domenic joked about Galleano that "we're so old, we're new again"! Equally impressive were the enormous (15,700 gallon) 70-year old redwood upright tanks used for aging red wines.
Heading outside behind the winery building, Domenic showed us the temperature-controlled stainless steel tanks used for white wine production, and the old press and destemmer, which still work well. From there, we could see Galleano's old seven-acre vineyard adjacent to the winery, that includes Palomino, Golden Chasselas, Grenache, Zinfandel, Mission, Alicante Bouschet, and Cinsault vines, planted in the 1940s and all head-trained and dry-farmed. The family manages other vineyards in Cucamonga Valley, including Lopez Vineyard.
Domenic knew that I wanted to see Lopez Vineyard, and since he had other business that he needed to attend to, he turned me over to Alfredo Arredondo to drive me out to the vineyard. Alfredo has worked for Galleano Winery for 43 years, and does mostly winery and vineyard maintenance work. I hopped into his pickup truck and we headed out to the vineyard, located about eight miles north of the winery and near the foot of the San Gabriel Mountains, close to the junction of the Interstate 210 and Interstate 15 freeways in Fontana. With traffic, it took a little while to get to the vineyard but I enjoyed talking with Alfredo as we made our way to the site.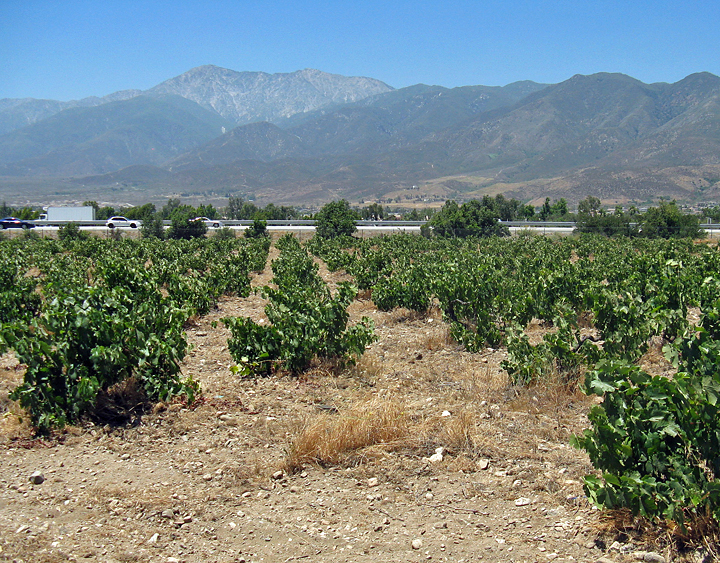 Lopez Vineyard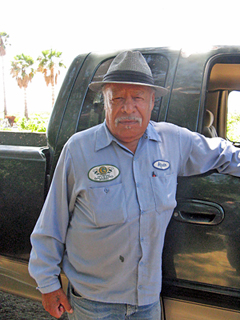 Alfredo Arredondo
Lopez Vineyard was planted in 1918 and is about 350 acres in size, by far the largest vineyard remaining in Cucamonga Valley and perhaps the oldest. Alfredo told me that there are about six acres of Grenache with the rest of the vineyard planted to Zinfandel. The vines at Lopez are all own-rooted, head-trained, and dry-farmed, which Alfredo said is typical of vineyards in the area. Lopez Vineyard is also farmed organically. The soil is sandy and rather rocky, and the vines are surprisingly tiny given their age. No big gnarly vine trunks here – the vines are no more than 24-30 inches tall, possibly due to the limited water and nutrients available to them. The roots are said to extend as far as 30-50 feet into the ground. Harvest at Lopez Vineyard typically starts around mid-August, and can last several weeks. Not surprisingly, the crop yield from such tiny vines is small, though Alfredo said that the harvest from there in 2017 was a particularly big one for the site, at around 300 tons – he thinks the crop will be smaller this year.
As we left Lopez Vineyard, Alfredo asked whether I'd like to take a look at another old vineyard on our way back to the winery – of course I would! Along the way, we passed what looked to be a large field of neglected old vines and Alfredo told me that this was Gateway Vineyard. Galleano brought in the last harvest from there in 2017 and it sounds like the 20+ acres of Zinfandel vines, probably planted in the 1930s, will be pulled out and the land developed for warehouses and two hotels.
Hofer Ranch
We drove past Ontario Airport and soon afterwards came to our destination at Hofer Ranch. Founded in 1888 and listed as a National Historic Register Property, it's now owned by Paul Hofer III, a descendent of original owner Sanford Ballou. Alfredo and I got out of the truck and walked along the sandy soil to check out the old own-rooted Grenache vines there, much larger than the Zin at Lopez and with lots of fruit on the vines. The vineyard had once been much larger and had included Mission vines, but only six acres of Grenache now grows there. It's uncertain when these head-trained and dry-farmed vines were planted – possibly in the early 1930s though some could be as old as the late nineteenth century.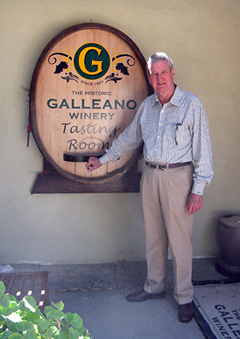 Don Galleano
When Alfredo and I got back to the winery, he saw that Don Galleano was home and he introduced me to Don. It would have been interesting to hear some of Don's stories about the past of the winery and the area's vineyards but he was on his way to a meeting. Stopping back at the tasting room, Domenic poured a few other wines for me before he also needed to leave.
The first two Galleano wines I tasted with Jorge were a white and a red. The NV "Cucamonga Peak" White had upfront stone fruit and tropical fruit aromas with floral notes, lighter-bodied with an off-dry finish – a basic, pleasant summertime sipper. I also tasted the NV Hofer Ranch "August" Grenache, a rosé produced from the old vines I saw that afternoon. This featured ripe cherry, spice, and a touch of oak, with medium-light weight and a slightly sweet finish.
Domenic poured three of the four Galleano Zinfandels for me, starting with the NV "House" Zinfandel, a spicy and lighter-bodied Zin with milder tannins and a hint of sweetness, nothing fancy but a bargain at less than $10 for a solid wine in this style. The NV "Pioneers Legendary" Zinfandel, sourced from Lopez Ranch, was a clear step up, displaying more intense wild berry fruit, spice, and hints of pepper, medium-bodied with moderate tannins on the lively, dry finish. Even better was the NV "Vino de Vigna" Zinfandel – also sourced from Lopez Ranch, this was a bolder yet balanced Zin, with berry, spice, pepper, savory herbs, and a hint of sweet oak, a slightly richer mouthfeel than the previous wine, and fine tannins on the finish.
I finished my tasting with Domenic with three sweet wines. The first was the NV "Mary Margaret" Sherry, named for Mary Margaret Galleano, Don Galleano's mother who passed away in 1997. This was a standout, with apricot, pecan, honey, and caramel aromas, a rich yet lively mouthfeel, and a long, sweet finish. The NV "Three Friends" Port is Zinfandel-based, and also includes Alicante Bouschet, Cinsault, and Mourvèdre. A tawny-style Port, this had upfront aromas of raisin, brown sugar, spice, and nut, a mouth-coating texture and very sweet finish. The final wine was the NV Angelica, made in the traditional old California style from old-vine Mission fruit. Galleano uses a sort of solera system for barrel-aging the Angelica, and Domenic told me that the current release is mostly from 2003 vintage fruit. The wine had aromas of chocolate, spice, and pecans, with rich, sweet flavors and finish.
Galleano produces several additional table wines and sweet wines made from Cucamonga Valley fruit, and also sells some Central Coast wines through a partnership with Tarrica Wine Cellars in Paso Robles (Chardonnay, Pinot Gris, Riesling, Cabernet Sauvignon, Petite Sirah). The winery's specialties are its old-vine Cucamonga Valley Zinfandels and – as mentioned briefly above – its Sherry and Port style sweet wines. Total production is about 30,000 cases per year, and all of their bottled wines are sold direct to consumer.
My visit to Galleano was one of the most memorable stops for me on this Southern California wine tour. It was a real step back into California's wine past, both in terms of the winery and tasting room and also for the wines themselves. Few California wineries continue to produce the kinds of wines that are Galleano's strength, particularly its array of sweet wines. Domenic was a great host, and both Jorge and Alfredo were knowledgeable and entertaining. My favorite wines from the tasting were the "Vino di Vigna" Zinfandel and the "Mary Margaret" Sherry, and I also enjoyed the "Pioneers Legendary" Zinfandel and the Angelica. The Galleano wine family spans five generations now, and I got the sense that there are no plans to change what has been successful for them for so many years. I should note that prices at Galleano are old-school as well as everything else about the winery. This is a place that anyone with a serious interest in the history of California wine should visit. For a unique look into the past of California wine – as well as for some solid bottlings at great prices – you'll find few places that offer the experience that Galleano does.
I left Galleano about 3pm – later than I'd hoped – and found myself battling the Los Angeles area traffic again that afternoon as I headed west toward Oxnard and Santa Barbara. My plan was to stay in Buellton in Santa Barbara County that night, and to meet my friend John Tomasso for dinner. I managed to get to Buellton and check in to the Quality Inn there a little before 7:30pm – I've stayed there before and it's become my go-to lodging in Santa Ynez Valley. I had gotten in touch with John a short time earlier and we agreed to meet for dinner at Industrial Eats in Buellton, one of my favorite places to eat in the area.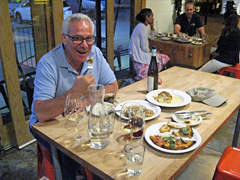 John was already at Industrial Eats when I arrived, and the place was busy but we had no trouble finding a table. As he usually does, John brought an older Riesling to share at dinner – this one was a Weingut Robert Weil 2001 Kiedrich Gräfenberg Spätlese from Rheingau – though I really was craving a beer after fighting traffic for hours, so I also had a Quadrupel Belgian-style Ale that hit the spot (it might have been from Figueroa Mountain Brewing but I'm not sure). Industrial Eats makes very good wood-fired pizza, and I ordered one with fennel sausage, tomato, mozzarella, and basil, which was delicious. It's a "must" for me to eat there at least once every time I visit the area.
I got an early start on the road from Buellton on Wednesday morning and got back home to Oakland around mid-day, and easy and uneventful drive. Nice to avoid any nasty traffic on my way back!

Conclusions
This Southern California wine tour was an eye-opening trip for me since it was the first time I'd ever been to this area for wine visits and tasting. The three wine regions we visited – San Diego County, Temecula Valley, and Cucamonga Valley – were very different from one another. Of course, with such a small sample size of vintners we visited in each region it's tough to draw any definitive conclusions, but I think we were able to get a reasonable sense of what's happening in each of them.
The visits we made in San Diego County were in many ways the most exciting in terms of finding out what is being done to push both grape-growing and winemaking to new levels in the region. In particular, the four urban wineries we visited are making an impact beyond their modest sizes and helping the region to become better-known to a wider group of consumers. Working with high-altitude vineyard sites, planting different grape varieties that may be better-suited to the area, and making wines with minimal intervention are all pushing the boundaries.
Of course not every attempt to push boundaries will be successful, but a number of the vintners from this region are making a conscious effort to reinvent San Diego County wine. With no strong historical winemaking traditions and no widely-recognized signature grape variety or style, it presents something of a blank slate to these vintners. Before our trip, I'd read one description of the region as being something of the "Wild West" of California wine, and after visiting there, I can certainly see the analogy. Overall I found the wines from San Diego County vintners to be the most interesting ones we tasted on this Southern California wine tour – both tasty and thought-provoking.
Our brief visit to Temecula was fascinating though I have to say I'm still somewhat perplexed by the region and its wines. Unlike San Diego County, Temecula Valley does have a more recognized wine tradition – at least for the past 50 years – but it's no secret that outside the area, the reputation of Temecula wine has not been that positive. Part of this is due to perceptions that visitors to Temecula are there more for partying and for the wine country "experience" than for the wines themselves, but even if true, that doesn't mean that the wines may not be good regardless. From what we heard, some Temecula wineries may have had quality issues in the past, but perceptions based on that may now be largely outdated. We heard that the quality of wines there have improved significantly over the past 10 years or so, and all of the wines we tasted there were clearly well-made. There was plenty of stylistic diversity among the wines and they offered plenty of choices for different consumer preferences. Although based on just the few Temecula wineries we visited, I can't say that I discerned any signature "Temecula style" of wine.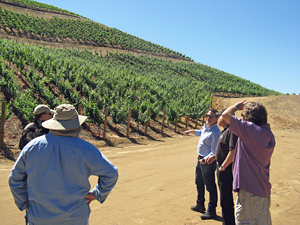 Checking out the steep terracing of the Calle Cresta Vineyard at Sol de Luz
Yet other issues remain in Temecula. A number of grape varieties that have been popular with Temecula wine consumers may not really be as well-suited for growing in the area (Cabernet Sauvignon, for example) – though this is by no means an issue that is unique to Temecula. Perhaps a larger issue is that Temecula wines are known more through reputation than through direct experience. Before our trip, Eric described the area as being rather insular, and after our visit, I understood what he meant. Few Temecula wines are widely distributed outside of the area, which helps to feed the provincial thinking, since there are few wines available to dispel it. Temecula wineries seem to compete largely amongst themselves, with limited direct competition from outside the area, and there's little incentive to change the successful business model that most Temecula wineries have of selling everything direct to consumer. And while it seems that a number of the vintners there may not care much what others outside the region think of them, presumably they'd like to receive the sort of respect that those on the Central Coast and North Coast routinely get.
My overall view of Temecula? Based on the few visits we made on this trip, I thought the wines were better than I expected, but felt that they have the potential to be better than they are now. I expect that in time, the quality will continue to improve, and if projects such as Sol De Luz prove to be successful, it may help steer at least some Temecula wines in a different direction – and perhaps to help change outside perceptions of the area. But it also seems likely that, for better or worse, Temecula as a whole may well remain the insular wine region that Eric described.
Although I only made one winery visit in Cucamonga Valley, it was a particularly memorable one. This historic wine region seems to be threatened with disappearing entirely. I certainly hope that doesn't happen but I'm glad that I was able to visit there when I did, since vineyards along with other agricultural land continue to be swallowed up by sprawling development. Lopez Vineyard is easily the largest old-vine site in the Cucamonga Valley region, but the pressure to sell to developers must be strong. Galleano is one of a dwindling number of wineries in the area, and the wines continue be made in a style that's not seen much in California anymore – these wineries are true throwbacks to California's past wine history. It would be a shame if all this disappears – I did not get the sense that this is an inevitable outcome, but it remains a possibility.
The Southern California wine tour with Eric, Jay, Paul, and Barry was a fun trip, and I felt like I learned a lot more about the various wine regions there than I'd expected. Before the trip, I was thinking that it might be the only time I would ever take the time to visit wineries and vineyards in this part of the state – it's a fairly long way from home for me, after all. But after my experiences on this wine tour, I'm really looking forward to returning to see how things have developed in each of the regions in a few years' time. There's a lot of good wine – and great diversity of wine – to be found in Southern California. As always, thanks to everyone that I visited for being so generous with their time and their wine!