Southern California Wine Tour – June 2018 – Part 3
After two days of visiting vintners in San Diego County, the third day of our Southern California wine tour would be focused on Temecula Valley. Since Eric, Jay, Barry, and Paul were all staying at a motel adjacent to where I was, we had breakfast separately that morning. I was a little disappointed with the selection and quality at the La Quinta breakfast buffet - it wasn't bad but I expected better from them based on past stays at a couple of their other locations.
When we were planning our trip, we chose Monday to visit Temecula wineries in order to avoid weekend crowds, and it seemed to be a wise decision, as none of the wineries we stopped at that day were overly busy. Since we were staying one more night in Temecula, we all piled into Jay's car and started out to our first destination, which was not far away.
As they had done in the past couple of days, our group's Southern California contingent picked up sandwiches in the morning for our lunch that day. The sandwiches – from Great Harvest Bread Company in Temecula – were particularly good, and quite large.
Temecula Valley
Temecula Valley is located in Riverside County, just north of the San Diego County line. Grain farming and cattle ranching were major parts of the economy there in the nineteenth century. The modern development of the region began in the 1960s with the Rancho California housing development, leading to a real estate boom and further investment in the area. The first modern commercial vineyard in Temecula Valley was planted in 1968, and early wineries in the area were established by the early 1970s, including Callaway and Mount Palomar.
Temecula Valley typically receives relatively little rainfall, though its elevation – over 1,000 feet – and some gaps in the coastal mountains help to moderate the warm climate. Decomposed granite soil is found throughout the growing region. The area seems best-suited to warmer-climate grape varieties, but as is the case with wine from San Diego County, there is no widely-recognized variety that really distinguishes Temecula. One thing that does help distinguish the region is a specialty of sparkling wines among many of the producers. Pierce's Disease has been a continuing issue for Temecula vineyards, though it currently seems to be relatively under control.
Since those late-1960s beginnings of the modern commercial wine industry in Temecula Valley, it has become Southern California's largest wine-producing region. The Temecula Valley AVA was approved in 2004, and there are now over 40 wineries in the area. The wineries draw lots of tourists, especially on weekends, due to the region's proximity to both the Los Angeles and San Diego urban areas. Many wineries promote venues for weddings and other events, concerts, and dining, with some also offering resort-style lodging. These other attractions – while certainly present in other California wine regions – do seem more pervasive in Temecula. This has affected some people's perceptions of Temecula wines – a common belief is that the area is more about these other attractions, with wine being just a peripheral part of the whole experience. Part of my interest in visiting Temecula is to help me see whether that is a fair assessment or not.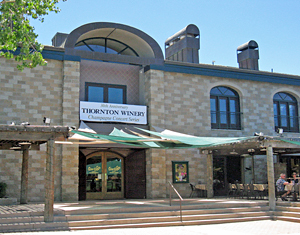 Our first winery stop in Temecula Valley was at Thornton Winery, one of the first wineries you encounter driving east from the city of Temecula along Rancho California Road, where most of the valley's wineries are located. Both Eric and I wanted to visit Thornton since we had both met their winemaker, David Vergari, before. We learned that a couple of others in our group had met him in the past too, so this was really an ideal place to start our brief Temecula wine tour. We got to Thornton right at opening time and we were the first ones to walk into their tasting room. David soon came out from the cellar to welcome us to the winery. After talking with him in the tasting room for a few minutes, we decided it would be more pleasant to sit at one of the many shaded tables out on the large patio in front of the building. We settled in at a table near the tasting room entry, where David filled us in on the background of the winery and on his own path that led him there.
The winery was founded by John and Martha Culbertson in 1981 as Culbertson Winery, in the Fallbrook area of northern San Diego County. John Thornton and his wife Sally became partners in the business a few years later, and the winery relocated to Temecula in 1988. Their specialty in the early years was sparkling wine made using the traditional Méthode Champenoise, and this has remained a strength of the winery to this day. The Culbertsons and Thorntons split in the mid-1990s and the winery was renamed Thornton Winery. Sally Thornton passed away a few years ago, and John Thornton and their son Steve currently run the business.
David grew up in Sonoma County, and he told us that he'd always been around wine. Like quite a few Italian-American vintners, his family had made some wine in the past, and David told us he felt that making wine was "in my blood." He had earned an MBA for an earlier career as a financial analyst, but he said that he was not really happy with his life at that time so he decided to make a change and do what he loved. He returned to college to study viticulture and enology at UC Davis, then spent time working in Australia, Spain, and a number of California wineries starting in the early 1990s, including Gloria Ferrer, Joseph Phelps, Hess Collection, Sonoma Cutrer, RH Phillips, and Rutz Cellars. In addition to working for other producers, David established his own Vergari Wines label in 2003. He made wine for his label through the 2008 vintage, while consulting in Chile during same period. I'd first met David before he moved to Temecula, when he poured his Vergari Pinots at the Marin County Pinot Noir Celebration in the spring of both 2009 and 2010. His wines impressed me, and when I found out that he'd moved to Temecula to take over the winemaking position at Thornton in 2010 I thought that I'd like to visit someday.
David told us that the economic recession that started in 2008 – and caused distress for many California wineries – hit him particularly hard. He found it tough to sell his Vergari wines, and he soon found himself in need of a new winemaking position as well. A move to Temecula might seem a surprising choice for someone whose wine experience was largely in Sonoma and Napa, but David had discovered what he felt was great potential for Temecula wines. Both David and Santa Barbara County vintner Wes Hagen judged the Temecula Valley Wine Competition in 2007, and though he thought that there were some serious issues with a number of the wines at that time, he and Wes agreed that there was plenty of upside for the area. David realized the area's vintners needed to focus more on warm-climate grape varieties, such as those from the Rhône Valley, Spain, and Italy – he noted that many Italian varieties retain good acidity even in warm growing regions. And he also felt that farming and cellar practices needed improvement – in particular questionable winery sanitation practices that were compromising wines from several producers.
Once David took over as winemaker at Thornton, he instituted changes there that have helped lift the quality of the wines, and he feels that in general, winemaking in Temecula Valley has improved greatly over the past ten years. He still thinks that a number of the grape varieties widely grown in Temecula are not ideally-suited to the area, but it's not easy for wineries there to make a big change when the wines they currently produce continue to sell out. As we were to hear elsewhere, David said that most Temecula wineries have a great business model – typically all their wines are sold direct to consumers through the tasting rooms and wine clubs, cutting out the cost of distribution and allowing greater profits for the wineries. Wineries gain many very loyal customers and find out what they're buying, so they'll continue to produce what sells well.
David currently works with over 20 grape varieties at Thornton, making around 30 different bottlings, about 50% each sparkling and still wines. It was a surprise to me that the total annual production there is only 10,000 cases. It also surprised me that the estate vineyard is only 5½ acres in size, though there are about 15 acres in other vineyards managed by Thornton. All the fruit for Thornton's wines is grown in the Temecula area except for some from Arroyo Seco that is used in sparkling wines. David noted that they have been getting some fruit from the De Luz area in the mountains to the west of Temecula (though still within the AVA) and told us that this is a somewhat cooler area that allows the fruit to retain acidity better. The Thornton estate vineyard used to be only Sirah and Petite Sirah, but they've recently added Barbera and Sangiovese – the first commercial harvest for those should be in 2020.
As we started in on tasting with David, beginning with a sparkling Brut and continuing on to a number of whites and reds, he told us a bit about Thornton's various bottlings and about his winemaking practices. He told us that he particularly enjoys making sparkling wines, and Thornton currently produces seven different sparklers, all made using the traditional Méthode Champenoise. David decides on pick dates for the fruit that goes into all the wines based mostly on acidity and flavor profile. While we were tasting white wines, I asked him whether he does any bâtonnage (lees-stirring) on the wines in barrel, and he said sometimes he does, sometimes he doesn't – there's no "formula" and it depends on the specific circumstances of each wine. David did note that he likes aging in François Frères and Sirugue barrels. In general, he told us that he's not a fan of "blunt force trauma" winemaking, and aims for freshness and balance.
As mentioned above, we started our tasting of Thornton wines with a NV Brut Sparkling Wine – made from Chardonnay and Pinot Blanc plus a small amount of Pinot Noir, this displayed pear and stone fruit aromas with some earthy and yeasty undertones, and fine bubbles with a clean finish. David followed this with four white wines, the first of which was the 2017 Vermentino, fermented in stainless steel and aged in both steel and neutral oak, with no malolactic fermentation. This was a highlight, with intense stone fruit aromas with floral and citrus undertones, medium body, and a long, pleasant finish.
Next was a comparison of the two Thornton Chardonnay bottlings. The 2017 Chardonnay was fermented mostly in stainless steel tanks plus some neutral oak and did not go through malolactic fermentation – this had bright and fresh apple and pear fruit with touches of flowers and earth, medium-light body, and a lively texture and finish, quite nice. The 2017 "Reserve" Chardonnay was in a more opulent style, barrel-fermented in new French and Hungarian oak and aged on the lees for six months. Upfront vanilla and spice aromas along with pear and stone fruit plus leesy undertones, rich but not heavy on the palate with a creamy finish. Our final white wine was the 2017 Muscat Canelli. This had very light color with characteristic floral, perfumey Muscat aromas along with notes of citrus and spice, medium body with a moderately sweet finish balanced by good acidity – this would be a pleasant picnic wine or afternoon sipper.
We went on to red wines, beginning with the 2014 Tempranillo, which was fermented in stainless steel and aged in 25% new oak, using both French and American barrels. Spicy plum and black cherry fruit, with earth, dried herbs, and vanilla/oak in support, this had medium body with a moderately tannic finish. The 2014 Merlot, aged in 35% new French, Hungarian, and American oak, showed brighter black cherry aromas with vanilla and herbal notes, leading to a lively mouthfeel and finish.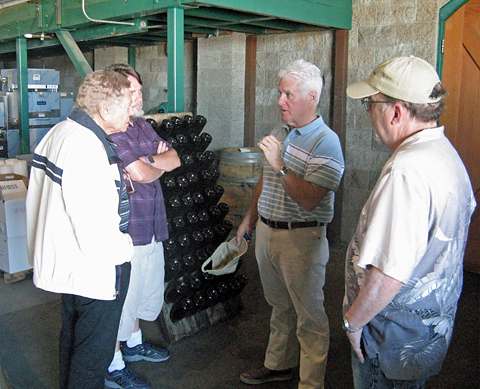 I asked David about the Thornton Nebbiolo as I'd read that they had made that variety. We were able to compare two vintages of this wine, starting with the 2014 Nebbiolo. Aged for 18 months in 35% new oak, this displayed characteristic Nebbiolo scents of cherry, flowers, and earth, with fine structure and firm tannins. The 2015 Nebbiolo showed less fruit and floral notes and more earthy aromas, a bigger oak character (although this was actually aged in less new oak than the 2014 vintage), with a grippier tannic finish. I definitely preferred the 2014 vintage of these two, though it would be interesting to try them again in five or ten years to see how they develop. We finished up our tasting with David with the 2015 Petite Sirah, made from estate-grown fruit and aged in 20% new French oak. Ripe dark berry fruit, spice, and a touch of pepper, this had a rich and structured mouthfeel with a firm tannic finish.
In addition to the wines we tasted with David, other Thornton sparkling wines include Brut Rosé, "Cuvée Rouge," Blanc de Noir, Brut "Reserve," Brut "Reserve Natural" (no added dosage), and "Sweet Angel's Waltz" (more dosage but higher acidity). Additional still wines include Roussanne, Pinot Gris, Viognier, Barbera, Cabernet Sauvignon, Cabernet Franc, Syrah, and several red blends. All of the wines are labeled as Temecula Valley, with the Syrah also adding the Estate designation as the fruit is grown at Thornton's own vineyard. I should mention that the Thornton wine prices are quite moderate for the Temecula region.
Once we finished tasting on the patio, David took us on a short tour of the winery. The building dates from the late 1980s, when the winery first moved to Temecula, and it's built partially into a hillside to aid in natural cooling. One piece of winery equipment that I'd never seen before was an automated bottling line made especially for sparkling wines. They got it in 2016, and it features automatic disgorging and dosage, which must save a good deal of time.
We had an enjoyable visit with David at Thornton, and it was fun to catch up with him after a number of years. We talked for quite awhile, touching on many subjects, not all wine-related by any means. David is definitely not averse to sharing his opinions, and it was refreshing to talk with a winemaker who is so open about such things. Sitting out on the Thornton patio was a very relaxing way to taste the wines. This was my first ever tasting of Temecula wines, and while I knew from past experience that David is a talented winemaker, there's no doubt that I had some preconceived notions about wine from the area. All in all, I was impressed by the Thornton wines that our group tasted with David. My favorites were the 2017 Vermentino and 2017 Chardonnay, and I also particularly liked the NV Brut Sparkling Wine, 2014 Merlot, and 2014 Nebbiolo. Thornton offers a lot of options – restaurant, jazz concerts, wedding and event venue – but it was clear from our tasting with David that their wines should be a prime reason for visiting there.
Since the Thornton patio area was not crowded on that Monday, we asked David if we could sit at one of the shaded tables there to eat our sandwiches, and he told us that would be fine. We asked him if he wanted to join us but he had a meeting that he needed to attend. After awhile, David came out to our table – his meeting had been canceled so he joined us for the rest of our lunch there. Our sandwiches were big enough that there was plenty to share with David. It was a relaxing lunch, but we eventually needed to head out for our next winery visit, just a short way down the road.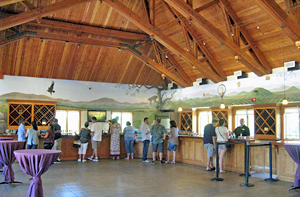 When I started setting up winery appointments in Temecula Valley, I had little knowledge of the area's producers and asked Eric for help, since he had been to the area in the past. A couple of the places he suggested didn't pan out for arranging a visit, but one that did was South Coast Winery. Eric mentioned that he'd tasted with their winemaker Jon McPherson some years ago. Driving along Rancho California Road past many Temecula Valley wineries, it's clear that many of them have an impressively large (some of them a bit grandiose) appearance, but South Coast has good reason for looking as sizable as it does – it's also a resort destination featuring a hotel and vineyard villas, gardens, fine dining, spa, event and conference center, and entertainment venue. But it wouldn't be located where it is if not for the winery, which really is the heart of the whole operation.
South Coast owner Jim Carter grew up in Ohio. His background is in the construction and development fields, and he has been behind the construction of shopping centers, office buildings, housing, and other development. He has long had an interest in vineyards and wine, and he purchased his first property in Temecula Valley in 1981. He bought another 400-acre property on the east side of Palomar Mountain in northern San Diego County that he started planting in 1995 – it's now known as Wild Horse Peak Vineyard. Early on, he sold the fruit to other wineries but when he lost a big contract with one local producer, he decided to build his own winery, and South Coast was launched in 2003. In 2015, Jim added the Carter Family Winery and Resort across the road from South Coast. Though many of the resort amenities are not unlike those at South Coast, the wine focus is different, with a selection of higher-end still wines as well as Méthode Champenoise sparklers.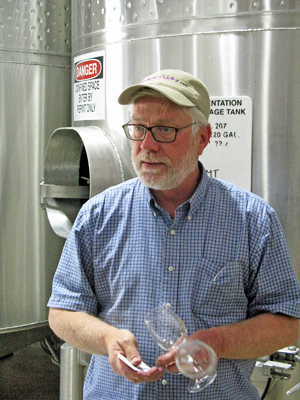 A native Texan, Jon McPherson has been with South Coast since its inception, but his wine roots run much deeper. Jon's father, Clinton "Doc" McPherson, was a key pioneer of the Texas wine industry. Doc McPherson and a colleague, Bob Reed, began experimental grapevine plantings in the late 1960s, and they founded Llano Estacado Winery in 1976, one of the first wineries established in Texas after Prohibition – it's now one of the largest wineries in that state. So Jon literally grew up with grapevines and wine, helping out both in the vineyard and the cellar, as did his brother Kim, who is now the owner / winemaker of McPherson Cellars in Texas.
After studying food science and chemistry in college, Jon decided to move to California in 1985 to try his hand at winemaking, with a particular interest in making sparkling wines. He started out at Temecula's Culbertson Winery (which became Thornton Winery) in 1986 and worked with both the Méthode Champenoise and Charmat techniques of making sparklers. Jon left Thornton in 2003 to become the head winemaker at South Coast, also bringing his winemaking colleague Javier Flores with him – Jon and Javier have continued to lead the winemaking team there ever since.
A notable achievement for Jon and South Coast is that the winery is a four-time winner of the California State Winery of the Year Golden Bear award at the California State Fair Wine Competition. It's true that many "wine geeks" don't place much importance on wine competitions, since many producers don't bother entering their wines in them. But looking through the list of recent entries in the State Fair Wine Competition, there are a number of well-regarded producers represented, so being named as Winery of the Year four times is quite a feat.
Our group walked into the tasting room entrance at South Coast and we were met there by one of Jon's assistants. She led us back outside behind the winery to meet Jon, where he was just finishing his lunch with Jim Hart of Hart Family Winery. We'd hoped to drop in at Hart later in the day but we all ran out of energy by late afternoon and decided not to add another winery to the day's itinerary.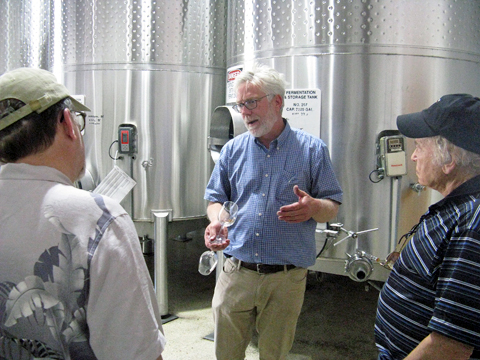 Jon started out by telling us about the winery's vineyards. There are a total of about 240 acres of estate vineyards, including over 60 acres adjacent to the winery and resort, more acreage at the Carter Rolling Hills estate across the road, and 135 acres in Wild Horse Peak Vineyard. Other than Wild Horse Peak (which is in the South Coast AVA), all of the other vineyards are within the Temecula Valley AVA. Jon told us that the Wild Horse Peak site is at a higher elevation, around 2,100 feet, with the vineyards in Temecula Valley about 1,400-1,500 feet. About 30 different grape varieties are planted, with about 65% red grapes and 35% white. The largest plantings of red grapes are Cabernet Sauvignon, Merlot, Grenache, Syrah, Mourvèdre, Sangiovese, and Tempranillo, while the main white grapes include Chardonnay, Viognier, Sauvignon Blanc, Gewürztraminer, Riesling, Pinot Gris, and Verdelho. The South Coast and Carter Family wineries use all of the estate fruit for their own wines – none is currently sold to other producers. Neither winery buys fruit from other sources either, using entirely estate fruit in their wines.
Jon led us on a brief tour through the winery's tank room and then outside to more tanks. As we started in with tasting some tank samples, he told us that the Méthode Champenoise sparkling wines are made at the Carter facility, while everything else – including the Charmat method sparklers – is made at the South Coast winery. Jon mentioned that he likes using the Charmat method for many of the sparkling wines, as he feels this retains fresher, brighter fruit and allows for earlier release of the wines. South Coast produces a number of these sparkling wines from several grape varieties, with most being off-dry to slightly sweeter but also with some dry Brut bottlings. Jon feels the Temecula area is a good place for sparkling wines, and that he's been able to pick ripe enough fruit at lower brix and good acidity to make the sparklers over the years. Sparkling wines certainly are found at many wineries in Temecula and they've been very popular.
The first tank sample that Jon had us taste was the NV Sparkling Gewürztraminer – although it will be labeled as "NV" it was made from 2017 fruit. This displayed familiar Gewürztraminer aromas of lychee and spice with some floral notes, and it was lightly bubbly and not too sweet, certainly distinctive. Next was a 2017 Chenin Blanc, a dry white that featured pear and lees notes, but this was not from Temecula, it was from the Texas High Plains! Jon is making this wine for his brother Kim's label McPherson Cellars in Texas.
We moved on to a couple more tank samples of sparklers – the 2017 "Ruby Cuvée" Sparkling Wine was made from estate-grown Syrah. Jon stops the fermentation on this when it reaches about 10% alcohol and then re-inoculates it – this wine was still going through that second round of fermentation and was quite sweet, with cranberry and other red fruit aromas. The 2017 Brut / Extra Dry Chardonnay Sparkling Wine was a contrast to the previous wine. Kept longer on the lees, this had earthy/leesy stone fruit aromas with a crisp finish – should be quite nice when it's bottled.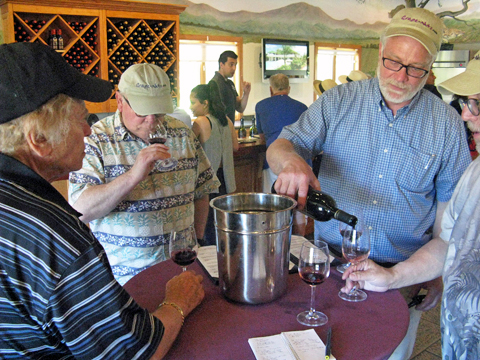 After Jon led us to some tanks outside the winery, we tried two tank samples of red wines that were ready to be bottled soon after our visit, both made with fruit sourced from Wild Horse Peak Vineyard. The 2015 Tempranillo was blended with 25% Monastrell, and featured dark fruit along with spice and vanilla/oak notes, medium weight, with somewhat woody tannins on the finish. The 2015 Cabernet Franc had plummy fruit plus earth and herb undertones, with tannins that need some smoothing out. Both of these wines have potential but they seem like they will need some bottle age to show their best.
One thing that makes South Coast unusual among Temecula Valley wineries is that they sell about 50% of their production through distribution channels – we learned that nearly all other wineries there sell all of their wines direct to consumer through tasting rooms and wine clubs. This is a notable reason why few Temecula wines show up in wine shops or restaurants outside the region. An interesting result of South Coast distributing much of their wine is that it then competes in the marketplace with other California wines rather than strictly with Temecula wines, resulting in lower prices than is the case at many Temecula wineries. Jon told us that it's mostly the winery's Cabernet Sauvignon, Merlot, Chardonnay, and some Riesling that goes through distribution.

After our short tour through the winery, we followed Jon back into the large tasting room to try some of their current releases. It was not overly crowded on that Monday, but I can imagine that it gets quite busy on weekends. South Coast typically produces 30 or more different sparkling and still bottlings under both the South Coast and Wild Horse Peak labels, the latter label focused on wines made from fruit from the estate Wild Horse Peak Vineyard. We gathered around one of the small tables in the room as Jon poured us quite a few wines – we had to do some real speed tasting to keep up with him! Overall, the winery produces about 55,000 cases per year, including 8-10,000 cases of sparkling wine.
Jon brought bottles over to our table from the tasting bar, starting with the 2017 Sauvignon Blanc, from the Musqué clone of the variety and made mostly in stainless steel with no malolactic fermentation. This had floral and citrus aromas, medium-bodied with moderate acidity. The 2016 Viognier featured tropical fruit and flowers on the nose plus some earth and vanilla notes, with a fairly smooth texture, while the 2016 Dry Gewürztraminer showed subtle lychee and citrus scents, with medium-light weight and a clean finish. The 2016 Riesling was made in an off-dry style – stone fruit and herbs with floral and citrus undertones, not too sweet on the finish and with good acidity, a straightforward and appealing rendition.
| | |
| --- | --- |
| | |
We moved on to reds, the first four of which were sourced from Wild Horse Peak Vineyard (the Cabernet and Petite Sirah are bottled under South Coast's special Wild Horse Peak label). We started with the 2014 Cabernet Sauvignon – this was smoky and herbal, with ripe currant and plum, earth, and spice notes, medium-bodied with fine tannins, a nice middle-weight Cabernet. The 2013 Tempranillo was aged in both French and American oak, and had earthy plum and darker fruit, smoke, and vanilla on the nose, with good structure and moderate tannins. Next was the 2014 Petite Sirah, which featured bright dark fruit and slightly floral aromas with spice and sweet oak undertones, a fairly rich mouthfeel and medium tannins. The 2012 "TNT," a blend of 43% Touriga Nacional and 57% Tempranillo, was a bold wine with ripe blueberry and blackberry fruit, spice, smoke, vanilla, and earth, medium-full bodied, with big but refined tannins. Our last red was the 2013 Petit Verdot, dark and herbal, with notes of cedar and flowers, a big but tasty wine with a chalky tannic finish.
Jon finished our tasting with three sparkling wines and a dessert wine. The NV Sparkling Pinot Grigio was quite pleasant, with pear fruit, lightly bubbly and just off-dry. The NV Brut, made from 89% Chardonnay and 11% Pinot Noir in 2016, had cherry and lees notes with spice undertones, and a clean finish. The 2016 "Ruby Cuvée" Sparkling Wine, made entirely from estate-grown Syrah, displayed the varietal character clearly, with both red and black fruit, herb, earth, and iron aromas, fine bubbles, and an off-dry finish, very distinctive. Our final wine was the NV "Black Jack" Port, made from Touriga Nacional, Tinta Cão, Tinta Roriz, Alicante Bouschet, and Zinfandel – Jon told us the current release is from the 2012 vintage. Plum and prune notes along with caramel, nuts, chocolate, and spice on the nose, nice structure, with a fairly sweet finish.
This was sort of a whirlwind tour and tasting at South Coast, but I think we all enjoyed it. Jon gave us a great overview of the winery and of the wines he makes, and his engaging demeanor, charming Texas accent, and quick sense of humor was a bonus. South Coast makes a wide variety of bottlings and although there were some that didn't hit my sweet spot, there was no question that all the wines were well-made and there was enough variety that there will be something to appeal to nearly everyone. My favorites included the 2017 Sauvignon Blanc and 2012 "TNT," and I also liked the 2016 Riesling, 2014 Cabernet Sauvignon, NV Sparkling Pinot Grigio, and 2016 "Ruby Cuvée" Sparkling Wine. If you're looking to sample a diverse array of wines from the Temecula area, South Coast will be a fine choice.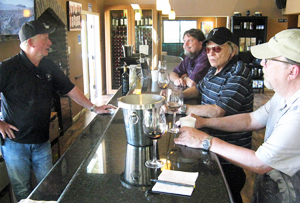 Our third stop of the day was located at the far northeastern end of the Temecula Valley wineries along Rancho California Road, at Chapin Family Vineyards. A visit there had been suggested earlier by one of the other vintners in the area, and I'd managed to arrange an appointment with owner / winemaker Steve Chapin. We stepped into the tasting room – a very modest one in comparison to the ones we'd visited earlier in the day – and Steve soon came in to greet us.
Steve grew up in Southern California and lived in the San Diego area for most of his life. His background and earlier career were in microbiology, and it was during this time that he gained a love of fine wines while entertaining clients. Steve and his family have owned the Temecula property since 1987, and he started planting the vineyard there in 2002. He told us that his uncles were farmers, so that's been part of his background. The palm tree on the Chapin wine labels has a connection to part of Steve's farming experience – propagating and then selling 6,000 palm trees. The first Chapin wine was a 2004 Cabernet Sauvignon that was released in early 2007. The tasting room structure was originally built as a house in 1992, but when the idea of making and selling wine at the property turned into reality, it was converted to its present tasting room use, opening to the public in 2012.
The estate vineyard adjacent to the winery is about nine acres in size, and was first planted to Cabernet Sauvignon, Syrah and Petit Verdot, with Montepulciano, Aglianico, and Viognier added more recently. In addition to this site, there is a five-acre vineyard about five miles away that Steve farms and is entirely planted to Syrah. The main vineyard site is at around 1,700-foot elevation and has the decomposed granite soil common to the area. We noticed a couple of images of the vineyard in the tasting room with snow on the vines, and Steve said that it has snowed there on occasion, most recently three years ago. He noted that he has not have any frost problems there, with the main vineyard issues being control of mealybugs and sharpshooters. He farmed the vines mostly by himself in the first few years, and still works in the vineyard. Steve mentioned that he does a lot of composting for the vines.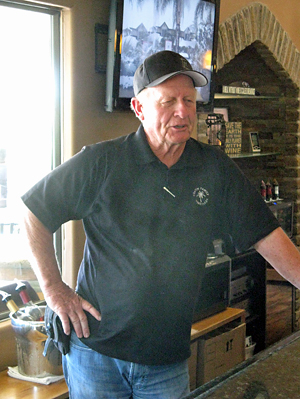 In the earlier years of the vineyard, some of the fruit was sold to other producers, but since 2012, all of the estate fruit has gone exclusively into the Chapin wines. Steve buys some additional fruit for certain bottlings, but most of the Chapin wines are made from the estate fruit. After fermentation, the reds are aged for about 30-36 months, using about 50% each French and American oak, and around 50% new barrels.
Steve moved behind the tasting room bar and started our group on trying a number of the current Chapin releases. He began with reds, the first of which was the 2015 Cabernet Sauvignon. This had aromas of ripe currant and plum, vanilla, spice, and earth, medium-full bodied with good structure and a firm tannic finish – this has the potential to develop with bottle age. Next was the 2015 Syrah, with ripe plummy fruit, vanilla, spice, and mocha on the nose, rich texture and showing a touch of heat on the finish – this reminded me of a bigger Paso Robles Syrah in style.
The 2015 Montepulciano displayed earth and smoke aromas plus black cherry fruit and vanilla, a rich mouthfeel and big but refined tannins. Continuing with Italian varieties, Steve next poured us the 2015 Aglianico, which featured ripe dark berry fruit, earth, vanilla, lots of spice, plus an intriguing citrus note. Big and structured, it finished with chewy tannins typical of the variety. We tasted one more red, the 2015 "Eclipse," a blend of 50% each Cabernet Sauvignon and Syrah. This had an herbal character along with ripe plum and darker fruit, vanilla, spice, and a touch of mocha, medium-full bodied with fine tannins – nicely balanced, and I felt the Cabernet element of the wine showed more clearly than the Syrah component.
Steve tasted us on his white wines and rosé following the reds – always refreshing to taste in that order with bigger red wines. Our first white was the 2016 Sauvignon Blanc, one of the few Chapin wines sourced from non-estate fruit. This showed bright grapefruit and stone fruit aromas with herbal and floral undertones, medium-light body, and a crisp finish. The 2017 Chardonnay was made in stainless steel, and displayed tropical fruit with touches of citrus and flowers, medium body, and moderate acidity. Next was the 2015 "Rosella" Montepulciano Rosé, made from saignée, showed some reductive notes at first but revealed higher-toned strawberry and citrus fruit with some air. We finished up with 2015 Fiano, sourced from Lodi fruit – an unusual rendition of the variety that was herbal and not fruit-forward, with hints of stone fruit, nuts, and earth, with medium weight on the palate.
In addition to the wines we tasted, Chapin also makes Viognier, Merlot, Petite Sirah, and "Chapin's Summit" – a blend of Syrah, Petit Verdot, Cabernet Sauvignon, and Montepulciano. Annual production is about 3,800 cases, and Steve would like to increase that to 6,000 cases. The wines are currently all sold direct to consumer through the tasting room and wine club.
Our tasting with Steve was relaxed and low-key, and his wines were notably different from the others we'd tasted from Temecula that day. The Chapin wines tended to be in a bigger, bolder style, and while they weren't all in my wheelhouse, the 2015 Cabernet Sauvignon, 2015 Aglianico, and 2016 Sauvignon Blanc were my favorites of those that we tasted. The Chapin tasting room may be located at the end of the road for Temecula wineries but if you're looking for bold, flavorful wines, this may be a place you'll want to check out.
After leaving Chapin, we considered making one more winery stop but everyone felt like we needed a break before heading out for dinner, and we headed back to our motels in Temecula. Although the La Quinta had screwed up on the rest of the group's check-ins the previous afternoon, I was happy with my room there. The motel location was somewhat tough to find, behind a strip mall near the freeway, and to head back toward town or the freeway it was necessary to go down the road a little ways and make a U-turn – not the best arrangement though a fairly minor annoyance.
We had some spare time before dinner, so Eric and Jay drove back to The PUBlic House in Old Town Temecula for a beer (we'd had dinner there the previous evening), and I joined them there a short time later. Couldn't resist another "Pliny the Elder" Double IPA – not many places have it on tap! The beer and a tasty appetizer in the rear patio was a nice way to relax before dinner.
The restaurant we planned to go to that evening does not take reservations, but they do have a waitlist phone app, so Eric signed us in and he was given a designated time when we should be seated. Paul and Barry joined us and we all walked to the restaurant, only to be told that we'd have to wait another 45 minutes for a table! We decided it wasn't worth the wait, so we walked to another nearby place we'd considered going, 1909 Temecula. They have a nice front patio area but we decided to sit indoors that evening and had no trouble finding a table. My beer-battered fish tacos were very good, as was the Victory Brewing "Golden Monkey" Belgian-style Tripel that I enjoyed with the tacos.
As we had done the previous evening, we all sat out by the motel swimming pool for Scotch and Cognac, plus cigars for Eric, Jay, and Barry. Terrific Scotch and Cognac, and I did a better job on this evening of staying out of the cigar smoke!
This had been an interesting day. I'd heard many things over the years about Temecula wine – by and large not very complimentary – so it was good to finally experience it for myself, and found that I was pleasantly surprised by much of what I tasted at our three winery visits. It certainly made me curious enough about other wineries in the area to make me want to return to check out more of them.