Southern California Wine Tour – June 2018 – Part 2
Our first day of the Southern California wine tour had been a good start, and I was looking forward to Sunday, when we had a visit planned with two more vintners in San Diego County before driving north to Temecula later in the day. I was having fun traveling with Eric, Jay, Paul, and Barry – sometimes going on a wine tour with that many people can be a bit of a challenge, but they made things easy on this trip.
Our winery appointment was scheduled for late Sunday morning so we were able to have a leisurely time until then. The breakfast buffet at the Escondido Comfort Inn was one of the best I've had in awhile, definitely a cut above most motel breakfasts.
With a bit more time to kill, I headed out to fill up on gas while a couple of the others in the group stopped to pick up more sandwiches for lunch that day. I think we were all itching to hit the road so we checked out of the motel and got an early start on our way south to our next winery destination, in the Miramar section of San Diego.
San Diego County Wine
As mentioned in Part 1, the first wines in California were made at Mission San Diego de Alcalá in the late eighteenth century, though through the years, the San Diego region has not been particularly known as one of the state's significant wine regions. The Valley Center area not far from the city of Escondido was home to a sizable vineyard and winery operation in the 1850s, and by 1900 there were over 20 wineries in San Diego County. Prohibition largely wiped out the region's wine industry, with only a handful of wineries surviving by the time it was repealed in 1933. Pierce's Disease took its toll on the region's vineyards too. Other crops such as citrus and avocado became widely planted at this time, and these replaced a number of vineyards. By 1964, only two wineries in San Diego County remained, Bernardo and Ferrara (now known as Forgotten Barrel).
The modern rebirth of viticulture and winemaking in San Diego County is very recent, mostly taking place since the early 1990s. Grapevine planting seems to be accelerating just in the past few drought years, with more water-intensive crops being replaced by winegrapes, which require significantly less water. Because the county is a large area, it contains numerous microclimates depending to a large extent on proximity to ocean breezes and on altitude, allowing for a wide range of grape varieties to be grown. Most of San Diego County's vineyards are within the large South Coast AVA (established in 1985), which extends from the Mexican border north to the Los Angeles area. In San Diego County, two smaller AVAs are located within the South Coast AVA – San Pasqual Valley AVA, just southeast of Escondido and established in 1981, and Ramona Valley AVA to the east of Escondido, approved in 2006.
Today there are over 115 bonded wineries in San Diego County, most of which have fairly small annual production. The lack of much of a strong historical wine culture in the region can be seen as both a negative and a positive. Negative in that there is no widely-recognized regional wine variety or style, but positive in that this same lack of tradition allows for current grapegrowers and winemakers to be more experimental and innovative in many respects, not feeling pressure to conform to any preconceived expectations.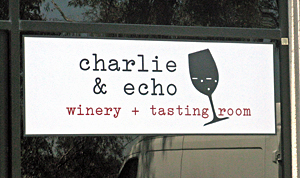 Our second day in San Diego County started with a visit to two more urban wineries that share a facility, this one in the Miramar area about halfway between Escondido and downtown San Diego. I had never tasted any of the wines from the two producers, Charlie & Echo and Los Pilares, but I'd read and heard some good things about them and it seemed like they would make for an interesting visit for our group. Since we'd gotten an early start out of Escondido that morning, we arrived at the winery ahead of time and waited for awhile outside the fairly plain business park building where the wine facility is located. Before too long, Eric Van Drunen arrived and opened up the small tasting room, then welcomed us inside. Eric is the co-owner of Charlie & Echo along with his wife Clara, and he's the winemaker for both their own label and for Los Pilares. We were joined shortly afterwards by Michael Christian, one of the partners in Los Pilares, and we all sat down in some comfortable chairs inside the small space.
Eric Van Drunen, Charlie & Echo
The wineries moved into the Miramar facility in 2017. They had previously shared space in the Hillcrest area of San Diego and had a couple of earlier locations before that. From the looks of it, this place seems like one that they could thrive at for some time. One reason is the proximity of other like-minded businesses – the immediate area has become known as the Miralani Makers District, and along with the wineries, it features producers of beer, cider, mead, sake, and spirits, all located within the same business park or in another complex just across Miralani Drive. In addition to his duties at Charlie & Echo, Eric is also the current president of the San Diego Urban Wineries organization – among other things, the group puts on the San Diego Urban Wine Week event each spring.
Besides moving to a new location, Charlie & Echo also changed its name – it used to be known as Vinavanti. Eric told us that he'd realized the earlier name was not such a good one – it was a made-up word that proved hard for people to remember and to spell. On the other hand, he's found that people remember Charlie & Echo easily – the name is from the phonetic alphabet version of Clara and Eric's initials (Alfa, Bravo, Charlie, Delta, Echo, Foxtrot, etc.). Eric's earlier career was in software, and he told us that he didn't drink much wine until the 2000s, when he first got into it with a friend, starting out mainly with Silver Oak and bigger Napa Cabernets and moving on to other wines from there. Eventually he found that he wanted make his own wine, and he started Vinavanti in 2007, around the same time he met Clara, who had previously served in the US Air Force. The first vintages that Eric released were négociant wines, and the first commercial wine that he made himself was from the 2010 vintage. In addition to her role in Charlie & Echo, Clara still has another job but Eric has been working full-time at the winery for the past 3½ years.
That first 2010 wine that Eric made was from 4½ tons of Grenache, Syrah, and Mourvèdre sourced from a local grower. He mentioned to us that 2010 was a tough vintage in San Diego County – a cold growing season where fruit had mold issues, which is not typical in the dryer climate of the region. He told us he had inoculated his fruit with cultured yeast in 2010, but he's gone entirely with native yeast fermentations starting in 2011. All of the wines Eric has made have been from fruit grown in San Diego County or just to the north in Temecula, and starting with the 2015 vintage, the fruit has all been sourced from San Diego County vineyards. Sparkling wines have become something of a specialty for Charlie & Echo in recent vintages. The winemaking is on the natural wine end of the spectrum, and along with native fermentations, there are no additions, fining, or filtering, and limited intervention. Eric has produced some no-added-sulfur wines but has cut back on those and generally adds a small amount of sulfur before bottling on the Charlie & Echo wines.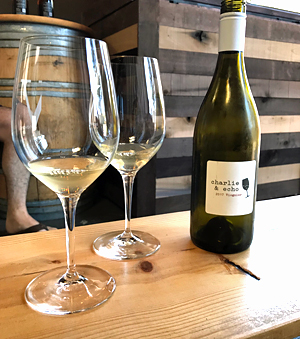 Speaking of bottling, the winery has their own small-scale bottling equipment, including a screwcapper – all of Eric's still wines (and Los Pilares as well) have been bottled under screwcap since 2011. I asked him about using a mobile bottling line, and he told us that mobile bottling lines in the area "won't touch" natural wines – a rather silly attitude if you ask me. Eric had us do an interesting tasting comparison of two screwcapped wines toward the end of our visit – more on that below. Eric is also thinking about trying out producing some wines in cans, perhaps setting up a canning production line along with the bottling and screwcapping line.
Eric and Michael first met through a mutual friend when both were starting their respective labels. Michael is part of a group of four friends who are business partners in Los Pilares – the others are Coleman Cooney, Jay McCarthy, and Pelin Thorogood. All of the Los Pilares partners had planted backyard vineyards or made wine in their garages, so they all had some background in growing or winemaking. Once they joined forces, they made small amounts of non-commercial wine in their garages for about five years before launching their label in 2010, though none of them had formal winemaking training of any kind. When they started Los Pilares, they brought in Eric to help on that end – despite the fact that Eric was also a relative newcomer to winemaking when they all started out! Michael and Coleman make most of the grape- and wine-related decisions for the Los Pilares partners. Coleman had wanted to join us when we visited the winery but he was unable to make it, though we spoke later by phone. Michael said that he and Coleman have known each other since they were 17 – both grew up in San Diego County and both spent time working and traveling in Europe, Africa, and elsewhere. Michael is a retired attorney, while Coleman still works.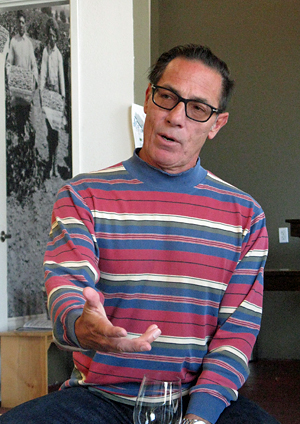 Michael Christian, Los Pilares
Michael told us that he had been living in California in the early 1980s before his work took him overseas, and when he returned in the mid-1990s, he found that California wines had changed and were not as much to his liking. He found too many that were made from fruit he thought was overly ripe, with added acidification to make up for lost natural acidity. He said that his experience of the relationship between food and wine during his time overseas changed his way of thinking about wine, and that he wanted to taste the expression of the vineyard in the finished wine. As we heard from other vintners in Southern California wine regions, they pick fruit mainly on acidity, with the goal of preserving freshness in the wine. Like Charlie & Echo, the Los Pilares winemaking can be described as being within the natural wine category. All of the Los Pilares wines are sourced from San Diego County vineyards.
A key to Michael's and Coleman's ideas is a new vineyard that they're developing in the mountains to the east – Coleman was able to discuss the vineyard with me by phone a few weeks after our visit with Michael. The 3-1/3 acre vineyard is located in the Wynola / Julian area east of Escondido, at 3,600-foot elevation. Coleman noted that it's a misconception that all of San Diego County is dry and desert-like – annual rainfall at the vineyard site is around 30 inches. The soil is decomposed granite, quartz, schist, and clay. Planting was begun in early 2017 and more vines will be going in there. Among the grape varieties already planted are Gamay, Mission, Grenache, Graciano, Falanghina, Assyrtiko, Moschofilero, and a little Carignan. Coleman told me that they are planting quite a few varieties in the small vineyard to see how they will do there. He's already pulled out Mourvèdre that did not do well during a frost period at the site, a particular issue there. Some Rkatsiteli (white variety from Georgia) and Vranac (red from Montenegro) might be added to the vineyard. The vines are all own-rooted and head-trained, and the plan is to dry-farm them using mostly biodynamic methods. Coleman told me that they may harvest a small amount next year and vinify it as a field blend, but the first significant harvest is expected in 2020.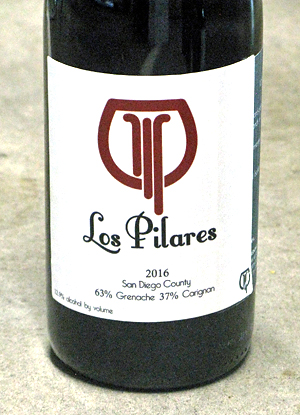 As Michael talked with us during our visit, it became clear that he and Coleman are looking to revive old wine traditions of San Diego County as well as to help push viticulture forward through some new ideas. One example is their desire to help revive Muscat, which Michael said was once an important grape variety in the region but has fallen out of favor – Los Pilares has made a sparkling Muscat from Hunter & Mazzetti Vineyard on the Rincon Indian Reservation near Pauma Valley. Mission is another variety that was once widely-planted and has only very recently been reconsidered in California for making quality wines. On the other hand, Assyrtiko and Moschofilero – two Greek white varieties – are nearly unknown in California vineyards but have proven to be good choices for retaining acidity in warm climates.
Michael said his hope is that more higher-altitude vineyards will be planted in San Diego County in the years to come, as he feels that sites such as the new Los Pilares vineyard will ultimately provide better-quality fruit than much of what is currently grown in the county. He told us that he was inspired in part to establish a vineyard for Los Pilares by vintner Frank Cornelissen, whose wines from his own vines on the slopes of Mount Etna in Sicily are well-known – he had advised Michael to plant his own vineyard because "he wasn't shit if he wasn't a vigneron."
As we were talking with Eric and Michael, they poured us tastes of a number of their current wines from both of their labels, including a few of Eric's pre-Charlie & Echo wines that were bottled under the Vinavanti label. We started with the Charlie & Echo 2017 Orrin Vineyard Viognier, from 14-year old own-rooted vines at a 3,500-foot elevation site in the Warner Springs area east of Palomar Mountain in northern San Diego County. Made in stainless steel, this wine displayed tropical fruit aromas with undertones of flowers and fresh herbs, medium weight on the palate with good acidity, and a clean, lively finish.
I mentioned earlier that Eric has been making more sparkling wines, and we proceeded to taste three of them, all made using the Pétillant Naturel, or "Pét-Nat" method of bottling still-fermenting wine. First up was the Vinavanti 2015 "Trinity" Sparkling Rosé of Sangiovese, with fruit sourced the Fallbrook area in far northern San Diego County. A non-disgorged Pét-Nat (these will have noticeable sediment in the bottle), this had a very light color, earthy and herbal aromas with red fruit in support, and just lightly sparkling. Next was the Los Pilares 2017 "LaDona" Sparkling Muscat, from Hunter & Mazzetti Vineyard. Made with some skin contact and also not disgorged, the wine had a light gold color, with subdued floral Muscat aromas along with orangepeel, stone fruit, and skin-contact phenolic notes, fine bubbles and a crisp finish, very intriguing and distinctive. Michael mentioned that he wanted to contrast the nose (which gives the impression of sweetness) and palate (not sweet) with this wine.
Our final sparkling wine was from a most interesting grape variety. The Charlie & Echo 2017 "1st/11th Anniversary Release" Sparkling Rosé is a special small-production wine made from old-vine dry-farmed Flame Tokay from the Ramona Valley area east of Escondido, and made to celebrate the first year of the Charlie & Echo label and the winery's 11th year overall. Only a small amount was bottled and the rest was kegged for their anniversary party at the winery about a week prior to our visit. Flame Tokay used to be more widely-planted in the region (as was also the case in Lodi) – it's considered a table grape and the few wines made from the variety in the past have typically been sweet, fortified ones. Since it's not seedless, it fell out of favor once seedless table grapes became more available to plant, so there's not much Flame Tokay left in California now. This one was direct-pressed on Zinfandel and displayed light red fruit aromas along with earth and spice, lightly sparkling, with fine acidity (and barely 10% alcohol). Very distinctive and different aromatically from pretty much any wine I've ever tried. The vineyard has changed hands and the new owners are keeping the fruit, so this may have been a one-time project, though it's possible that there may be more Flame Tokay from a different vineyard source in the future.
Going back to still wines, we tasted the Los Pilares 2016 63% Grenache 37% Carignan, from McCormick Ranch in Pauma Valley near Palomar Mountain. The fruit was all destemmed and pressed to a plastic flextank following fermentation. This featured classic earthy Carignan aromas along with bright red Grenache fruit, plus spice and savory herb notes, juicy acidity and moderate tannins – a fun wine that's got some interesting complexity as well. We followed that with the Vinavanti 2012 Syrah, sourced from the Temecula region just north of San Diego County. Destemmed, aged in a flextank, and with no added sulfites, this showed dark berry fruit, earth, and leather on the nose, medium body with good acidity and fine tannins.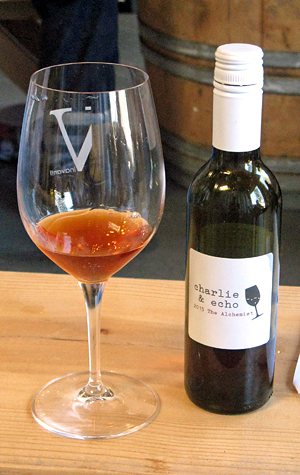 Next was the Vinavanti 2015 Hunter & Mazzetti Vineyard "The Kraken," a blend of 50% each Cabernet Sauvignon and Syrah. The Kraken name comes from a mythical giant octopus-like sea monster that was featured in the movie "Clash of the Titans." This was an unusual wine that Eric said took on a sour character, possibly due to wild lactic acid bacteria. A little like a sour beer, the character was fairly mild though certainly noticeable, and the combination with the wine's herbal plummy aromas was intriguing, though it won't be something for everyone. Eric told me that he named it "The Kraken" since "it's dark and frothy like a turbulent sea, and it takes you by surprise" – sounds like a good reason to me! We finished up with the Charlie & Echo 2015 "The Alchemist" – this is a Port-style Viognier orange wine from the same Orrin Vineyard as the 2017 Viognier. The production of the wine was unusual – Eric combined pressings with new Viognier juice to restart fermentation, then fortified it and aged it for a year on the stems and seeds before further aging, done all in stainless steel. The finished wine is about 6% residual sugar and 18.5% alcohol. Deep bronze-orange color, with intense apricot aromas along with spice and nutty undertones, a very different take on port that was quite appealing.
Actually, "The Alchemist" was not our final wine with Eric and Michael. In talking with them about screwcaps, Eric told us that he had bottled the Vinavanti 2013 Viognier under two different types of screwcaps – Saranex and tin – and brought out bottles for us to compare. Saranex-lined screwcaps are designed to allow a small and controlled degree of oxygen transmission while tin screwcaps are meant to allow no oxygen transmission. The Viognier bottled with the Saranex screwcap had more intense aromatics while the one with the tin screwcap showed brighter acidity and more vibrant mouthfeel. Opinion was mixed on which one each of us preferred but it was instructive to experience the differences in the two wines after about four years under the two types of screwcaps.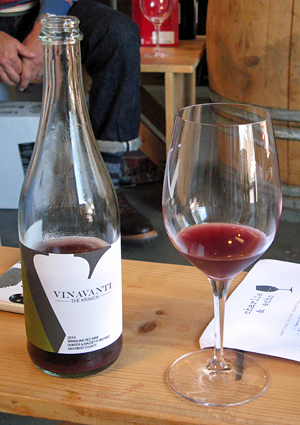 In addition to the wines we tasted with Eric and Michael, they produce a variety of other wines. Los Pilares currently has a more limited number of additional bottlings, which includes a Grenache Rosé and "BPN" (Black Pét-Nat) made from Cabernet Sauvignon. Charlie & Echo produces a greater number of other wines. Some of these are fairly straightforward – a sparkling Viognier, Mataro Rosé, Sangiovese Rosé, red blends, etc. Others are a bit more "out there" – for example, a white and rosé with hops added, a sparkling Sangiovese, and something they call "Project X," which the winery tasting sheet states is a series of experimental wines that changes at the tasting room every week. Eric told me about a new Charlie & Echo wine that's just been bottled recently, a "Black Prosecco" Zinfandel / Syrah blend made using the Metodo Italiano technique of making sparkling wine (essentially the Charmat method). Not surprisingly, there's a twist – in keeping with natural wine philosophy, there was no yeast or sugar added during tank conditioning, and instead Eric used the bubbles captured from the wild yeast primary fermentation.
It's clear that Eric and Michael are willing to take more chances with their wines than most vintners out there – working with some unusual grape varieties, using different fermentation techniques, bottling undisgorged Pét-Nat sparkling wines, etc. Them seem unafraid of trying new things and seeing what works. It helps that they don't make a lot of any one wine – total production for both Charlie & Echo and Los Pilares is only about 500 cases – so if something doesn't work out it's not too big a deal. It's also a plus that much of it is a hand-sell at their tasting room so they can talk about the wines with customers while they're there. There's definitely a lot of imagination at work here.
I thought that our visit with Eric and Michael was one of the most memorable stops on our Southern California wine tour. Their personalities were quite different – Eric was very outgoing and humorous while Michael was more serious – but the dedication that both of them have to what they're doing was certainly apparent. They were each fascinating to talk with – I think our group gained some insights into where San Diego County wine could be headed in the coming years from our discussion with Eric and Michael.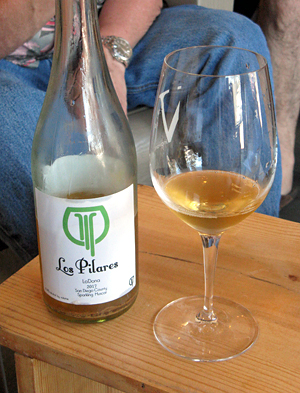 The Charlie & Echo wines and Los Pilares wines were great fun to taste – nearly all of them a bit (and some of them more than just a bit) out of the ordinary. As you might expect from unconventional wines such as these, there were some that hit the mark for me more than others. My favorites included the Charlie & Echo 2017 Viognier and 2012 Syrah, and the Los Pilares 2016 Grenache / Carignan, and I enjoyed a few others quite a bit too – the Charlie & Echo 2017 "1st/11th Anniversary Release" Sparkling Rosé and 2015 "The Alchemist," and the Los Pilares 2017 "LaDona" Sparkling Muscat.
Both Eric and Michael have talked about the opportunities of making wine in San Diego County, where there is no great winemaking tradition, so there are no real rules or expectations to constrain them. It allows them more freedom to experiment and take chances, both with grapegrowing as Michael and his partners are doing with their high-altitude, own-rooted vines, and with winemaking as Eric is doing with his minimalist yet unconventional methods.
The atmosphere at the Charlie & Echo tasting room – where you can taste both those wines as well as Los Pilares – was relaxed and informal, and other visitors who were tasting while our group was there all seemed to be having a great time. Since production for both of these labels is so tiny, a visit there will be the best way to check out their wines, and I highly recommend stopping in if you're in the San Diego area.
When we'd finished our tasting at the Charlie & Echo facility, we asked Eric if we could stay there to eat the sandwiches that we'd brought along, and he graciously welcomed us to do that. Since we didn't have any other winery visits scheduled for that day, our lunch was more relaxed than it had been the previous day when we needed to rush a bit so we could get to an afternoon appointment.
While we were at Charlie & Echo I realized that I'd left something in my motel room in Escondido and had called the motel to see if they'd found it – they did indeed have it so I wanted to stop by to pick it up on my way north to Temecula that afternoon. The rest of the crew had decided to taste at a vodka distillery near Charlie & Echo so we split up there with a plan to meet up in Temecula, where we all had reservations at the same motel. I expected that I would probably get to Temecula well before everyone else, and thought I might make a late-afternoon stop at one of the wineries there. Things didn't exactly go to plan, though.
Eric and the rest of the group went to the vodka distillery but it turned out that they were completely ignored by the tasting room staff there and they decided to leave after a short time. I did manage to pick up the item I'd left at the motel in Escondido, and continued to Temecula, where I checked into the La Quinta motel there. I was just getting ready to head out to a winery when I got a text from Eric that they were at the motel lobby and were having check-in issues, so I went down to the lobby to find out what was going on. Even though the motel had everyone's reservations, their system would not process their credit cards for some reason, and they apparently had no back-up method for checking them in. They were able (with a little difficulty) to have La Quinta cancel their reservations and they were able to get rooms at the Quality Inn right next door. But with the time I spent seeing if there was anything I could do to help resolve the situation, I blew off the idea of going out to a Temecula winery that afternoon.
After the rest of the group checked in to their rooms, we did all have a little extra time before our dinner reservation so a few of us gathered in Eric's room for a beer. After awhile, we all headed out for dinner at The PUBlic House in Old Town Temecula. Old Town is the historic heart of the city and maintains an old-time atmosphere, with older buildings and wooden boardwalks, and it's filled with restaurants and shops catering largely to visitors to the area. As with our dinner the previous evening, we sat out at a rear patio since it was not too hot. We shared a few appetizers and all wound up ordering the same thing, the Kobe beef burger. The menu made the burger sound really good but I'd have to say it was a let-down. Not bad, but certainly not a standout burger, and not everyone's was cooked quite as they'd wanted them either. The restaurant did have Russian River Brewing's "Pliny the Elder" Double IPA on tap, so that went a long way toward making up for the disappointing burger!
After returning to our motels, we gathered out by the Quality Inn swimming pool where we enjoyed more of the Scotch and Cognac that we'd had the previous evening, and Eric, Jay, and Barry enjoyed cigars as well, while I did my best to stay clear of the cigar smoke!
Even with the afternoon snafu at the vodka distillery and the motel, this had been another enjoyable day, and I had a great time during our visit at Charlie & Echo and Los Pilares, one of the highlights of the Southern California wine tour for me.